BB181/4 No.1079

The Workshops, Ipswich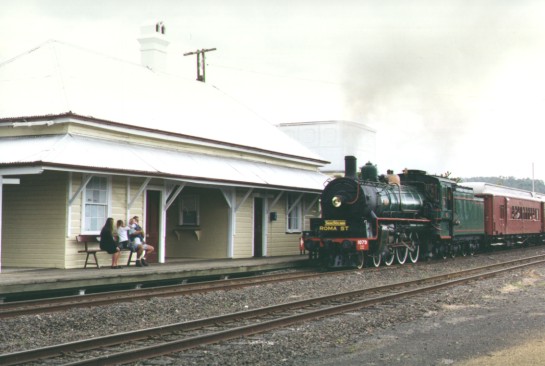 BB18¼ 1079 passes Grandchester on its return from the Laidley Heritage Day tour, 9 April 2000.
This photo was kindly contributed by Graham Watkins.
The BB181/4 class 4-6-2 locomotives represent the final development of one of the Queensland Government Railways' most successful locomotive types. The earlier B181/4 class had been introduced in 1926 and grew to 83 units for passenger and fast freight service. A further 55 units were constructed after World War 2 incorporating improvements such as roller bearings and anti-vacuum (snifting) valves, together with Australian designed SCOA-P wheels which provided greater strength and lower weight. These improved locomotives were known as the BB181/4 class, with 35 constructed by Vulcan Foundry, Lancashire and 20 by Walkers Ltd, Maryborough.
No.1079 was one of the final twenty BB181/4 Class 4-6-2 passenger locomotives constructed by Walkers Ltd, Maryborough between 1955 and 1958 and carries Walkers Ltd builder's number 547 of 1956. It entered service with Queensland Railways in November 1956 and was retired from normal revenue service in October 1969.
Unlike most of its sisters 1079 escaped the scrap heap, instead being retained by Queensland Railways for historical and tourist train duties, being based and maintained with the small fleet of heritage steam locomotives at Ipswich Workshops. In more recent times the Ipswich Workshops have been transformed into "The Workshops" railway museum and 1079 has been joined at Ipswich by the ex-Redbank Museum exhibits.
References
a

Armstrong, J. 'Locomotives in the Tropics, Volume 2, Queensland Railways 1910 - 1958,

published by the Australian Railway Historical Society -Queensland Division, 1994.

b

"Locomotives of Australia - 1985 to 2010" (Fifth Edition), by Leon Oberg,

published 2010 by Rosenberg Publishing Pty Ltd.
Page updated: 25 February 2015