BB181/4 No.1072

Named "City of Lithgow"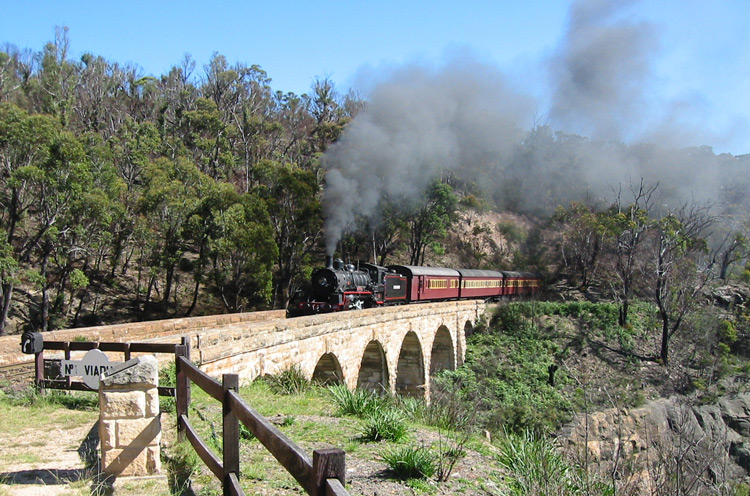 Happy days at Zig Zag as No.1072 (in lined black livery) storms across No.1 Viaduct

on 31 March 2007.

The BB181/4 class 4-6-2 locomotives represent the final development of one of the Queensland Government Railways' most successful locomotive types. The earlier B181/4 class had been introduced in 1926 and grew to 83 units for passenger and fast freight service. A further 55 units were constructed after World War 2 incorporating improvements such as roller bearings and anti-vacuum (snifting) valves, together with Australian designed SCOA-P wheels which provided greater strength and lower weight. These improved locomotives were known as the BB181/4 class, with 35 constructed by Vulcan Foundry, Lancashire and 20 by Walkers Ltd, Maryborough.

No.1072 was one of the final twenty BB181/4 Class 4-6-2 passenger locomotives constructed by Walkers Ltd, Maryborough between 1955 and 1958 and carries Walkers Ltd builder's number 540 of 1956. It entered service with Queensland Railways in January 1956 and was retired in March 1970 after a short working life of 14 years.

It seems that No.1072 was retained by Queensland Railways for a few years after withdrawal as it was available to be sold to the young Zig Zag Railway Co-op Society around 1975. (It would be interesting to know what other non-preserved QR locos remained in storage at that time.) No.1072 was duly acquired by the Zig Zag Railway and delivered to Lithgow, NSW. Here it received the name "City of Lithgow" in recognition of support provided by Lithgow Council, with impressive brass nameplate affixed over the driving wheel splashers.

A spare BB181/4 boiler was also obtained at the same time and remains in storage, together with a spare C17 boiler.

No.1072 was restored to operation and entered Zig Zag Railway service around 1981 and has generally remained in service since, excluding periods of overhaul. At the Zig Zag Railway it is commonly known as "The Bety" as apparently this is its telegraphic code for safe working & communication purposes. (There were times during the 1980's when a little excessive freeplay developed in No.1072's side rods and the webmaster has fond memories of No.1072 clanking loudly up and down the Zig Zag Railway, with no need for a bell or whistle to announce its approach!)

An excellent reference for further information about the BB181/4 Class locomotives is "Locomotives in the Tropics, Volume 2, Queensland Railways 1910 - 1958" by John Armstrong.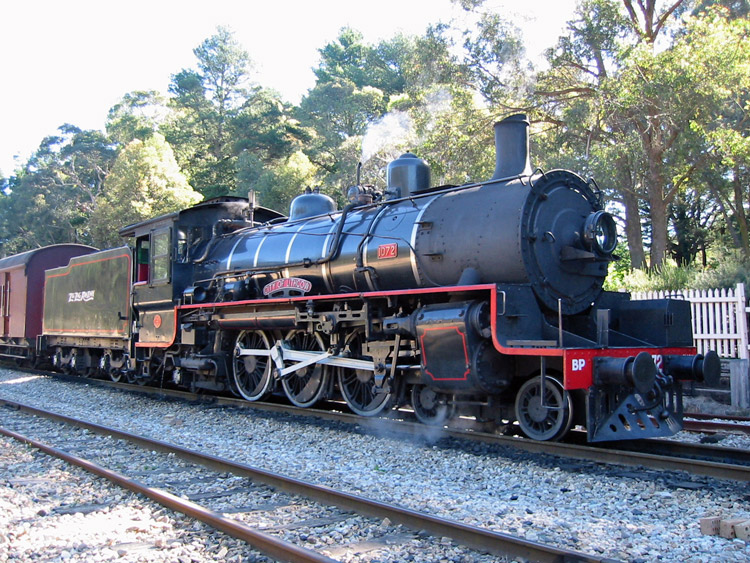 In this view No.1072 "City of Lithgow" and train have just arrived at Clarence station on 31 March 2007.
Shortly it would be uncoupled and run around its train in preparation for another trip down to Bottom Points.
Polished metal boiler bands nicely compliment the lined black livery.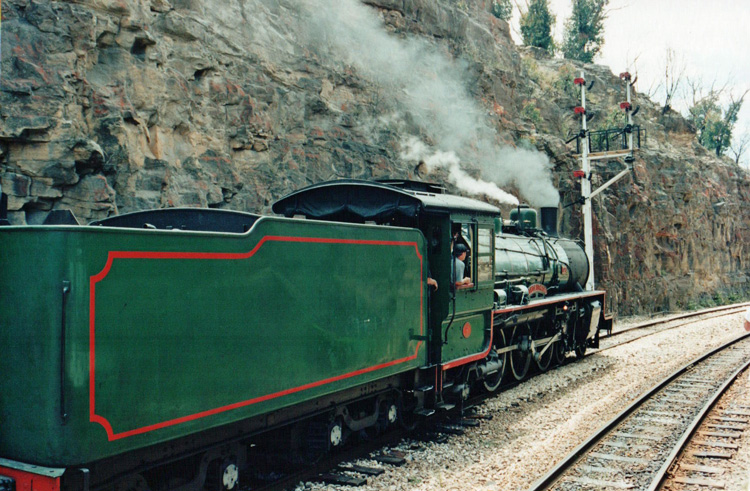 1072 in attractive lined Brunswick Green livery awaiting departure at Top Points, circa 1999.
(Ahead is a newly installed signal gantry - sans signal arms - that was commissioned shortly after.)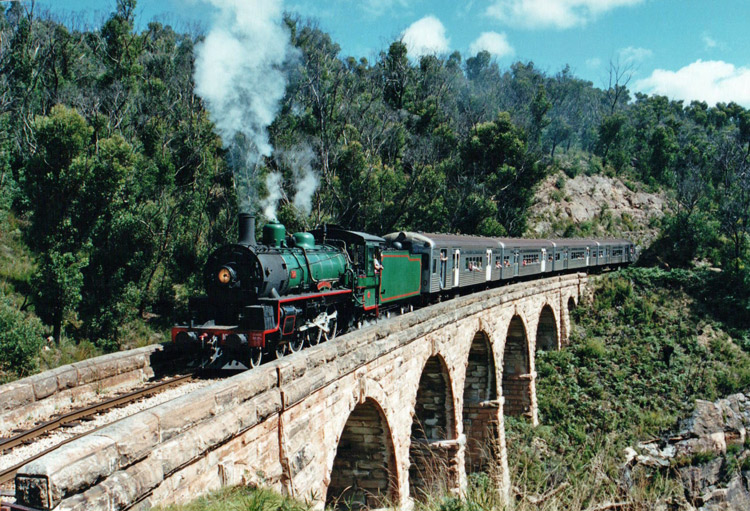 1072 working upgrade across No.1 Viaduct with a set of modern ex-Brisbane "SX" suburban carriages, circa 1999.
The "SX" stainless steel cars in Zig Zag Railway use at this time were later sold to Auckland, NZ for further public transport use.
References
a

Armstrong, J. 'Locomotives in the Tropics, Volume 2, Queensland Railways 1910 - 1958,

published by the Australian Railway Historical Society -Queensland Division, 1994.

b

"Locomotives of Australia - 1985 to 2010" (Fifth Edition), by Leon Oberg,

published 2010 by Rosenberg Publishing Pty Ltd.

c

Webmaster's observation or comment
Page updated: 25 February 2015