B13 No.79

Boiler remains at Esk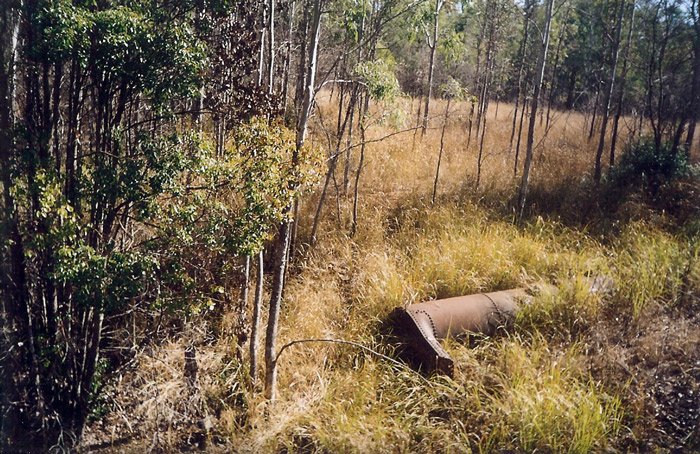 Dick McKean has contributed this photo of the boiler of B13 No.79 lying in the bush near Redbank Creek, Esk in 2002.
This old locomotive boiler originally belonged to B13 class locomotive No.79, a which was built by Dubs & Co (builder's No. 2062 of 1885). b The B13 locomotives represent the most numerous class of locomotive introduced in Queensland in the 19th century, with 112 built for the Queensland Government Railways. a
This boiler was removed during an overhaul and a replacement fitted into No.79, a which continued in QGR service until 1950 and later worked in private ownership at Bingera Mill. b The old boiler was overhauled for stationary use and sent to Esk on the Brisbane Valley branch. Here it was commissioned in August 1904 to drive a steam pump to lift water from Redbank Creek for use at the Esk railway station. a
The stationary boiler was replaced by a vertical boiler on 5 October 1909 and sold for scrap. The firebox was removed so that the copper lining and 148 brass tubes could be recovered, and the boiler shell left on the bank of Redbank Creek. a
Esk Council is now preparing the boiler for public display. a It will provide an interesting relic from the days when the town was connected to the rail network via the Brisbane Valley branch.
My thanks to Dick McKean for contributing information and photographs regarding this interesting relic.
References
| | |
| --- | --- |
| a | Information provided by Dick McKean via letter 11 August 2011 |
| b | Armstrong, J. 'Locomotives in the Tropics - Volume 1 (Queensland Railways 1864 - 1910), published by the ARHS Queensland Division, 1985. Page 99. |
Page updated: 8 October 2011