AC16 No. 221A

Restored for main line tour duties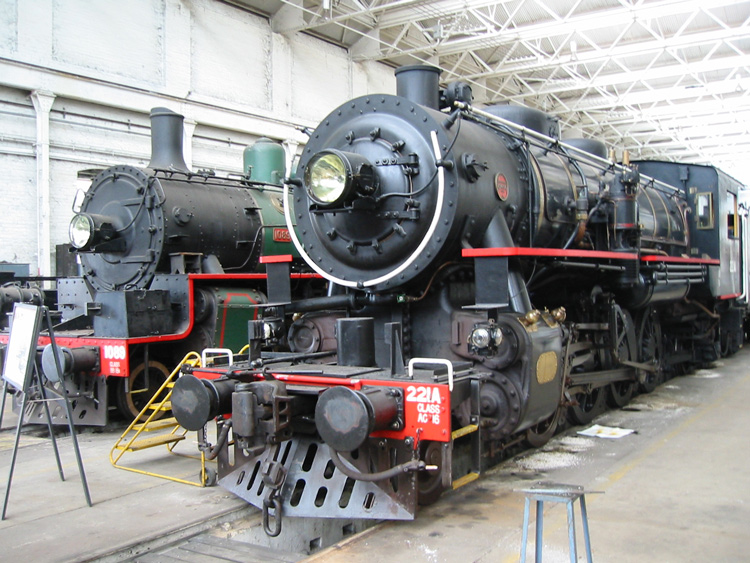 AC16 No.221A is seen resting between outings at The Workshops, Ipswich on 22 October 2006.

BB18 1/4 No.1089 is stabled on the adjacent road.

No.

221A is a 2-8-2 freight locomotive supplied to the Queensland Government Railways during World War 2 as one of 20 'AC16 class' locomotives. It was built in 1943 by the Baldwin Locomotive Works, Philadelphia, USA (builder's number 69456) to a standard US wartime design and made available under 'lend-lease' finance. These wartime locomotive were known as 'MacArthurs' and identical engines were supplied to metre and 1067mm-gauge lines in India, Greece, Malaya and Thailand as part of the war effort, where some remained at work until the late 1980's.

The 'A' in both the class designation (AC16) and the number (221A) stands for 'American'. 'AC16 class' thus differentiated these locomotives from the earlier Queensland Government Railways C16 class and since the engines retained their original US Army numbers, '221A' differentiated the engine from another Queensland Railways locomotive already carrying the number 221.

No.221A was originally preserved as the class representative among the static locomotive exhibits at the Redbank Railway Museum, where it was displayed on a plinth from 1970 to 1992. It was transferred to the Ipswich Railway Workshops at the closure of the Redbank Railway Museum and has since been fully overhauled and restored to operation, including the manufacture of a new welded boiler at Ipswich workshops. 221A now hauls occasional tour trains over the QR network.

The original US Army tenders supplied with the AC16 locomotives were considered rough-riding and somewhat top-heavy and were progressively replaced with spare tenders by the QGR. No.221A was preserved at Redbank with an original rivetted US Army tender, however for tour train duties a new welded tender has been constructed. This tender resembles the US Army tender but is based on a modified C-17 tender design. The original US Army tender is stored at the Workshops, Ipswich.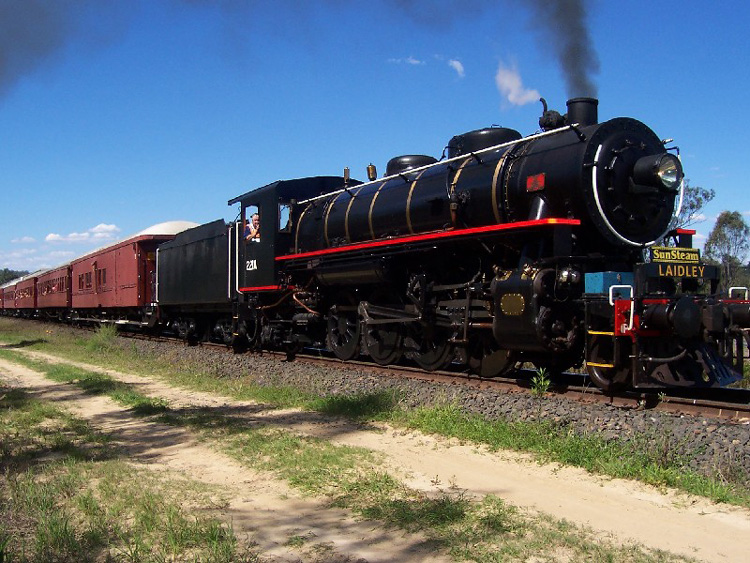 This fine photo is provided by Paul Shepherd and shows 221A climbing the Little Liverpool Range in Sept 2006.
The modified C17 tender can be seen; although resembling the original US Army tender, it is not quite as high against the cab.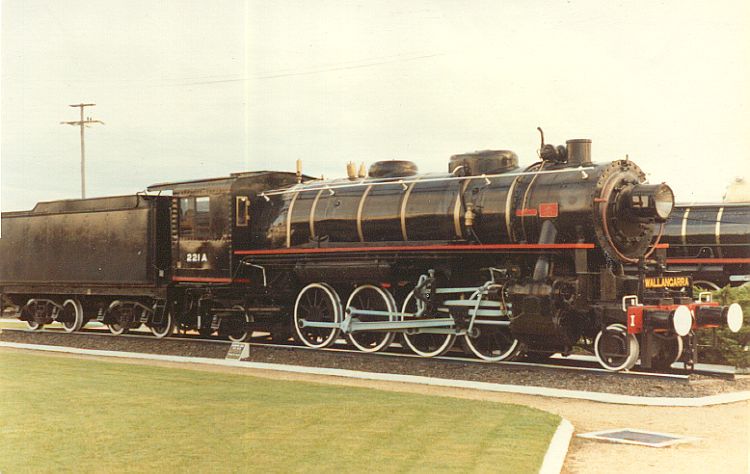 221A is shown at Redbank Railway Museum in this Easter 1982 photograph kindly provided by John Riley

.

Of interest is the original US Army tender, which is significantly higher than the C-17 tenders more commonly fitted.

References
| | |
| --- | --- |
| a | L. Oberg, 'Locomotives of Australia', published by J. W. Books Pty Ltd, Brookvale NSW. 1982 reprint. |
| b | Information provided by C. Malone, 11 December 2001 |
| c | Webmaster's observation or comment. |
Page updated: 21 March 2013