AC16 No. 218A

A special locomotive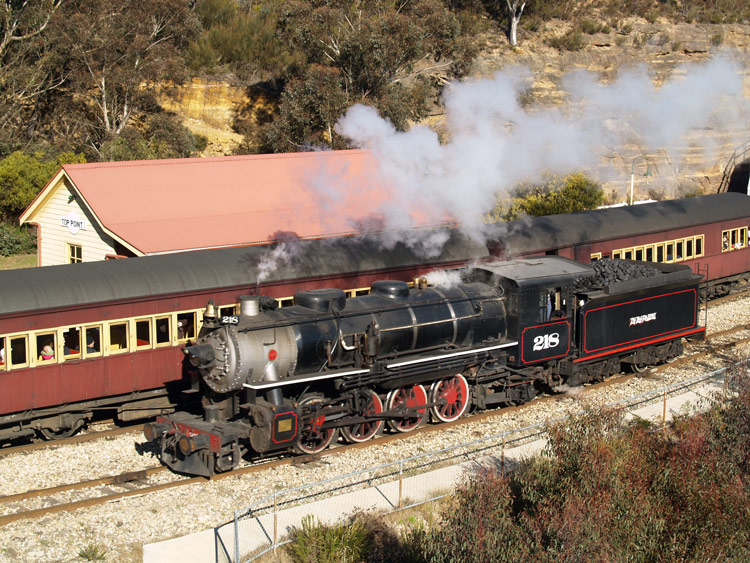 218A runs around its train at the Zig Zag Railway's Top Points station on 28 August 2010.

218A is a 2-8-2 freight locomotive supplied to the Queensland Government Railways during World War 2 as one of 20 'AC16 class' locomotives. It was built in 1943 by the Baldwin Locomotive Works, Philadelphia, USA (builder's number 69453) to a standard US wartime design and made available under 'lend-lease' finance. These wartime locomotive were known as 'MacArthurs' and identical engines were supplied to metre and 1067mm-gauge lines in India, Greece, Malaya and Thailand as part of the war effort, where some remained at work until the late 1980's.

The 'A' in both the class designation (AC16) and the number (218A) stands for 'American'. 'AC16 class' thus differentiated these locomotives from the earlier Queensland Government Railways C16 class and since the engines retained their original US Army numbers, '218A' differentiated the engine from another Queensland Railways locomotive already carrying the number 218.

218A received a new boiler together with the tender from C-17 No.718 during an overhaul in 1960. 218A spent most of its working life at Rockhampton and was the last of the Queensland Railways AC16 class in operation when withdrawn from regular service in May 1969. It was subsequently purchased for preservation and arrived at the Zig Zag Railway's Bottom Points depot in 1975.

218A

was stripped for overhaul by 1986. The restoration progressed intermittently over the following years, and a new tender tank was fabricated in 1994.

In August 2006 the Zig Zag Railway launched the 218A Restoration Appeal. Rather than use my own words, here is are two excerpts from David Potter's article in Railway Digest for September 2006 announcing the 218A Restoration Appeal (used with David's permission):

"This is not your normal Restoration Appeal. It is an appeal to restore a locomotive to fulfil a dream of a 21 year old Zig Zag member who tragically lost his life in a terrible accident in 2005. It is an appeal to provide a lasting and fitting tribute to this dedicated young man, who was described by all who knew him as one of nature's gentlemen. The young man was Brian Rieseberg."

Following a successful fundraising

and restoration program, 218A returned to operation on 3 September 2008 when it ran its first trip to Top Points & return. The restored 218A carries special significance to Zig Zag Railway members and friends in memory of Brian.

My visit to the Zig Zag Railway on Saturday 28 August found 218A as the service loco, and I spent a very enjoyable afternoon bushwalking and photographing her as she very capably handled 4 cars up the 1:42 grades.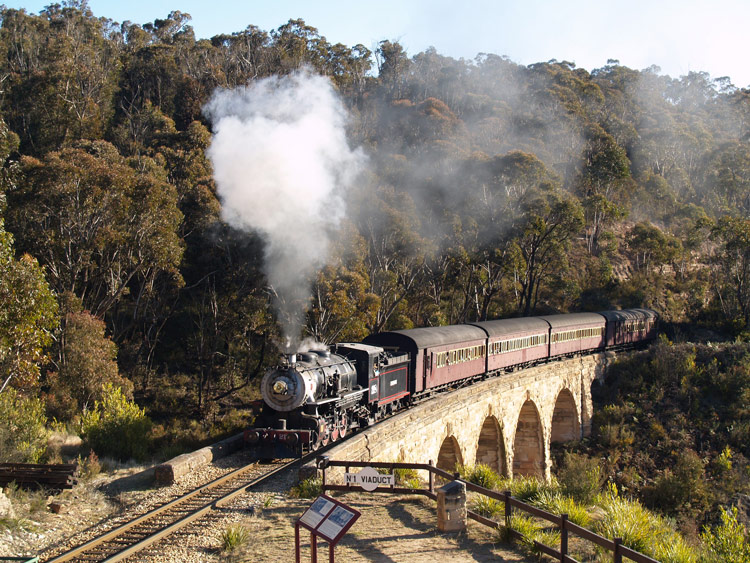 218A crosses No.1 Viaduct as the last train of the day heads back to Clarence

. 28 August 2010.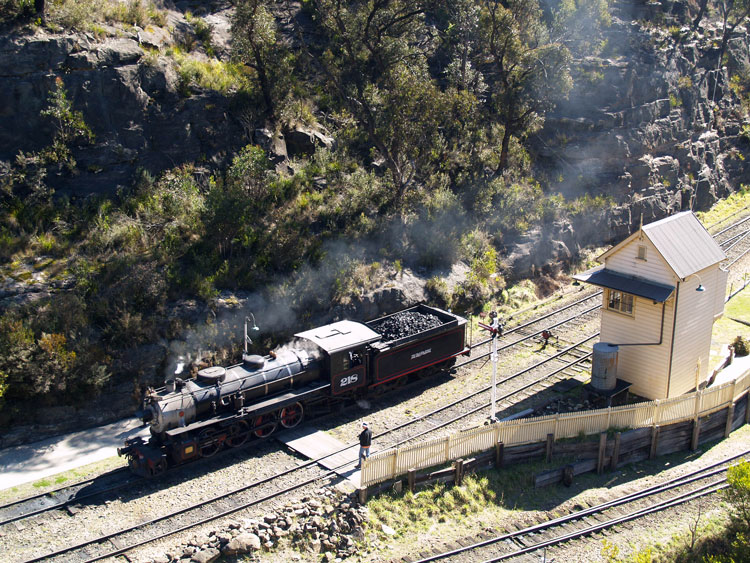 218A rolls past Bottom Points signal box as it approaches is train; 28 August 2010.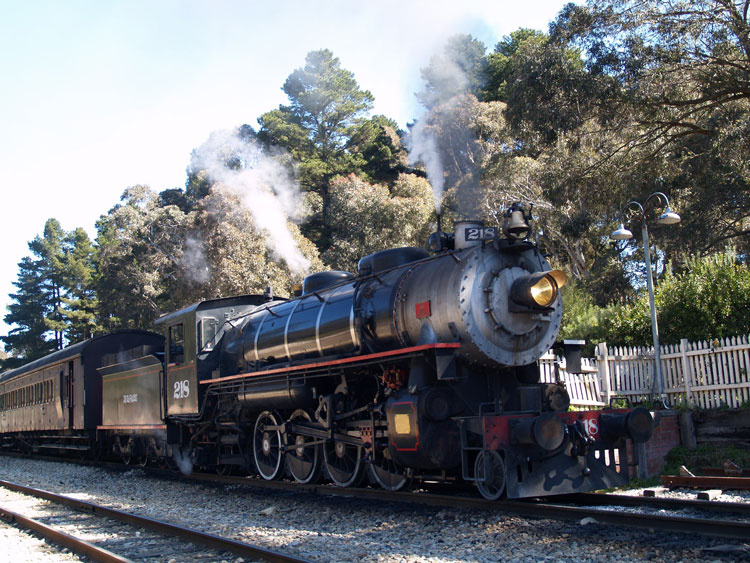 218A arrives at the Zig Zag Railway's Clarence Station on 28 August 2010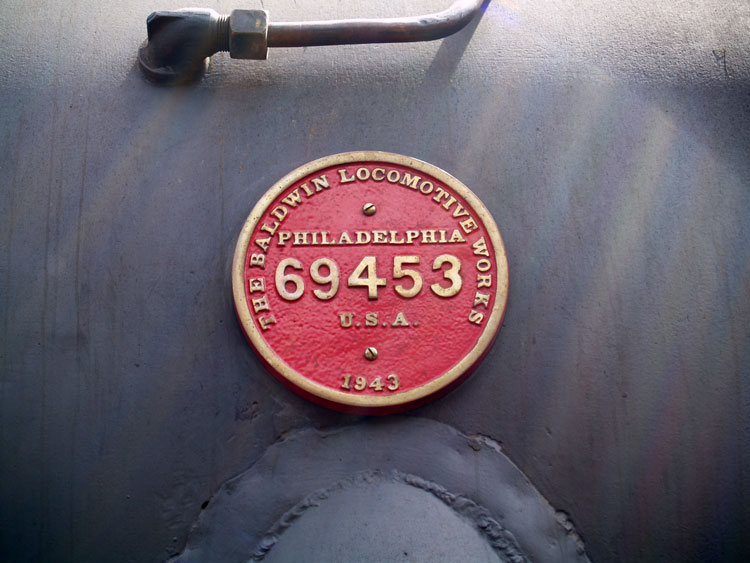 Builder's plate attached to 218A's smokebox

.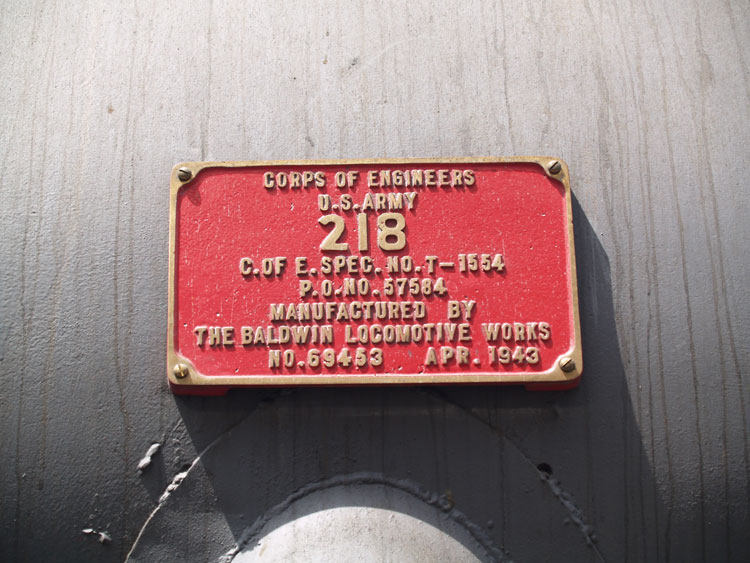 A second builder's plate, attached to the other side of the smokebox.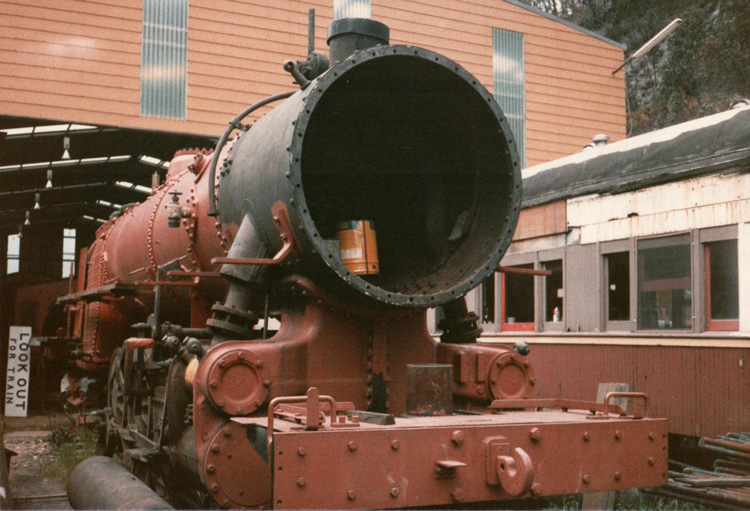 This photo show 218A outside the Bottom Points depot on 29 March 1986, stripped down and painted in primer during the early stages of its restoration.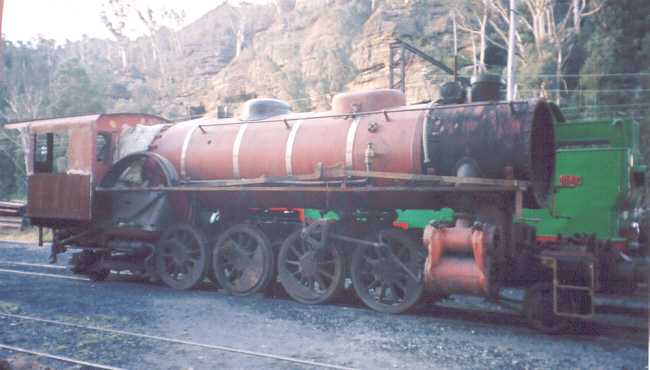 This July 2002 photo shows 218A as the restoration slowly proceeded at Bottom Points depot

.

References
| | |
| --- | --- |
| a | L. Oberg, 'Locomotives of Australia', published by J. W. Books Pty Ltd, Brookvale NSW. 1982 reprint. |
| b | Webmaster's observation or comment. |
Page updated: 27 May 2013