4D10 No.10

Boiler displayed at Caboolture
4D10-class loco No.10 at Fairymead Mill in 1956.
This interesting relic traces its origins back to one of the Queensland Government Railways' earliest locomotives, No.10 of the A-10 (Neilson) class, which was built by Neilson & Company, Glasgow (Builder's No. 1209 of 1866) as a 0-4-2 tender engine and entered service with the Queensland Government Railways in November 1867. This locomotive was rebuilt at Ipswich Workshops in 1889 as a 2-4-2T configuration, receiving a new boiler at this time. It was reclassified to the 4D10 class. c
In 1898 the boiler was removed during overhaul and replaced with another. Locomotive 4D10 No.10 went on to have an interesting and varied career, working as the Ipswich works shunter from 1900 to 1902, and subsequently as shunter on the Townsville jetty wharf. It was sold by the QGR in 1906, passing to the ownership of Hyne & Son for use on their Fraser Island timber tramway. In 1922 it was sold to Fairymead Mill, where it was broken up in 1956 a at the age of 90 years.
The 1889-built boiler removed from 4D10 No.10 in 1898 was repaired for stationary use and sent to Caboolture. Here it was situated in a steam locomotive water supply pump facility established at the Lagoon Creek railway bridge, which was commissioned on 6 February 1901. It was a saturated-steam boiler with the barrel constructed in three rings, hot-rivetted over 3-inch seams, fitted with a copper inner firebox and 88 brass tubes. a
In 1913 the boiler was decommissioned and replaced by another pumping facility on Lagoon Creek. The copper firebox and brass tubes were removed for scrap. The boiler shell later fell into Lagoon Creek and remained submerged there for around 50 years. Fortunately a local resident remembered the boiler and informed the local historical society of its whereabouts. It was retrieved in 2000 and, following restoration, is now displayed at Caboolture. a
Today this boiler provides a tangible link to the establishment of Caboolture as a locomotive watering stop on the North Railway. Dick McKean has written an interesting booklet "Lagoon Creek, Caboolture, A history" detailing the establishment of locomotive watering facilities on Lagoon Creek and the subsequent development of Caboolture. The history and retrieval of the boiler is also described. d
The Queensland Department of Environment and Resource Management has a write-up of the Lagoon Creek Railway Water Supply Facility and Pump Station on their website, providing additional history of the pumping station and its role in the development of Caboolture.
My thanks to Dick McKean of Caboolture for contributing the information and photographs regarding this interesting relic.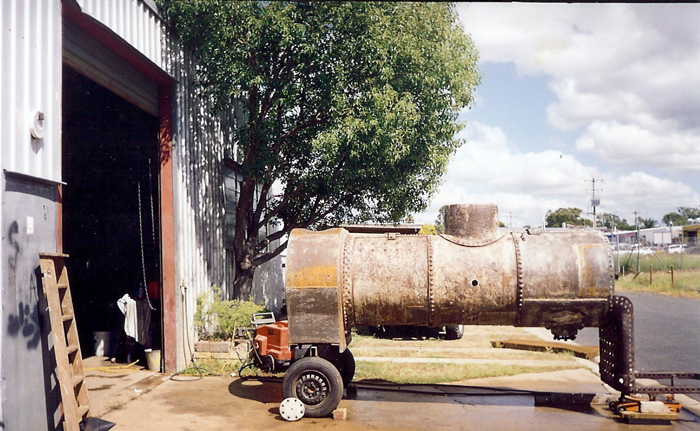 The boiler under restoration in Caboolture, prior to the firebox area being rebuilt.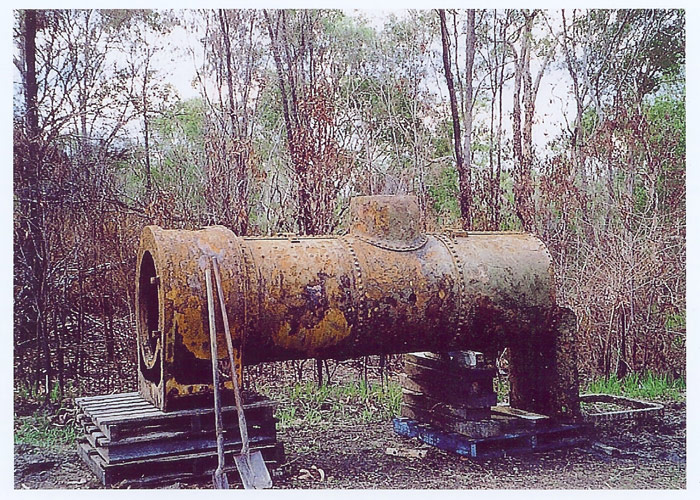 This view shows the recently retrieved boiler on the creek bank in 2000.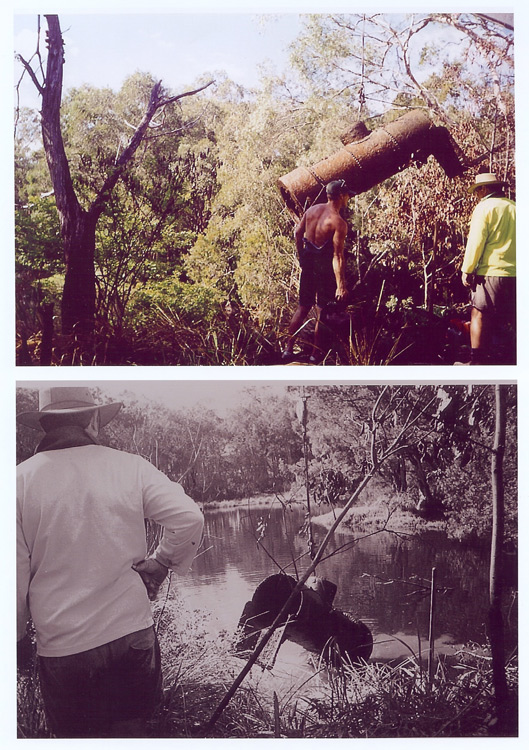 The boiler being lifted from Lagoon Creek, Caboolture in 2000.
References
| | |
| --- | --- |
| a | "Lagoon Creek, Caboolture, A history" by Richard McKean. Page 18. |
| b | Information provided by Dick McKean via letter, July 2011 |
| c | Armstrong, J. 'Locomotives in the Tropics - Volume 1 (Queensland Railways 1864 - 1910), published by the ARHS Queensland Division, 1985. Pages 56-57, 95 |
| d | Webmaster's personal observation or comment |
Page updated: 8 October 2011