A10 No.6

Displayed at The Workshops, Ipswich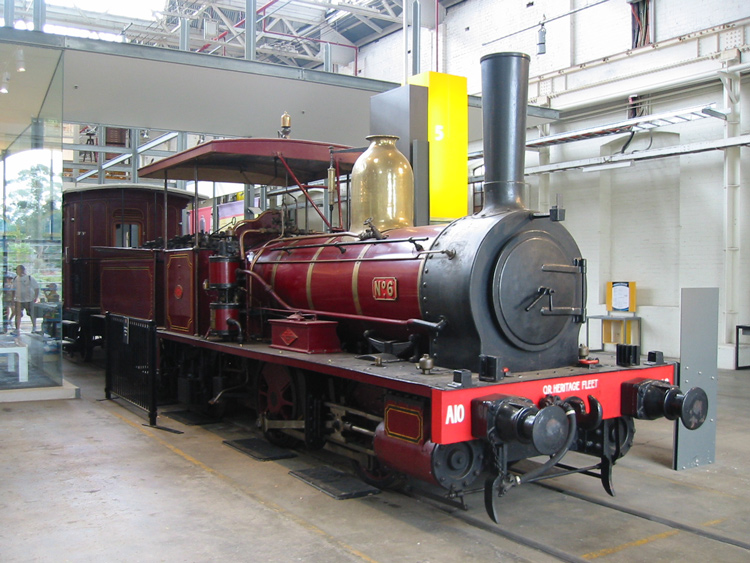 A10 No.6 and heritage carriage displayed at The Workshops museum, Ipswich on 22 October 2006.
It retains a number of vintage features such as the tall Salter safety valve and ornate brass steam dome cover.
No.6 is a very historic old steam locomotive representing the pioneering years of the Queensland Government Railways. It was built by Neilson & Co of Glasgow, Scotland to their builder's number 1170 of 1865 as one of a group of 12 "B-class" 0-4-2 tender locomotives. Another example was built for railway construction contractor Peto, Brassey & Betts and was later taken into Queensland Government Railway (QGR) stock as the thirteenth class member.
The B-class locomotives had been preceded by 4 similar sized "A-class" locomotives of 2-4-0 wheel arrangement, built in 1864 by Slaughter Gruning & Co (Avonside) of Bristol. The pioneering A and B class locomotives were delivered to Moreton Bay by sailing ship and transferred by lighter along the Brisbane River to the railway wharf at the newly established QGR workshops and railhead at Ipswich.
Both the A and B-class locomotives were grouped as the "A10-class" under the QGR class designation system whereby 'A' signifies 4 coupled wheels, 'B' for 6-coupled, 'C' for 8 coupled wheels, and 'D' for tank locomotives, with the number 10 representing the cylinder diameter in inches. A further delivery of three 2-4-0 locomotives built by Vulcan Foundry in 1877 were also grouped as the A10 class.
The 13 members of the original B-class 0-4-2 locomotives worked on the various isolated sections of the Queensland Government Railways during the early years, but these diminutive locomotives were unsuited for mainline service as the routes became longer and trains became heavier. Several were sold to industry and four locomotives were converted to 4D10-class tank locomotives.
In 1896 No.6 was sold out of Queensland Government Railways service to Gibson and Howes of Bingera Sugar Mill, Bundaberg. Here it was one of a number of early ex-QGR locomotives used on Bingera Mill's 3' 6" gauge lines to haul sugar cane to the mill. It received a new boiler in 1946 and remained in Mill service until the 1960's. By then the survival of this historic little locomotive had come to the attention of the railway authorities and arrangements were made for it to steam back to Ipswich in preparation for an operational role in the QR centenary celebrations. No.6 subsequently played a starring role in the centenary celebrations by hauling a special train along the original route from Ipswich to Grandchester in 1965.
No.6 was plinthed as a key exhibit in the static locomotive collection of the Redbank Railway Museum from 1970 to approximately 1991. In connection wit the closure the Redbank Railway Museum, No.6 was transferred to Mayne for restoration to operation by Australian Railway Historical Society volunteers and occasionally ventured out along Queensland Railways routes on tour train duties.
No.6 is now a prime exhibit at "The Workshops" museum at the Ipswich Railway Workshops, where I believe it remains available for operation at special events.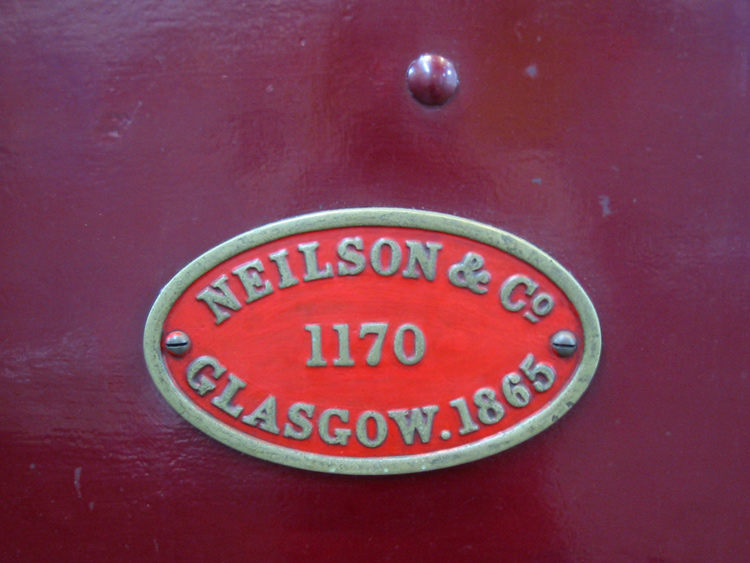 A detail of the builder's plate attached to A10 No.6. Photo dated 22 October 2006.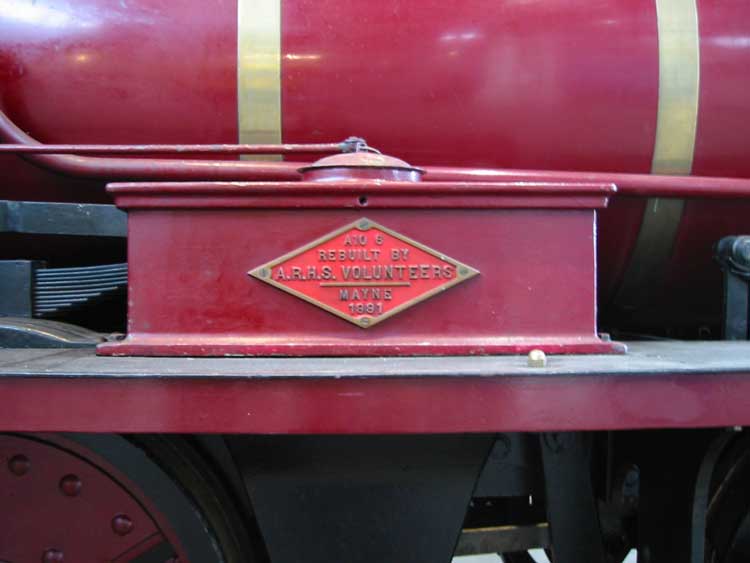 This plate is attached to the sandbox:
"A10 rebuilt by A.R.H.S. volunteers, Mayne 1991. Photo date 22 October 2006.
This photo and caption is courtesy of Graham Watkins:
"A10 6 and its small train pose next to BB18¼ 1079 at the Grandchester Steam Fest 2000 on Sunday 30 July, 2000, celebrating 135 years of Queensland Railways."
References
a

Armstrong, J. 'Locomotives in the Tropics - Volume 1 (Queensland Railways 1864 - 1910), published by the ARHS Queensland Division, 1985.

Page 16.

b
Webmaster's observation or comment.
Page updated: 20 January 2013