A10 No.3

Under restoration at The Workshops, Ipswich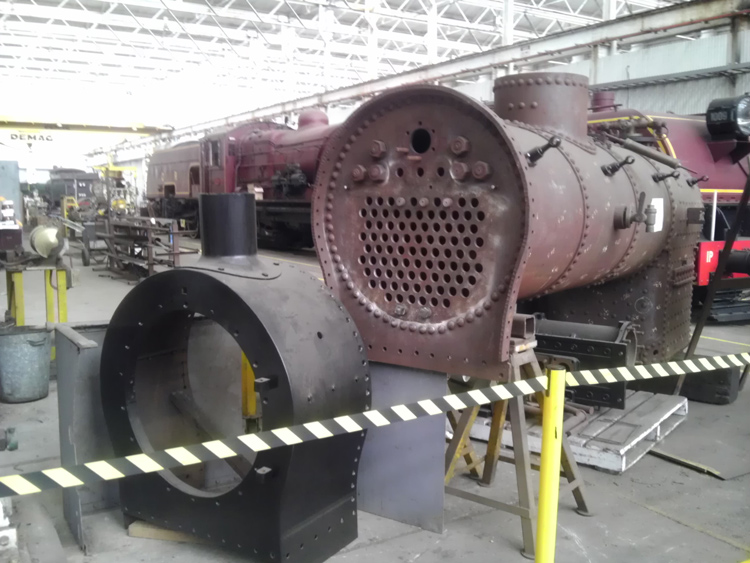 Murray Lawrence has kindly contributed this view of No.3's boiler under repair at Ipswich, 29 October 2012.
No.3 is a very historic old steam locomotive representing the pioneering years of the Queensland Government Railways. It was built by Neilson & Co of Glasgow, Scotland in 1866 (builder's number 1214) as one of a group of 12 "B-class" 0-4-2 tender locomotives. Another example was built for railway construction contractor Peto, Brassey & Betts and was later taken into Queensland Government Railway (QGR) stock as the thirteenth class member.
The B-class locomotives had been preceded by 4 similar sized "A-class" locomotives of 2-4-0 wheel arrangement, built in 1864 by Slaughter Gruning & Co (Avonside) of Bristol. The pioneering A and B class locomotives were delivered to Moreton Bay by sailing ship and transferred by lighter along the Brisbane River to the railway wharf at the newly established QGR workshops and railhead at Ipswich. a
Both the A and B-class locomotives were grouped as the "A10-class" under the QGR class designation system whereby 'A' signifies 4 coupled wheels, 'B' for 6-coupled, 'C' for 8 coupled wheels, and 'D' for tank locomotives, and the number 10 represents the cylinder diameter in inches. A further delivery of three 2-4-0 locomotives built by Vulcan Foundry in 1877 were also grouped as the A10 class. b
The 13 members of the original B-class 0-4-2 locomotives worked on the various isolated sections of the Queensland Government Railways during the early years, but these diminutive locomotives were unsuited for mainline service as the routes became longer and trains became heavier. Several were sold to industry and four locomotives were converted to 4D10-class tank locomotives. No.3 was the last of the class in QGR service when withdrawn in 1914 but fortunately it was retained for display at Ipswich Workshops. In 1936 it was refurbished and steamed for a railway pageant, after which it was plinthed at Roma St, Brisbane. In 1959 it returned to Ipswich Workshops and was then displayed in Queen's Park, Limestone Hill, Ipswich. a
No.3 was removed from Queen's Park in the mid-1980's with intention of restoration to operation. Unfortunately the restoration effort has been progressing very slowly; the webmaster's visit to the Ipswich Railway Workshops Museum in October 2004 found No.3 stored dismantled in a shed. Among the stored components was a new tender tank. b
Newsgroup reports in October 2009 stated that restoration and assembly of No.3 had restarted and is progressing at Ipswich.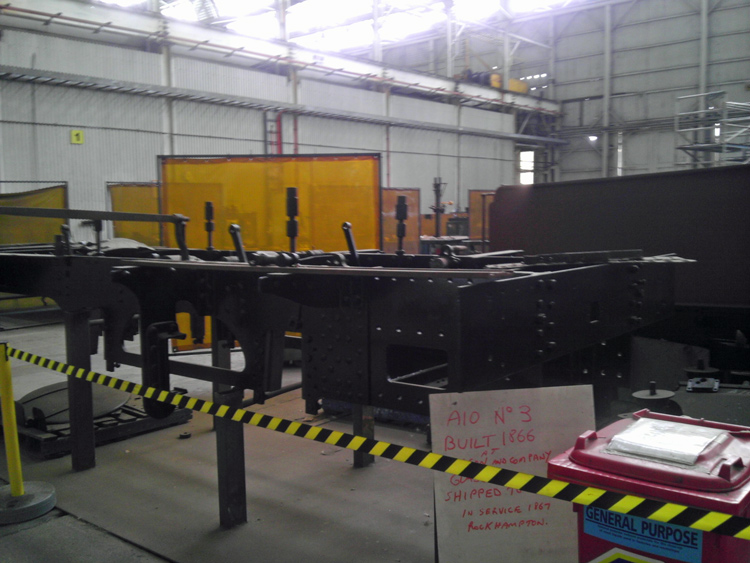 No. 3's frames on display at The Workshops museum, Ipswich.

This view was

kindly contributed by Murray Lawrence and is dated 29 October 2012.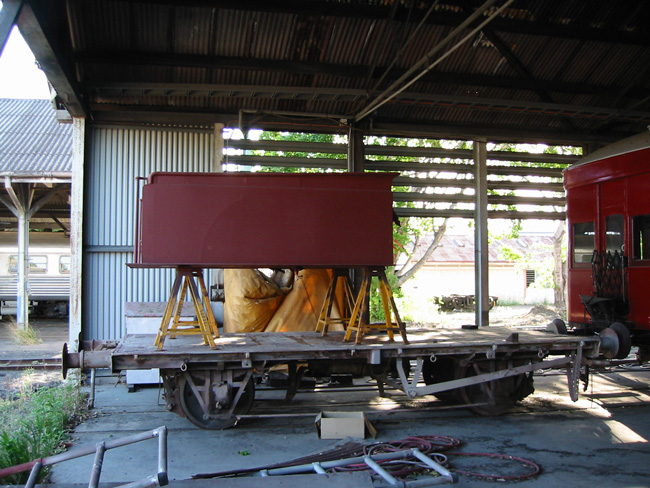 This view shows No.3's new welded tender tank at Ipswich. October 2004

.

References
| | |
| --- | --- |
| a | Armstrong, J. 'Locomotives in the Tropics - Volume 1 (Queensland Railways 1864 - 1910), published by the ARHS Queensland Division, 1985. |
| b | Webmaster's observation or comment. |
| | |
Page updated: 20 January 2013