A10 No.203

A fascinating survivor on the Normanton-Croydon Railway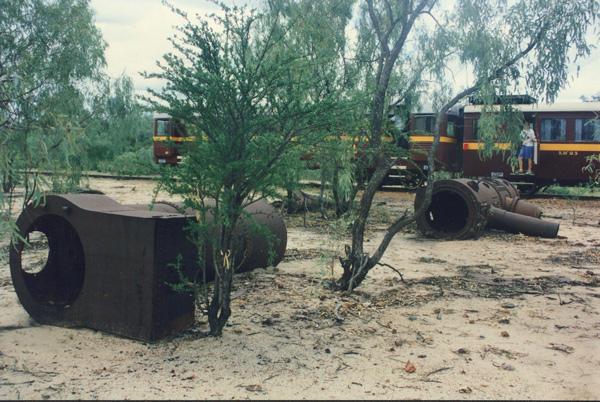 This photo is kindly provided by Murray Lawrence and shows the boilers of No.203 and 161 at Clarina in January 1993.
'The Gulflander' railmotor is standing behind the two abandoned boilers.
No.202 was built in 1877 for the Queensland Railways, and was transferred to the isolated Normanton - Croydon Railway in 1888. It became unused after 1895. The boiler was separated from the loco at Normanton and sent to the Clarina pump, where it remains derelict. a Photos suggest the firebox inner & outer have been scrapped - probably to retrieve a copper inner firebox. b
The 4-wheel tender was possibly used as a water cart (together with that from 204) as both were derelict at Croydon by 1985 but were reunited with the engine frames at Normanton in that year. a
References
a

Knowles, J. W. 'Lonely Rails in the Gulf Country - The story of the Normanton - Croydon Railway and the Gulflander', Revised second edition 1993, published by J. W. Knowles and distributed by the Australian Narrow Gauge Railway Museum Society, PO Box 270, Brisbane 4002.

(Appendix 4, Page 58)

b
Webmaster's observation or comment.
Page updated: 5 November 2012