752

Originally Victorian Railways N 477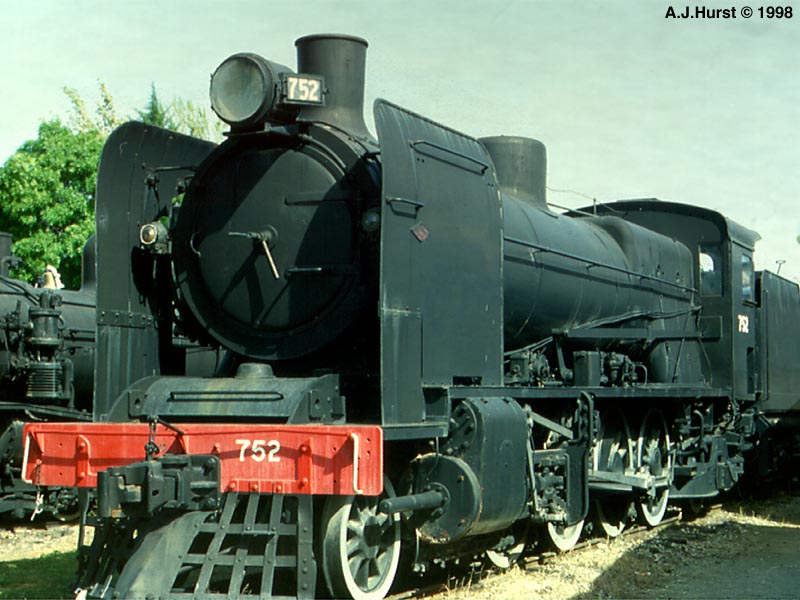 This p

hoto is courtesy of John Hurst and dated October 1979, showing 752 statically displayed at the former Mile End Railway Museum in Adelaide.

752 is now displayed at the National Railway Museum, Port Adelaide.

752 is the only survivor of the South Australian Railways "750" class 2-8-2 Mikado locomotives. The 750 class were in fact second-hand Victorian Railways N-class locomotives, with 10 locomotives sold virtually new to the South Australian Railways in 1951 having been rendered surplus to Victorian Railways requirements due to their rapidly growing diesel locomotive fleet. The 10 members of the 750 class were all built by the North British Locomotive Company, Glasgow, and their original numbers are tabulated below:
SAR No.
750
751
752
753
754
755
756
757
758
759
Original VR No.
N 474
N 471
N 477
N 465
N 461
N 485
N 491
N 490
N 494
N 495

North British

Builder's No.

26784
26781
26787
26775
26771
26795
26801
26800
26804
26805
752 was last in steam in November 1964. While the remainder of the 750 class locomotives were scrapped between 1962 and 1967, fortunately 752 was set aside for preservation and placed on static display at the Mile End Railway Museum in April 1967. Together with other Mile End exhibits it was transferred to the new Port Dock Station Museum (now the National Railway Museum) in 1988.
For comparison to the Victorian Railways N-class, refer to sister N 432 which is the only original N-class locomotive remaining in Victoria.
References
a

Fluck R. E., Sampson R., & Bird K. J. 'Steam locomotives and Railcars of the South Australian Railways',

published by The Mile End Railway Museum (SA) Inc, 1986.
Page updated: 27 March 2014