624

National Railway Museum, Port Adelaide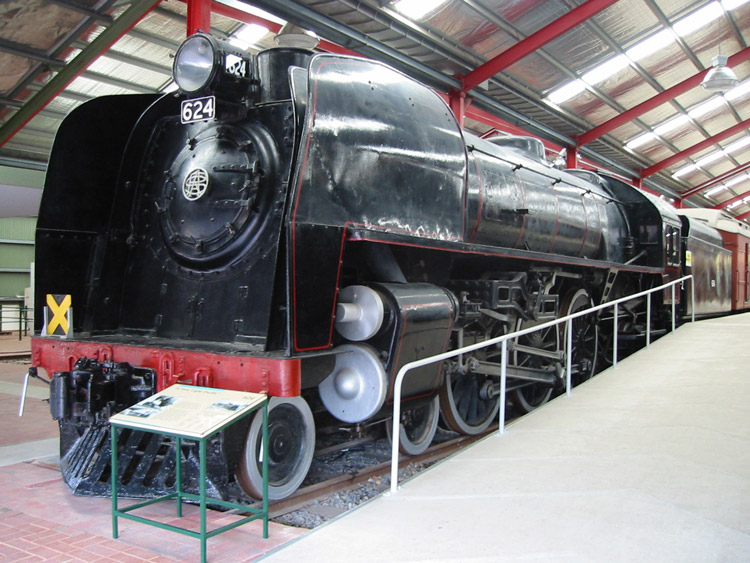 624 displayed at the National Railway Museum, Port Adelaide on 20 July 2002.
The 620-class "Light Pacific" 4-6-2 locomotives were designed by the South Australian Railways to fill a gap between the 600-class Heavy Pacifics on main line duties and the older Rx-class 4-6-0's and S-class 4-4-0's on light country lines. Ten 620-class locomotives were built by the South Australian Railways at Islington Workshops between 1936 and 1938 and they commonly worked fast passenger turns to destinations such as Port Pirie and Victor Harbour.
Preserved loco No. 624 was completed by Islington Workshops in 1937 and last ran in 1963, clocking a total of 704,164 miles in service. (It seems Islington Workshops did not issue works numbers.)
Class leader No.620 was scrapped in 1963 and the rest of the class were generally out of use by 1963, although they had already outlived the less versatile 600-class Heavy Pacifics. The majority of the 620-class were retained in storage at Mile End depot until condemned in 1967, being towed to Islington for scrapping during 1968 and 1969. No.624 escaped this fate, being placed on static display at the open-air Mile End Railway Museum in April 1967.
During 1988, No. 624 was transferred to the new Port Dock Station Museum at Port Adelaide (now known as the National Railway Museum) where it is prominently displayed in the main exhibit hall.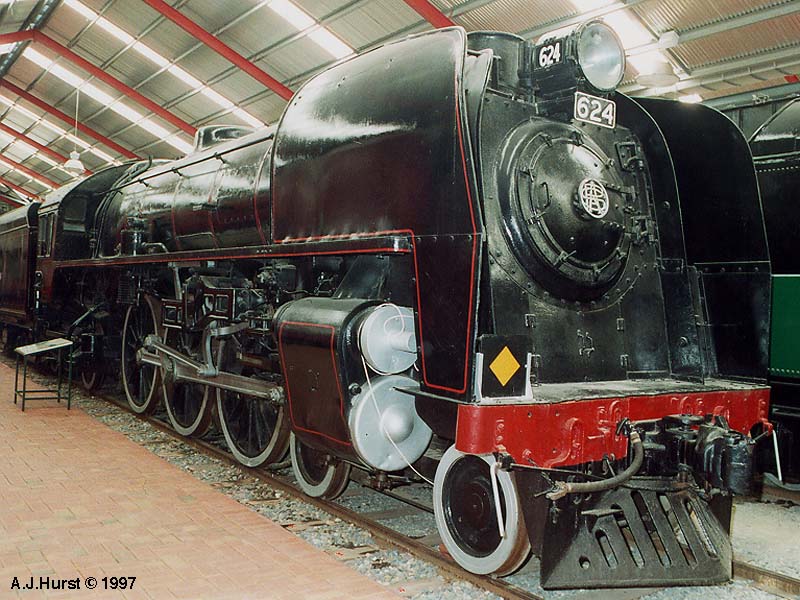 My thanks to John Hurst for permitting use of this December 1993 view of 624.
References
a

Fluck R. E., Sampson R., & Bird K. J. 'Steam locomotives and Railcars of the South Australian Railways',

published by The Mile End Railway Museum (SA) Inc, 1986.
Page updated: 30 November 2014