621

Maintained by SteamRanger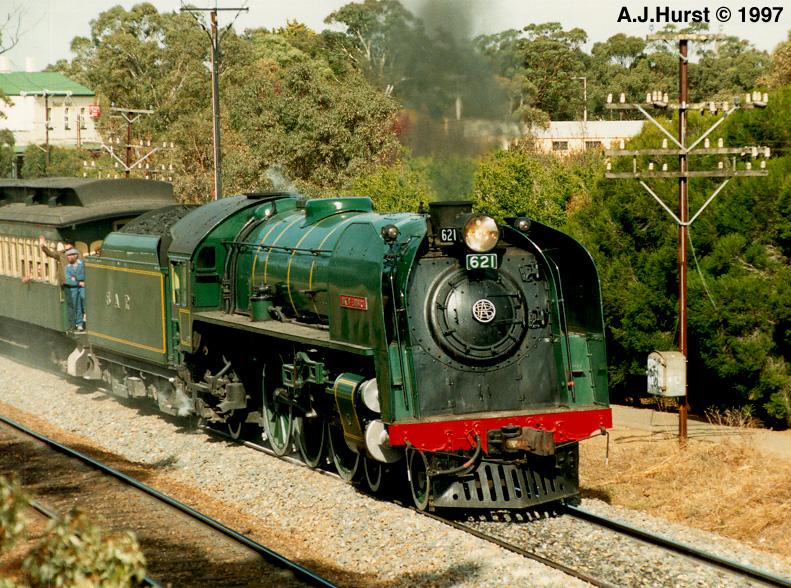 My thanks to John Hurst for this view of 621 near Glenalta on a special train to Bridgewater, 28 May 1990.
The 620-class "Light Pacific" 4-6-2 locomotives were designed by the South Australian Railways to fill a gap between the 600-class heavy Pacifics on main line duties and the older Rx-class 4-6-0's used on light country lines. Class leader No. 620 was completed in 1936. As the pride of the South Australian Railways, No.620 featured in the South Australian Centenary celebrations of 1936, being released to traffic with a semi-streamlined boiler cladding and a distinctive chrome grill covering the smokebox door. A further nine class members followed before 1938 with the balance of the class fitted with a more conventional smokebox door but retaining semi-streamlining along the boiler. Another interesting feature of the 620-class design was the use of Baker Valve gear.
In service the ten handsome 620-class locomotives commonly worked fast passenger turns to destinations such as Port Pirie and Victor Harbour, although the more demanding runs were later taken over by the larger 520-class 4-8-4's.
Unfortunately class leader No.620 was scrapped in 1961 and the rest of the class were generally out of use by 1963, although they had already outlived the less versatile 600-class Heavy Pacifics. The majority of the 620-class were retained in storage at Mile End depot until condemned in 1967, being towed to Islington for scrapping during 1968 and 1969.
Preserved loco No. 621 was completed by Islington Workshops in 1936 (it seems Islington Workshops did not issue works numbers) and was officially condemned in August 1969, having travelled 672,814 miles in South Australian Railways service. Fortunately No.621 was retained for railtour duties (together with 520, Rx207 & Rx224) and passed into the care of the Australian Railway Historical Society (South Australian Division) in 1971. No. 621 received the name "Duke of Edinburgh" in 1971 in connection with its reinstatement as a tour engine, wearing attractive lined green livery.
The ARHS (SA) railtour operations have since come under the "SteamRanger" brand and the SteamRanger organisation has maintained No.621 for many years. No.621 was based at the SteamRanger depot at Dry Creek, Adelaide and available for railtour duties around the state during the 1970's and 1980's until the standardisation of the key interstate routes led to SteamRanger transferring their operations in 1996 to the now-isolated broad gauge line between Mt Barker and Victor Harbour. The SteamRanger fleet has since been based at a new workshop and depot at Mt Barker and used on the popular Cockle Train tourist services to Victor Harbour.
My sincere thanks to John Hurst for the various photos of 621 on this page, used with permission from his excellent collection of steam locomotive photographs.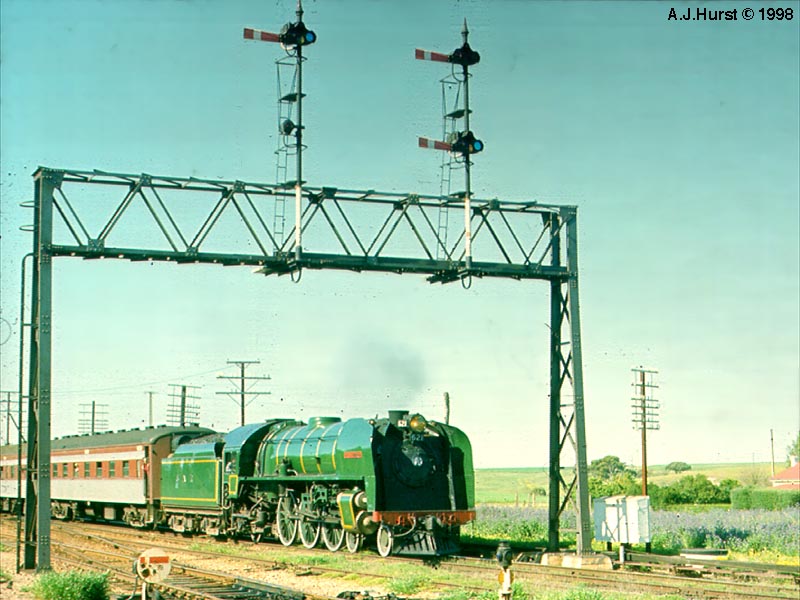 The signal gantry nicely framed No.621 as it arrived at Hamley Bridge. (Approx. 1976)
A fine 1976 view of No.621 on the Angaston line in the Barossa Valley.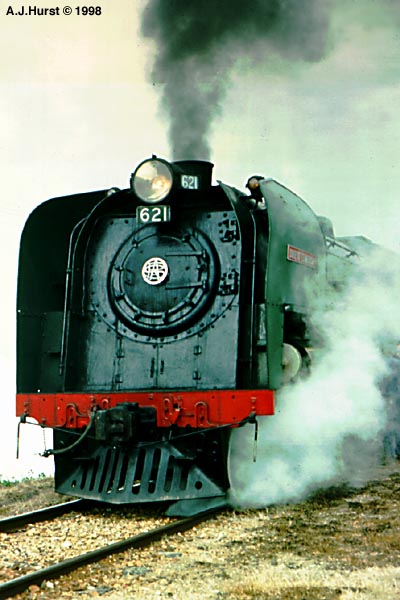 My thanks to John Hurst for this 1976 view of 621, clearly showing the distinctive smokebox and semi-streamlining.
"Duke of Edinburgh" nameplates adorn the smoke deflectors.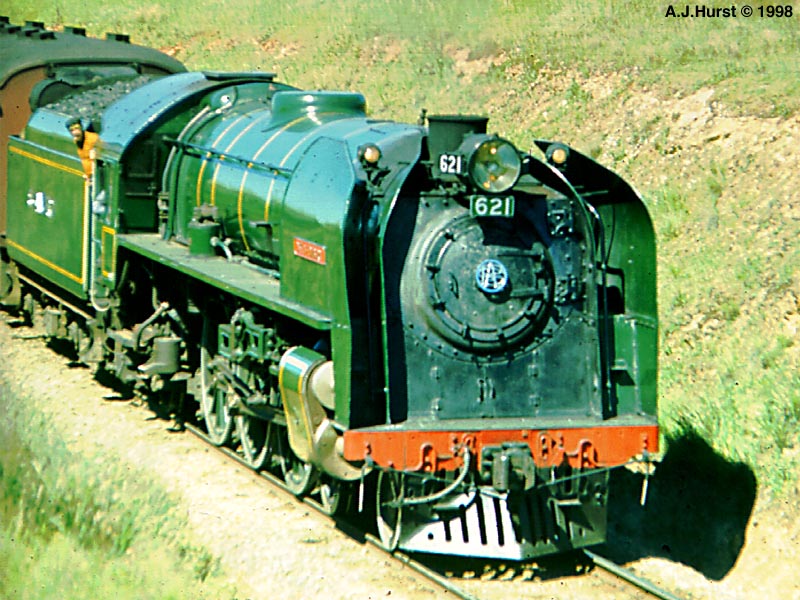 A 1973 view of No.621 in action on railtour duties.
References
a

Fluck R. E., Sampson R., & Bird K. J. 'Steam locomotives and Railcars of the South Australian Railways',

published by The Mile End Railway Museum (SA) Inc, 1986.
Page updated: 5 December 2014