6040

Last steam loco to enter NSWGR service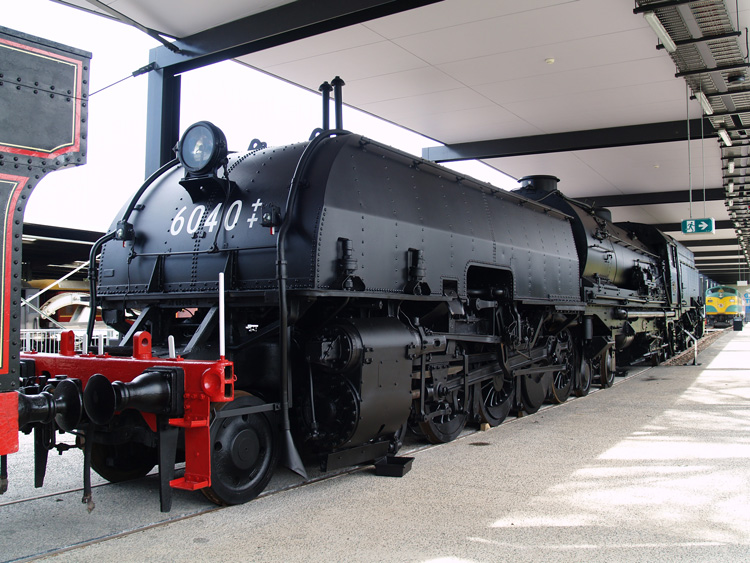 6040 has been repainted and statically restored in this view of 7 January 2012.
Electrical conduits, marker lights and headlight have been refitted. An interesting feature is the unusual "sound collector" pipes fitted to the AD60-class
Beyer-Garratts, as seen immediately behind the leading wheelset; these sound pipes transmitted the sound of warning detonators to the crew in the cab.
| | |
| --- | --- |
| Builder | Beyer Peacock & Co, Manchester |
| Builder's Number & Year | 7542 of 1956 |
| Wheel Arrangement | 4-8-4 + 4-8-4 |
| No. in class | 42 |
| Entered Service | 2 January 1957 |
| Date Condemned | 17 November 1967 |
With the New South Wales Government Railways needing additional motive power in the post-war period, Beyer Peacock & Co supplied 42 freight locomotives of the patented "Beyer-Garratt" articulated type.  The AD60 class Beyer-Garratts excelled in NSWGR service, following elimination of a number of teething troubles and attention to union concerns.  6040 was the last of the class assembled, in the process becoming the last steam locomotive to enter NSWGR service when launched to traffic on 2 January 1957.  6040 was later rebuilt by the NSWGR as a 'heavy-type' Garratt (the "++" modifications included bored-out cylinders) but it was not modified for dual control ("DC").
6040 was condemned by the NSWGR in November 1967 and entered a period of storage prior to joining the collection of the formative NSWRTM at Enfield.  During this time of storage it became rust streaked.  6040 was displayed in an unrestored condition at the NSWRTM until 1991, when it received a cosmetic repaint into black livery by a group of NSWRTM members.  (At this stage some piping and other components remained stored in the coal bunker).
A visit to NSWRTM in March 2007 revealed a new volunteer restoration effort had begun to spruce up 6040 for its 50th birthday.  The locomotive was being progressively cleaned, repainted and relined, with the missing components (such as those stored in the coal bunker) cleaned, painted and refitted. By March 2008 the locomotive was looking very good, with miscellaneous pipe work refitted, brass numbers & works plates refitted, and working marker lights.  It transpires that 6040's original cross-compound air compressor had been removed long ago at Enfield to keep a sister in traffic, however NSWRTM volunteers obtained a replacement in 2008 and this has arrived at Thirlmere and is being prepared for refitting.
6040's old boiler lagging was removed by specialist contractors during 2008.  This step necessitated the removal of much of the pipework and fittings, however the boiler barrel etc have now been cleaned of rust and road grime.  Sections of new boiler clothing were subsequently manufactured to replace heavily worn and damaged sections.  6040 was placed back on display as a prime exhibit at the new Trainworks museum, Thirlmere by January 2012.  Some pipework and fittings remained to be reinstated but this is now being addressed as a NSWRTM volunteer project, with good progress evident at the time of the webmaster's visit on 1 March 2015.  Perhaps the most significant item outstanding is the cross-compound air compressor which is normally mounted against the smokebox; I understand the compressor previously obtained remains available and hopefully this will soon be refitted.
Wikipedia provides a useful history of the NSWGR AD60 class Beyer-Garratts together with further technical details.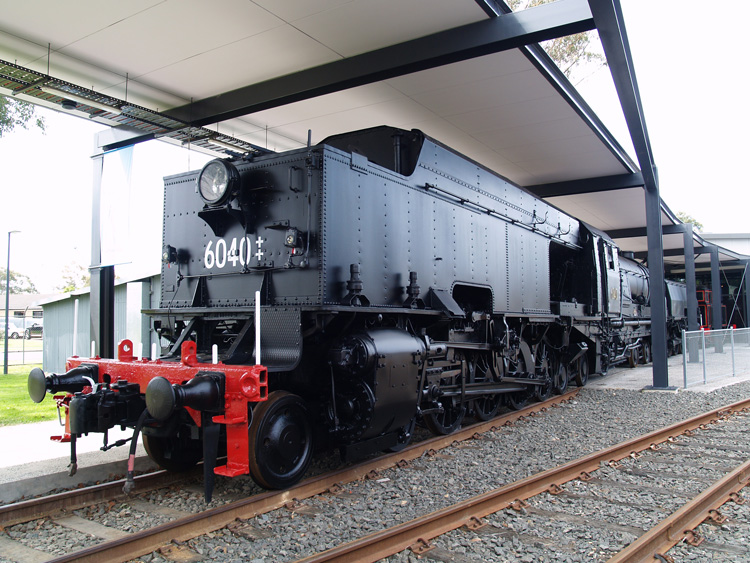 Rear view of 6040 displayed at Thirlmere.  7 January 2012.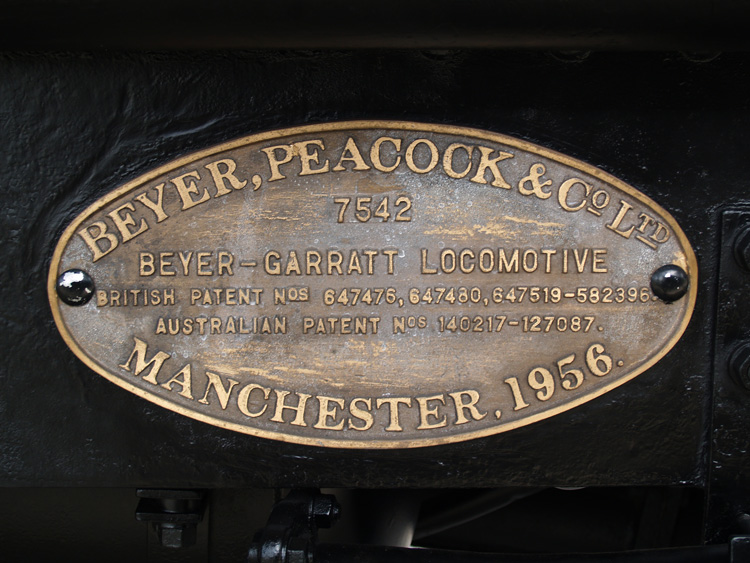 The restored builder's plate, referencing the various British patents applying the Beyer-Garratt design.
This plate is attached midway along the main boiler cradle / frame.  7 January 2012.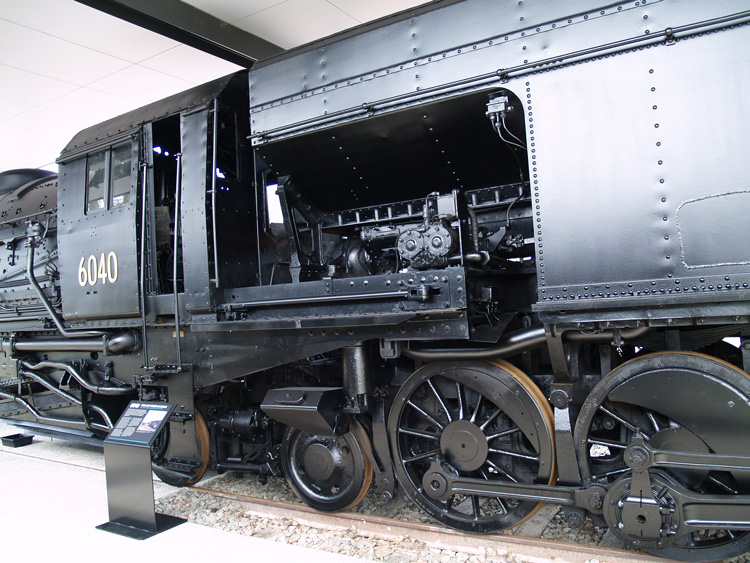 Detail of 6040's cab and forward section of the bunker.
Also seen is the small 2-cylinder steam engine which powers the automatic stoker.  7 January 2012.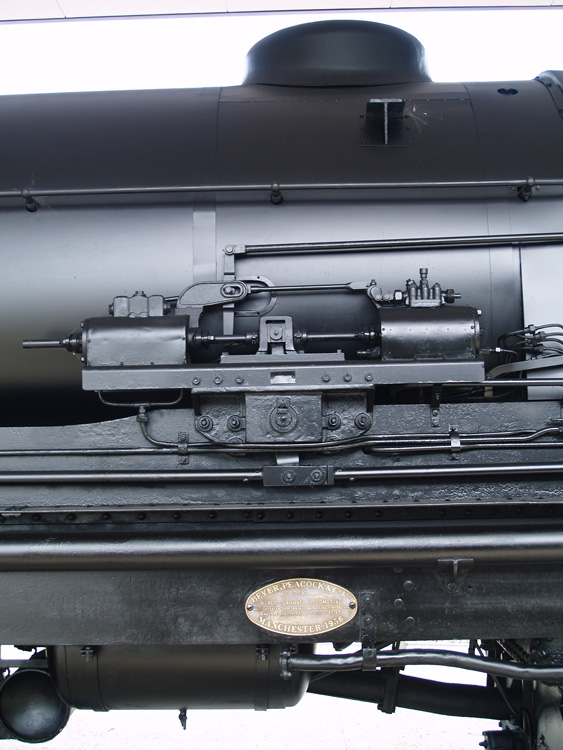 Detail of the boiler mid-section showing the new boiler sheeting (lacking the dings and wear!)
The power reverser is also seen in detail. Various pipes await refitting along the boiler barrel.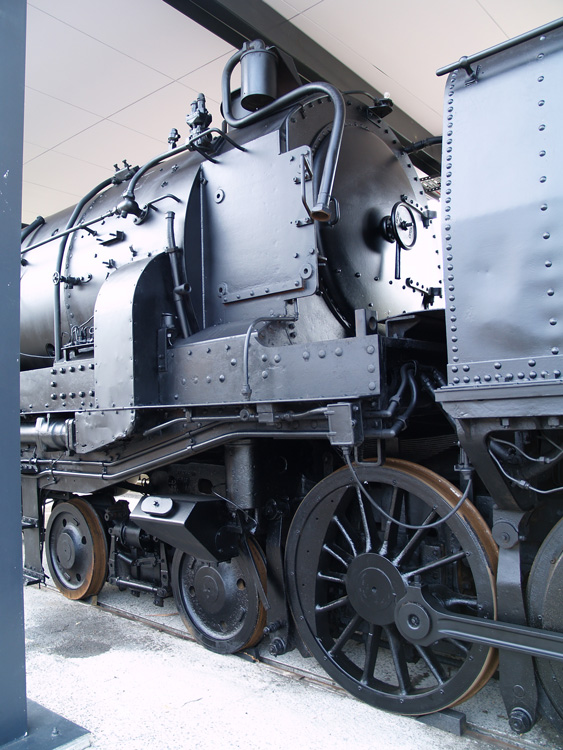 One item yet to be refitted is the cross-compound air compressor for the braking system.
NSWRTM volunteers have sourced a replacement, which is being prepared for fitting.
An interesting feature of the AD60, D57 & D58 class locomotives was the need to recess the compressor into the smokebox.
Today's preserved locomotives often carry parts which originated on sister locomotives, these parts having been swapped during workshop or running repairs.
Inspection of 6040 reveals several such parts, such as this outside left front motion link which is stamped for loco 6022 (Beyer Peacock B/N 7494).
References
a

"The 60 Class" by K.T. Groves, H.J. Wright and M.F. Morahan,

Published by the New South Wales Transport Museum, 1994

b

"Locomotives of Australia - 1985 to 2010" (Fifth Edition), by Leon Oberg,

published 2010 by Rosenberg Publishing Pty Ltd.

c

Webmaster's observation or comment
Page updated: 27 March 2015
| | | | | | | | | | | |
| --- | --- | --- | --- | --- | --- | --- | --- | --- | --- | --- |
| Government Railways: | | | | | | | | | | |
| Private & Industrial Railways: | | | | | | | | | | |