6029

Named "City of Canberra"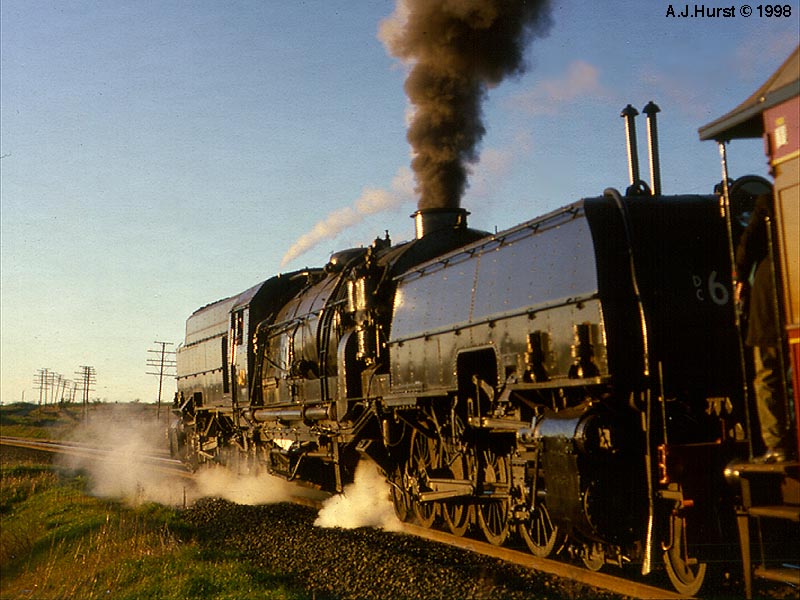 6029 restarting her train after a photo stop between Yass and Goulburn during the June long weekend tour of 1979.
This slide view is courtesy of John Hurst from his collection of railway photographs.
Builder

Beyer Peacock & Co, Manchester

Builder's Number & Year

7531 of 1954

Wheel Arrangement

4-8-4 + 4-8-4

No. in class

42

Entered Service

24 April 1954

Date Condemned

4 January 1973
With the New South Wales Government Railways needing additional motive power in the post-war period, orders were placed with Beyer Peacock & Co for 25 freight locomotives of the patented "Beyer-Garratt" articulated design.  This innovative design provided a powerful steam locomotive consisting of leading and trailing locomotive units pivoted between a common boiler.  Articulation permitted Beyer-Garratt locomotives to traverse tight curves, while spreading the boiler weight across two engine units provided a lower axle load and thus permitted use on secondary / lightly-laid routes.  As the boiler was slung in a frame between the two articulated locomotive units, a more efficient boiler design was possible because the firebox depth and boiler diameter was not restricted by the driving / carrying wheels or other aspects of a conventional steam locomotive frame.
To meet traffic demands a further 25 locomotives were subsequently ordered by the New South Wales Government Railways, however circumstances had changed by the time deliveries commenced with favour turning to diesel locomotives.  Accordingly the NSWGR sought to curtail the second batch.  Following negotiations with Beyer Peacock & Co, locos 6043 – 6045 were delivered complete but never assembled, being used as spare parts, locos 6046 & 6047 were delivered incomplete for parts only, while 6048 - 6050 were cancelled outright.
The AD60 class Beyer-Garratts excelled in NSWGR service, following the elimination of teething troubles and attention to union concerns.  6029 was among 31 which received modifications during service, including Dual Control (DC) to allow the locomotive to be driven easily in the "reverse" direction, and increased cylinder diameter for greater tractive effort ("++") and thus was known as a DC++ modified AD60.  The DC++ Beyer-Garratts were often paired on demanding main line freight drags, such as the Fassifern Colliery run which required 1,200 coal trains to tackle a lengthy 1:40 grade from a standing start.  DC++ Beyer-Garratts including 6029 were among the last NSWGR steam locomotives to work in revenue service, ending their days on heavy coal trains in the Newcastle district.  Sister 6042 is recognised as the last steam locomotive in NSWGR revenue service, being withdrawn on 4 March 1973.
Upon withdrawal from the NSWGR in the early 1970's, 6029 was reserved by the Federal Government as an exhibit for the (then proposed) National Museum of Australia in Canberra.  It was placed in the care of the Australian Railway Historical Society (ACT Division) in the interim and was active on rail tours around Canberra from the mid-1970's.  Unfortunately heavy maintenance issues caught up with 6029 and she was withdrawn from rail tour duty in 1981 due to deteriorating boiler condition; apparently the firebox tubeplate required replacement.
6029 was partially dismantled for inspection and costing for overhaul in 1994, but sufficient restoration funding was not available at that time.  Accordingly 6029 was reassembled and returned to static display on the entrance / platform road at the Canberra Railway Museum.
A new initiative to restore 6029 to operation began in late 2007 and an appeal for funds opened.  A number of 60-class boilers had been in industrial use as stationary steam plant; one of these had been obtained from a Victorian sawmill by the ARHS (ACT Division) as a future swap for 6029's expired boiler.  ARHS volunteers made steady progress with the dismantling and overhaul of 6029 and in 2008 the replacement boiler passed hydrostatic testing.  Restoration came to completion in December 2014 with the reboilered 6029 receiving authorisation for main line use.  6029 received impressive "City of Canberra" nameplates during an official relaunch ceremony at the Canberra Railway Museum on 25 February 2015.  The comprehensive 6029 Blog provides full details and photos of the 6029 restoration project.
There are several excellent YouTube videos of 6029 in steam; here is one "2015 Thirlmere Festival of Steam with 6029".  John Hurst also has many images of 6029 during 1980's rail tour duty in his excellent collection of railway photographs, several of which are reproduced (with permission) on this page.
For further reading on these fascinating locomotives, I thoroughly recommend "The 60 Class" by Ken Groves, Harry Wright and Mick Morahan, published by the New South Wales Transport Museum.  This book provides full technical and operational details, data tables and many magnificent historical photographs of AD60 class locomotives in action.
Wikipedia provides a useful history and technical details for the NSWGR AD60 class Beyer-Garratt locomotives, together with a page describing the Beyer-Garratt design in general.
A fine John Hurst slide view of 6029 in railtour duty during June 1981.  The caption provided by John reads:
"June long weekend, 1981, and 6029 crosses a billabong off the Lachlan River just south of Forbes in central NSW.
Although the bridge looks like it can only barely take the weight, in fact the Garratts had wide route availability with their 16t axle loading.
The only thing stopping them visiting all parts of the state was a union ban on running them through some single line tunnels,
because of their enclosed cabs and the difficulty of egress within the confines of a tunnel."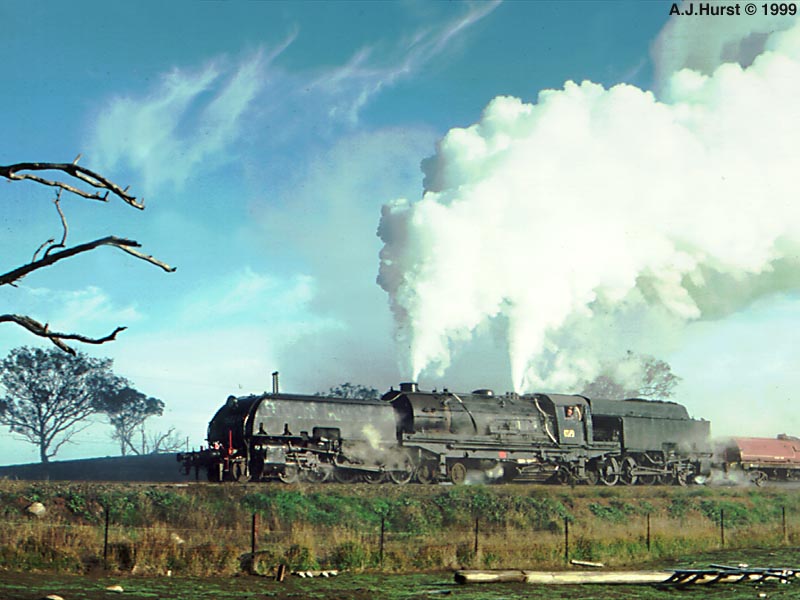 Another fine John Hurst photograph of 6029, this view crossing the Breadalbane Plains near Yass in June 1981.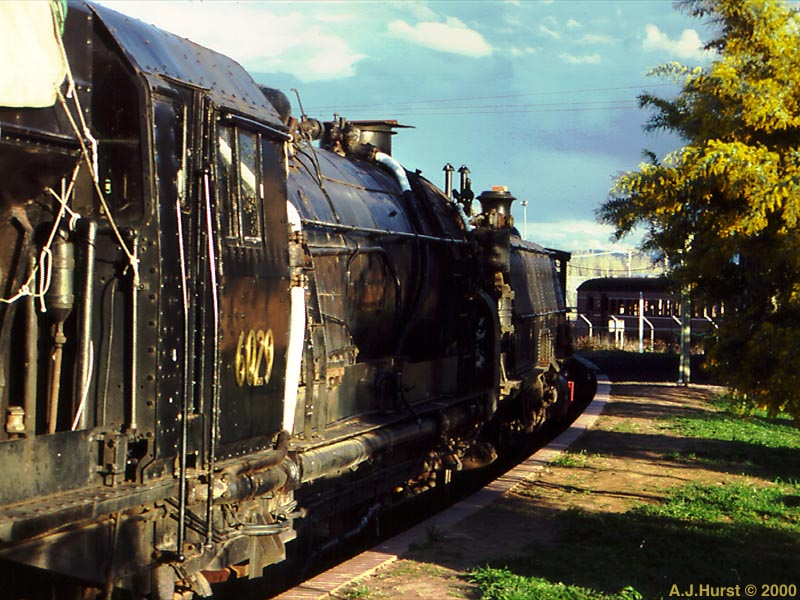 6029 statically displayed on the platform / entrance road at the Canberra Railway Museum, where it resided for many years.
My thanks to John Hurst for this view, dated February 1987.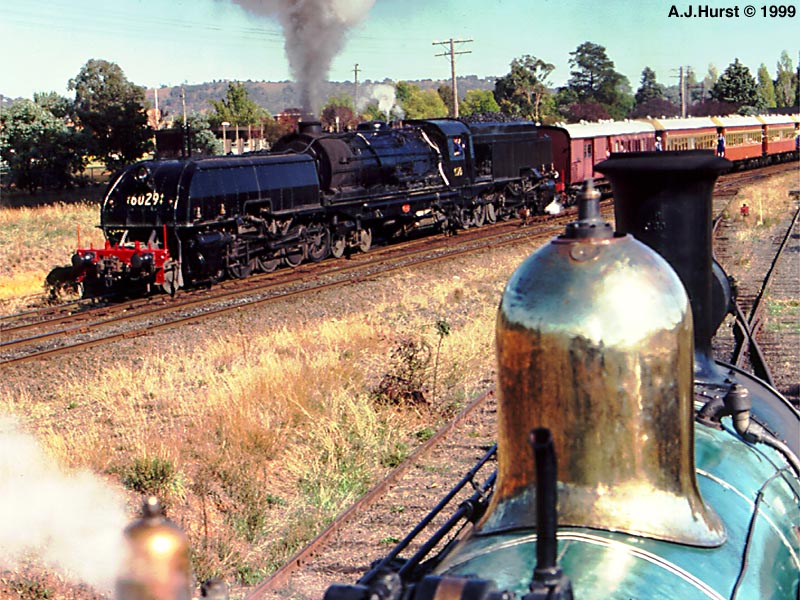 Another John Hurst slide view of 6029 during its earlier period of railtour operation.
This view is dated April 1981 and the caption provided by John reads:
"6029 chuffs away from Canberra Station, watched by 3102 quietly raising steam."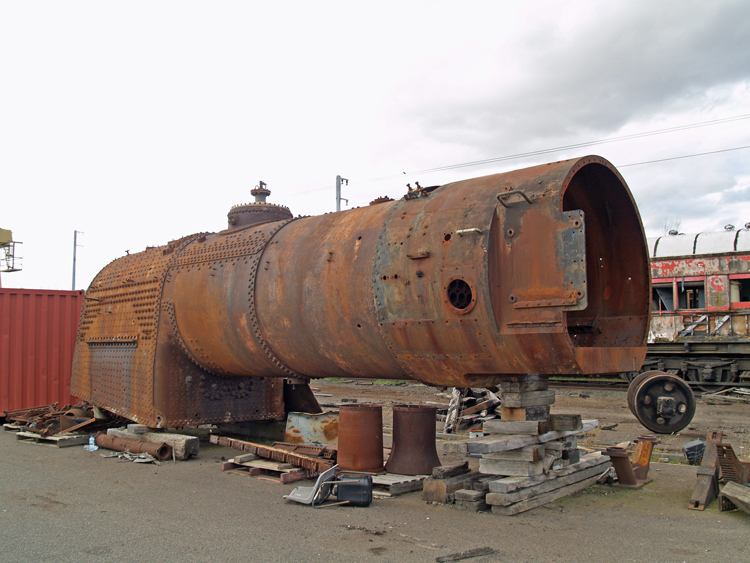 6029's old boiler in storage at the Canberra Railway Museum. 5 August 2012.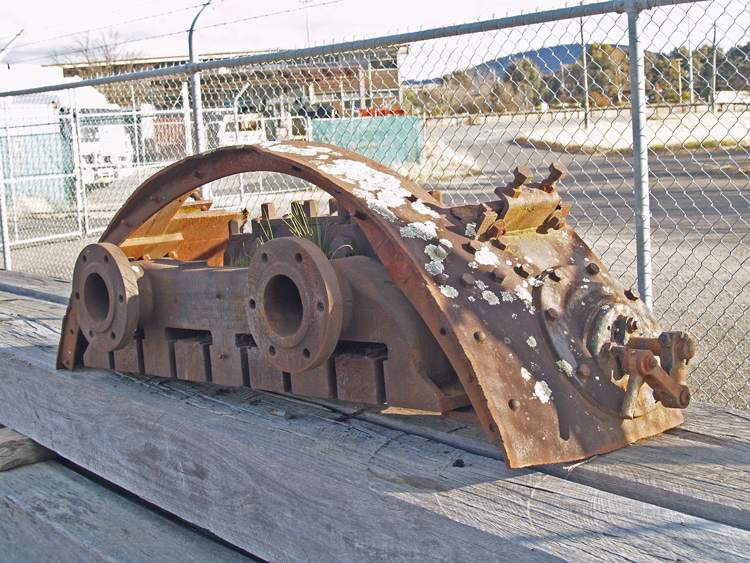 Various spare AD 60 components are stored at the Canberra Railway Museum, such as this superheater header.
It has been directly flame cut from the smokebox of its donor, so perhaps it was salvaged from the scrapyard. 5 August 2012.
References
a

"The 60 Class" by K.T. Groves, H.J. Wright and M.F. Morahan,

Published by the New South Wales Transport Museum, 1994

b

"Locomotives of Australia - 1985 to 2010" (Fifth Edition), by Leon Oberg,

published 2010 by Rosenberg Publishing Pty Ltd.

c

Webmaster's observation or comment
Page updated: 27 March 2015
| | | | | | | | | | | |
| --- | --- | --- | --- | --- | --- | --- | --- | --- | --- | --- |
| Government Railways: | | | | | | | | | | |
| Private & Industrial Railways: | | | | | | | | | | |