4D9 131

Displayed at the Don River Railway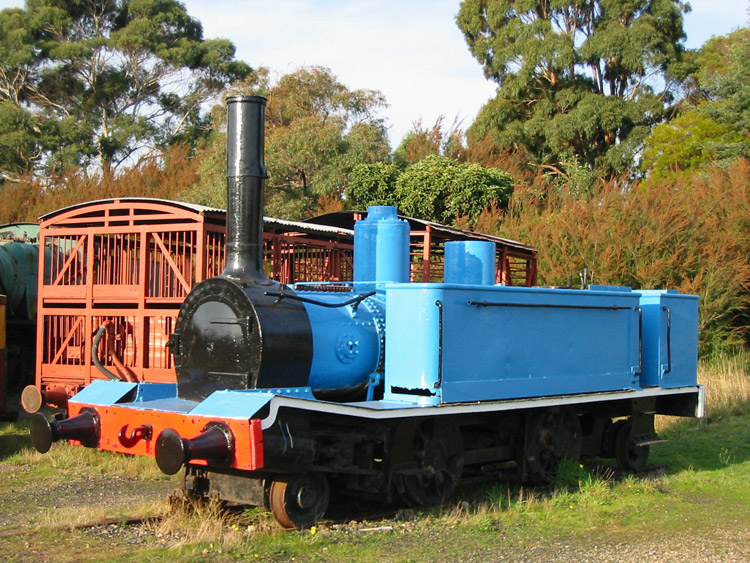 "4D9" class loco No.131 is seen at the Don River Railway on 8 May 2003.
An extension to the original stovepipe chimney has been welded on at some stage.
The bent handrail alongside the boiler suggests this little loco led a hard life after being sold off by QGR.
This quaint little engine was built by Dubs & Co of Polmadie, Glasgow in 1880 (builder's number 1415) as the second of two "4D9" class 2-4-2T locomotives for the Queensland Government Railways. Historical photos show these locomotive originally featured a tall cab, a large acetylene headlight and ornate steam & sand domes. The two 4D9 locomotives were allocated to Bundaberg for light traffic duties, but were found in service to be underpowered and ineffective.
No.131 was sold by the QGR to Childers Sugar Mill in 1894. It was later resold to the Tasmanian Public Works Department for breakwater construction duties on Tasmania's wild and remote West Coast at Macquarie Harbour, near Strahan. At completion of these works a further two changes of ownership followed, however No.131 remained unused and in store for many years at Hobart. It was eventually plinthed in a Tasmanian park.
No.131 was later acquired by the Don River Railway and transferred to their museum and workshop facility at Don, near Devonport. Here it is statically displayed on a turntable road near the museum entrance. My visit of 8 May 2003 found No.131 cosmetically repainted in "Thomas the Tank Engine Blue". The surviving locomotive is somewhat incomplete, with missing connecting & side rods, cab, pipework and non-ferrous fittings, yet it is an interesting relic and reminder of the early days of the Queensland Railways.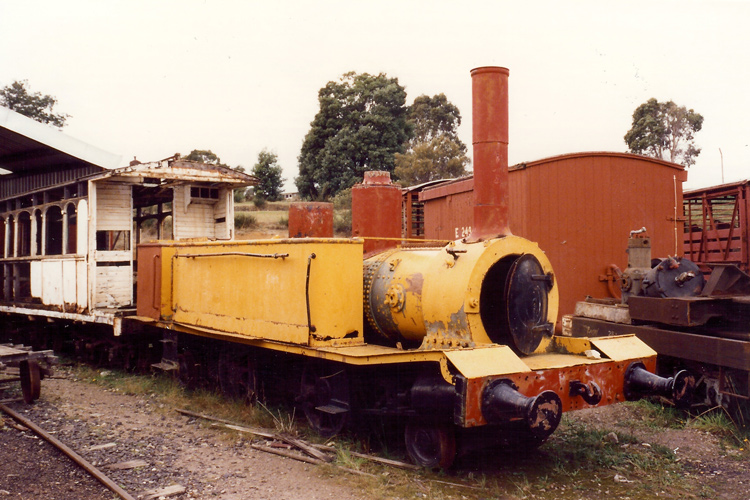 Here is an earlier view of No.131 dating from May 1993, showing her in "as received" condition & livery following many years in a park.
References
| | |
| --- | --- |
| a | Armstrong, J. 'Locomotives in the Tropics - Volume 1 (Queensland Railways 1864 - 1910), published by the ARHS Queensland Division, 1985. |
| b | Webmaster's observation or comment. |
Page updated: 13 June 2013