402

Stored at the Zig Zag Railway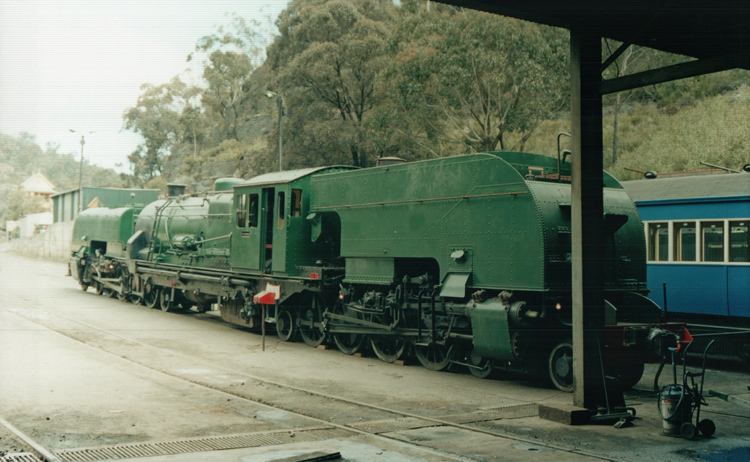 Cosmetically restored 402 displayed outside the Zig Zag Railway depot at Bottom Points on 3 November 2001.
Oily rags are burning in the smokebox to provide chimney smoke effects.
The South Australian Railways 400-class Beyer-Garratt locomotives were purchased for the heavy Broken Hill (Cockburn) to Port Pirie ore trains, replacing the 300-class Australian Standard Garratts which had been performing this duty as a stopgap since 1952. Beyer Peacock & Co copied the proven East African Railways "60-class" design, with construction subcontracted to Societe Franco-Belge, France due to high post-war sales volumes exceeding Beyer Peacock's workshop capacity. Ten locomotives were supplied, numbered 400 - 409. The 400-class class were oil fired and became very successful in SAR service.
402 was Societe Franco-Belge builder's number F2975 of 1953 and also carries Beyer Peacock & Co builder's number 7624. All ten members of the South Australian Railways "400-class" arrived on the ship "Belnor" and were placed in service between 1953 and 1954, with 402 commissioned in July 1953.
The class were based at Peterborough depot and were the prime freight locomotives on the SAR narrow gauge until the arrival of 830-class diesel electric locomotives from 1963. Together with members of the T-class, the 400-class Beyer Garratts enjoyed a final swansong of main-line duty in 1969 - 1970 while the diesel fleet was being converted to standard gauge preceding cutover to the new Port Pirie - Broken Hill railway. After standard gauge cutover the 400-class were quickly withdrawn and sold for scrap, excepting 402 and 409 which were saved for preservation.
402 was retained at Peterborough for several years before moving the to Zig Zag Railway in 1976. It has been stored at the Bottom Points depot for many years. A small group of Zig Zag Railway volunteers cleaned and repainted 402 between 1998 and 2000 and the locomotive has at times been placed on display outside the running shed.
402 is generally complete and in very good condition; from a mechanical perspective it is a candidate for restoration to operation, however its power and fuel consumption probably doesn't recommend it for tourist train operations! At one stage there was a proposal to relocate 402 to the railway museum in the Peterborough roundhouse, South Australia, for static display.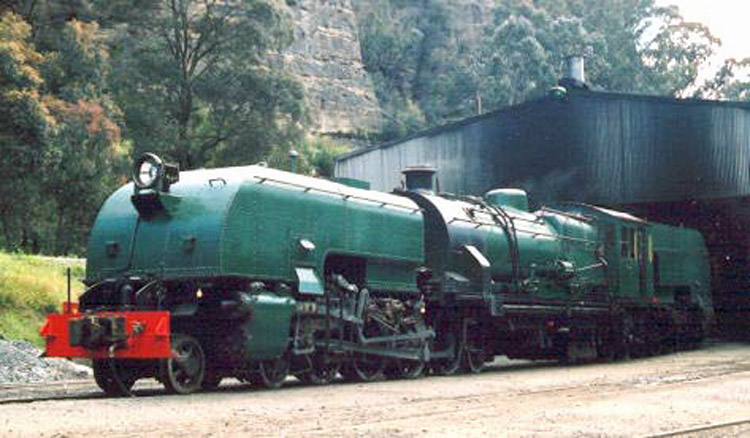 A scanned photo showing cosmetically restored 402 displayed outside the Zig Zag Railway depot at Bottom Points on 3 November 2001.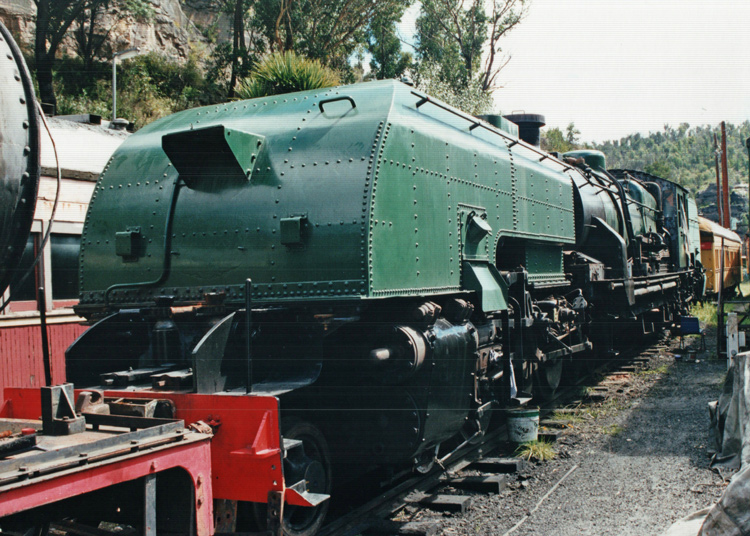 402 receiving a repaint by Zig Zag Railway members at the Bottom Point workshop during 1998.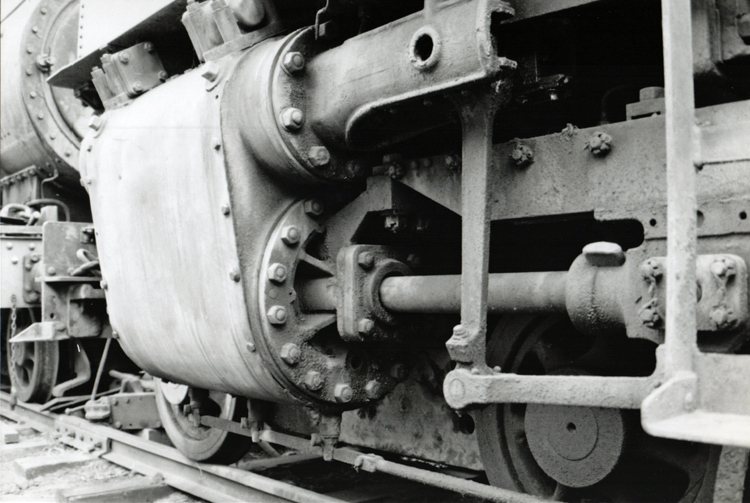 This series of B&W detail photos were take on 15 September 1996 during one of the webmaster's frequent visits to the Zig Zag Railway.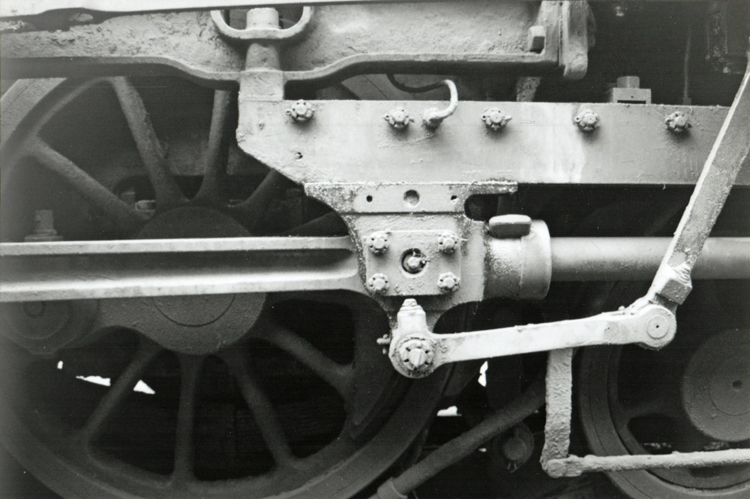 Crosshead detail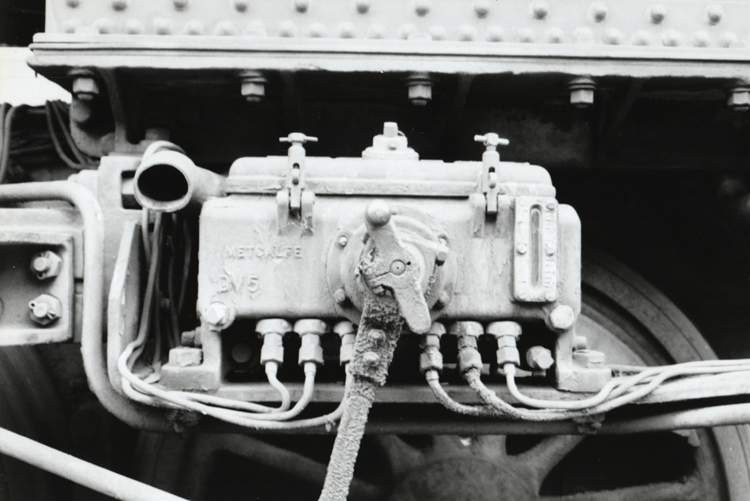 Metcalfe lubricator.
Big end crank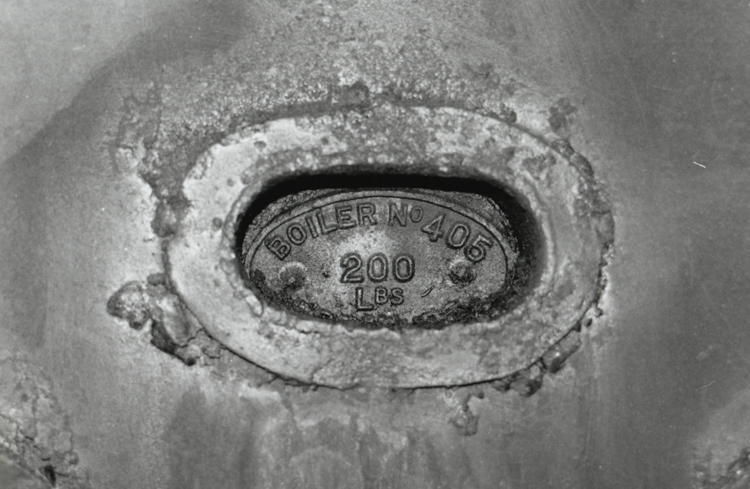 402 carries the boiler originally supplied with sister 405.
References
a

Fluck R. E., Sampson R., & Bird K. J. 'Steam locomotives and Railcars of the South Australian Railways',

published by The Mile End Railway Museum (SA) Inc, 1986.

b

Durrant, A. E. 'Garratt Locomotives of the World' published by Bracken Books, London 1987 edition
8 May 2014