3813

The only loco to visit all of NSW... at the same time
This fine photo is provided courtesy of John Hurst and is dated 17 September 1972.
John's caption reads "'...3813 (and 3820) standing just south of the Wingecarribee viaduct, waiting to start a photo run-past".
NSWGR history
3813 was built by the NSWGR at Cardiff Workshops in 1946 as one of 25 semi-streamlined members of the 38-class (locos 3806-3830) which followed the original 5 streamlined 38-class locomotives 3801-3805. Of this second batch of 25 locomotives, the 13 even-numbered examples were built by the NSWGR Eveleigh Workshops and the 12 odd numbered locomotives by the NSWGR Cardiff (Newcastle) Workshops.
A highlight of 3813's service career occurred in 1955 when it was selected for the NSWGR Centenary Exhibition at Central Station, together with other exhibits including 1243, 1948, 3264 and 5805. NSWGR No.1 was also moved from the Museum of Applied Arts & Sciences for display in the Central Station forecourt. 3813 was displayed with its driving wheels lifted slightly above the rails and rotating under the power of an electric motor.
3813 was unique among the 38-class by retaining its green livery throughout its career, whereas all others received lined black livery during the 1950's. However 3801 & 3830 were returned to green livery during the 1960's.
Early Preservation History
Following withdrawal 3813 was retained at Enfield, ostensibly by intervention by the RTM to prevent it joining other 38's on the one-way trip to Sims Metal, Mascot. During this period the locomotive ran a number of tour trains.
On 22 August 1970, 3801 and 3813 departed Sydney on the "Western Endeavour" train in celebration of the newly completed trans-continental standard-gauge railway. 3813 assisted 3801 as far as Port Augusta, while 3801 continued on to Perth with the Western Endeavour.
3813's last tour train was a trip to Brisbane in January 1973.
The Disastrous 1973 Overhaul
3813 entered Eveleigh Workshops for overhaul in 1973, stripped down and was undergoing repair. A change in Railways Administration saw a reduction in support for the heritage locomotives and the new executive of the then Public Transport Commission apparently ordered the overhaul be stopped and 3813 sent for scrapping. 3813's dismantled parts were loaded onto S-trucks and possibly delivered to Sims Metal, but the NSWRTM managed a reprieve and the components were sent to the relative safely of the RTM's Enfield museum site.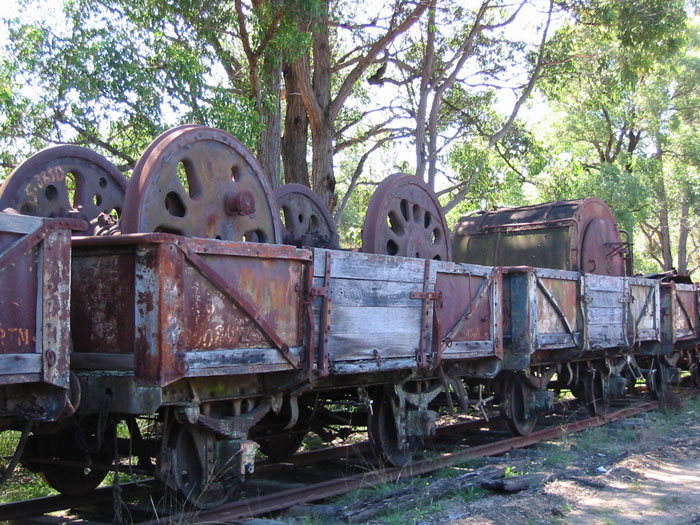 3813's driving wheels & smokebox stored in S-trucks at the NSWRTM - 6 March 2005
Dispersal of Components
The NSWRTM was evicted from the historic Enfield roundhouse site in 1974 and re-established at Thirlmere by 1975. 3813's components became scattered during this relocation, with 7 S-trucks containing the wheels, smokebox, cab etc arriving on the Thirlmere long-term storage sidings by 1983. At some stage a driving wheelset was prepared for display in the museum grounds.
Larger parts including the tender tank, main locomotive frame and boiler were stored at Clyde sidings. Apparently there was consideration of sectioning the boiler for display, but fortunately this did not occur and 3813's boiler later came into the possession of the Powerhouse Museum and was transferred to their Castle Hill restoration and storage site.
Presumably some of 3813's components have been used in the restoration of 3801 and 3830 in the intervening years, although I am not aware of any specific examples. The boiler was assessed for overhaul when at Castle Hill, and access holes were cut into the firebox wrapper to determine the repair work required.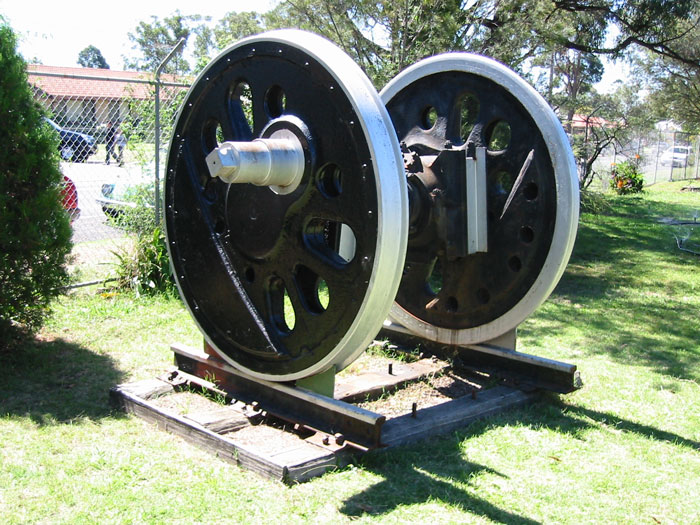 3813 wheelset on display at NSWRTM Thirlmere - 6 March 2005.
Acquisition by DSR&M
In 1984 the NSWRTM declined an offer to take the tender tank and loco frame that were lying derelict at Clyde, and they were subsequently donated to the Dorrigo Steam Railway & Museum. They were loaded onto flat wagons and ultimately transported to Dorrigo by rail, spending some time in the sidings at Hornsby during 1989.
The Powerhouse Museum later decided they didn't need a worn 38-class boiler, and this item was also acquired by DSR&M and transferred to Dorrigo.
Finally, the miscellaneous 3813 components stored in the 7 S-trucks at NSWRTM were also acquired by the DSR&M. These components were moved to Dorrigo by road during March & April 2005.
The future?
Now that the major components of 3813 have been collected at Dorrigo under one ownership at one location, hopefully reassembly as a static exhibit could begin. Is it too much to hope this could be a landmark project for the DSR&M?
While it is likely that most small & non-ferrous components were lost in 3813's eviction from Eveleigh Workshops in 1973, presumably there is now a stream of life-expired smaller components being generated by the ongoing operation & maintenance of 3801 and 3830 which could benefit any project to reassemble 3813.
My thanks to Joel Turner for providing the following series of photos showing 3813's components stored at Dorrigo on 11 February 2013.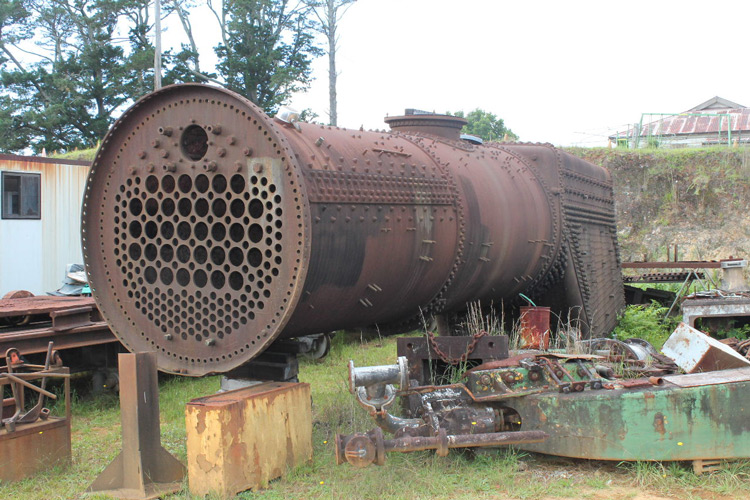 3813's boiler stored at Dorrigo. 11 February 2013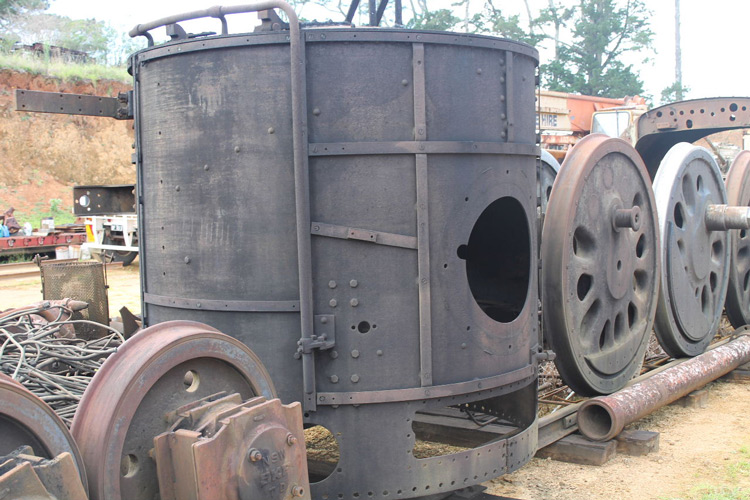 3813's smokebox and other components at Dorrigo.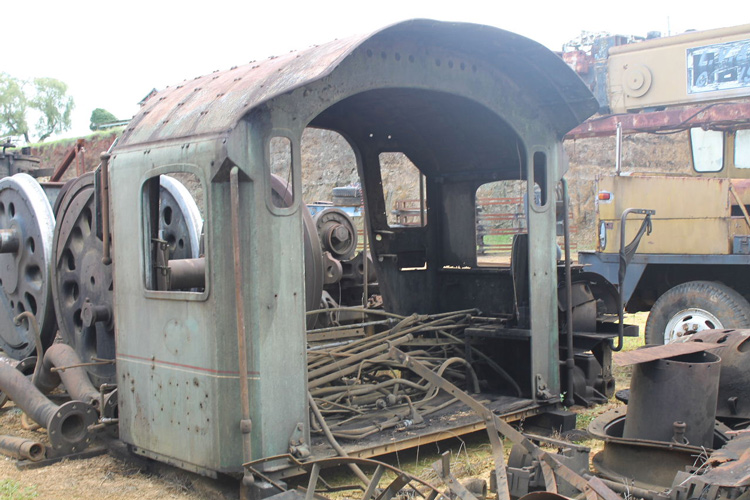 3813's cab. To the right the chimney can be seen stored upside-down.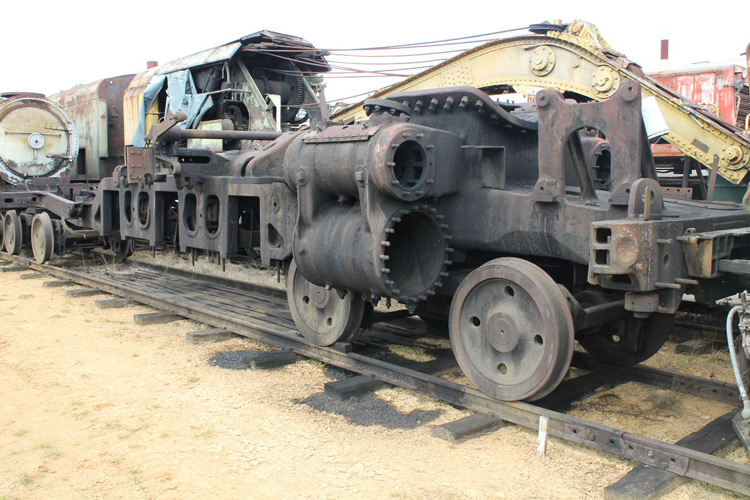 3813's cast steel frames. The air compressor bracket is prominent above the leading pony wheel.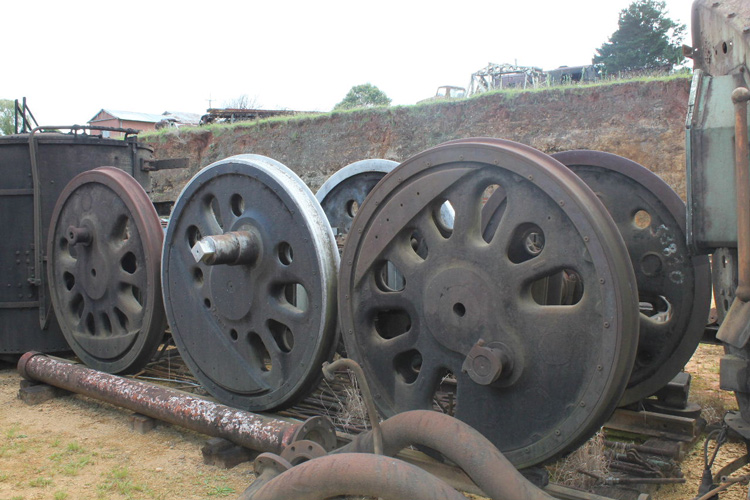 3813's driving wheels; the middle wheelset had been displayed at the NSWRTM Thirlmere.
The lead set has "3830" painted on the inside rim.
The steam pipes are lying in the foreground.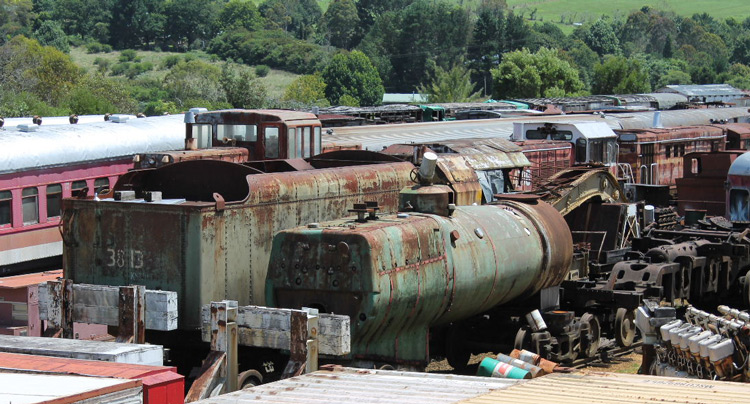 A view over the Dorrigo storage area. A 36-class boiler is sitting next to 3813's tender tank.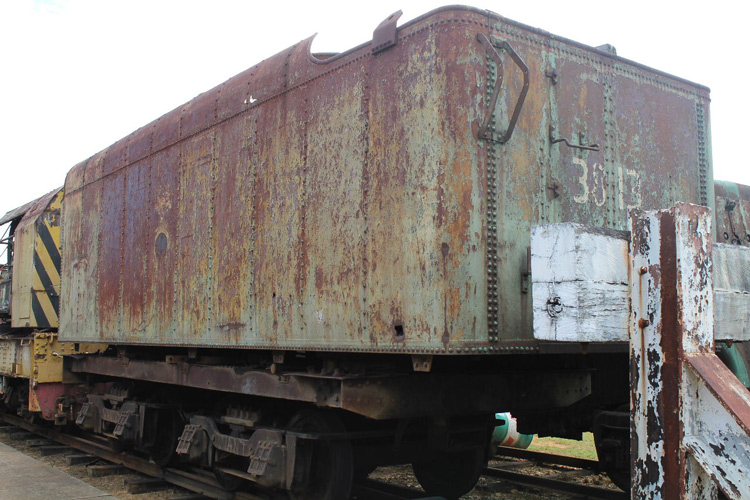 Rear view of 3813's tender. It is sitting on the chassis of a smaller NSWGR tender (possibly a 55-class Wampu tender)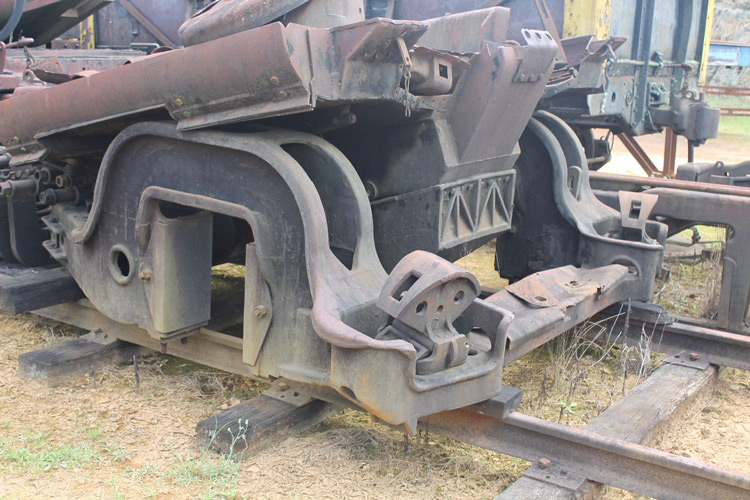 3813's rear truck and ashpan at Dorrigo. 11 February 2013.
References
a

"A Compendium of New South Wales Steam Locomotives" compiled by Alex Grunbach, published by the

Australian Railway Historical Society, New South Wales Division, 1989.

b

Webmaster's observation or comment
Page updated: 2 March
2013