3620 (aka 0401)

ex-South African Railways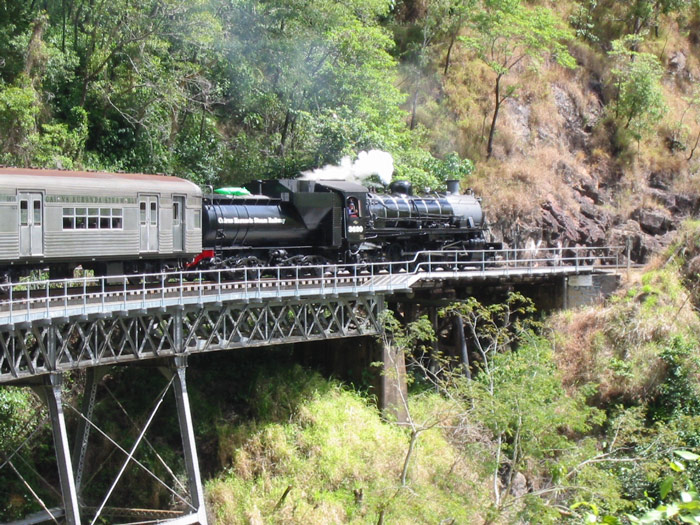 This photo of 20 August 2004 shows 3620 working upgrade to Kuranda.
No. 3620 is an ex-South African Railways 24-class locomotive. It is the only locomotive preserved in Australia with the Berkshire (2-8-4) wheel arrangement. It is also the only locomotive in Australia with a Vanderbilt tender; this design features a cylindrical water tank and was relatively common in the USA.
This locomotive was privately purchased for preservation from the South African Railways by a New Zealander, and was housed at Parnell, Auckland from approximately 1996. It was imported to Australia in January 2001 for operation on the Cairns Kuranda Steam Train service. This service operated for a period as a steam-hauled tourist train to the Kuranda, competing with the regular Queensland Rail diesel-hauled service. The photos on this page date from a very enjoyable trip the webmaster experienced on the Cairns Kuranda Steam Train on 20 August 2004; No. 3620 performed faultlessly that day on the steep grades and tight corners of the mountain-climbing route to Kuranda, conditions identical to the South African routes it was originally designed for.
3620 has been converted from coal to oil firing at some stage. a It is currently stored operational at the Cairns Kuranda Steam Train depot in Cairns.
3620 also bears the number 0401 because the South African Railways number 3620 is in the range allocated by QR to electric locomotives, however a block of QR numbers starting at 0401 is reserved for privately owned steam locos.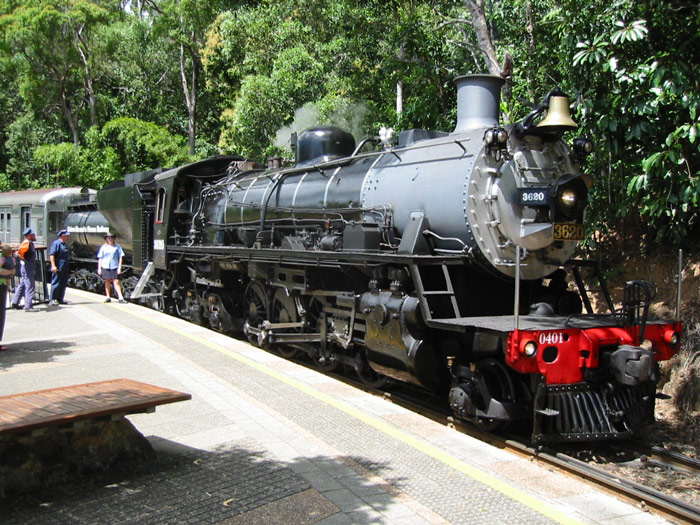 This photo of 20 August 2004 shows 3620 at Barron Falls station, en-route to Kuranda.
Barron Falls station offers an impressive view over the eponymous waterfall nearby.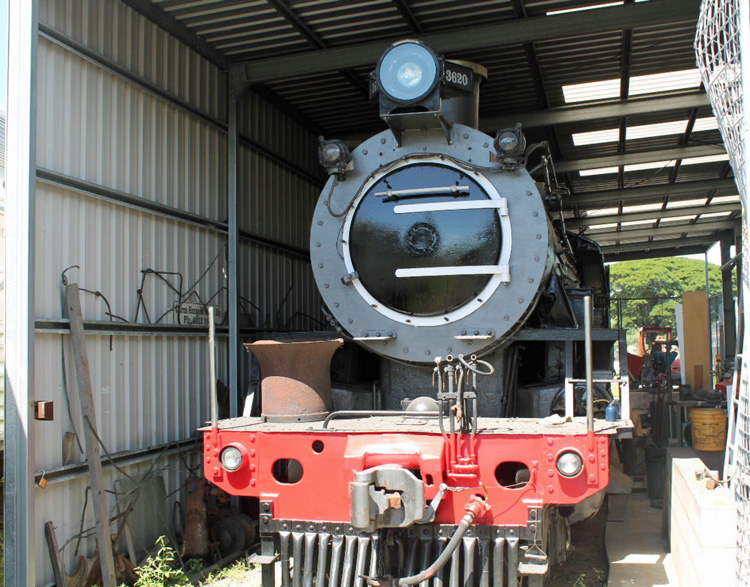 Joel Turner has contributed this more recent view of 3620 in its running shed at Cairns on 13 May 2013.
The number 0401 has been removed from the buffer beam as electric loco 3620 has now been converted to 3520!
References
| | |
| --- | --- |
| a | Information provided by C. Malone, 11/12/01 |
| b | Webmaster's observation or comment. |
Page updated: 28 May 2013