3085

Last of the S-class tank engines in NSWGR service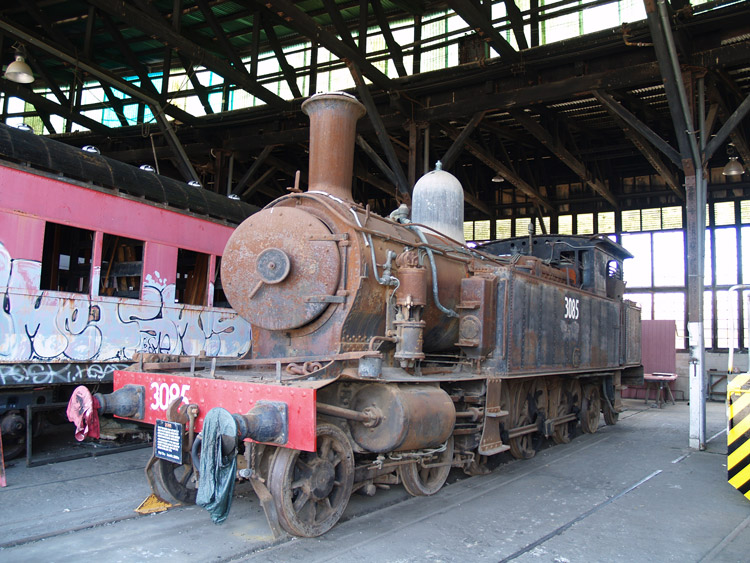 3085 is seen in storage at the Goulburn Roundhouse on 7 January 2012.
This locomotive is one of 145 members of the (S) 636 class of passenger tank engines, which were the backbone of Sydney suburban services prior to electrification. It was originally numbered S 1006 but became 3085 of the (C)30 class in the NSWGR 1924 renumbering scheme.
3085 was the last (C)30 tank locomotive in service with the NSWGR when withdrawn in 1972. It was displayed for many years in as an unrestored but complete exhibit at the NSWRTM Thirlmere, wearing its original but very faded lined black livery. Following withdrawal of the NSWRTM's traffic locomotive 3137 in the 1990's there had been occasional proposals to restore 3085 to operation in its place, but this role tended to be filled by 3112 which often visited Thirlmere on hire.
3085, 5916 & 5908 were relocated to Goulburn Roundhouse on 27 November 2009. Unfortunately 3085 was damaged by contractors during this move after a bad lift onto a truck and now has a bent footplate, running boards and piston tail rods.
For further information and historical photographs of the (C)30 class locomotives, readers are directed to Ron Preston's excellent book "Standards In Steam - The 30 Class" published by the New South Wales Rail Transport Museum.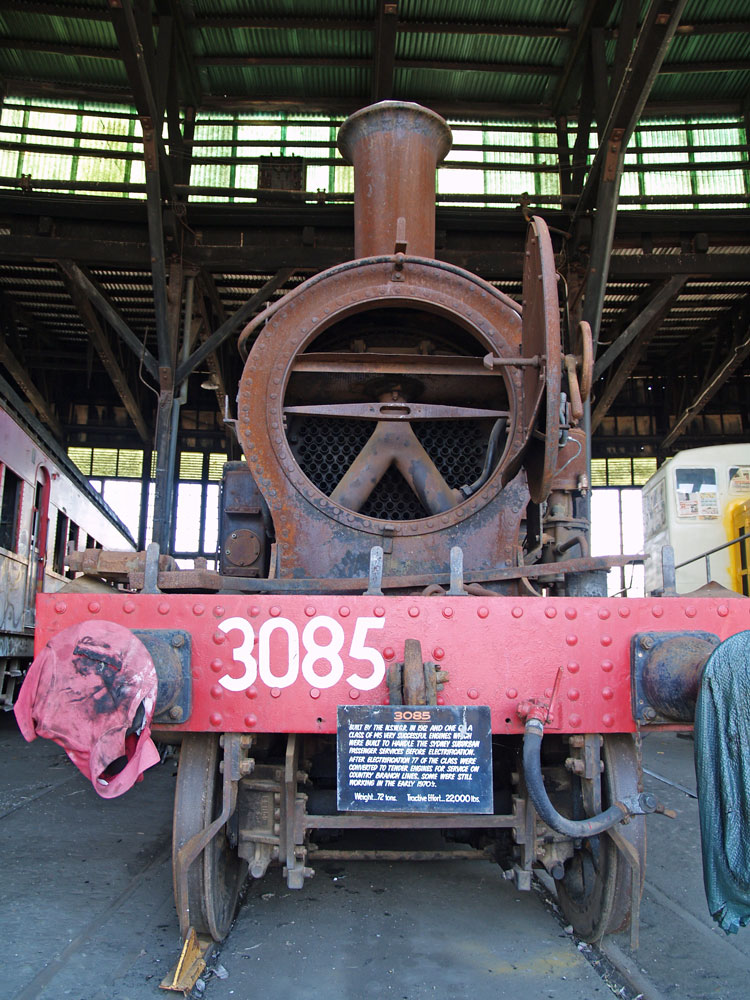 Front view of 3085 at Goulburn Roundhouse on 7 January 2012.
The open smokebox door reveals the rows of smoke tubes in the saturated steam boiler.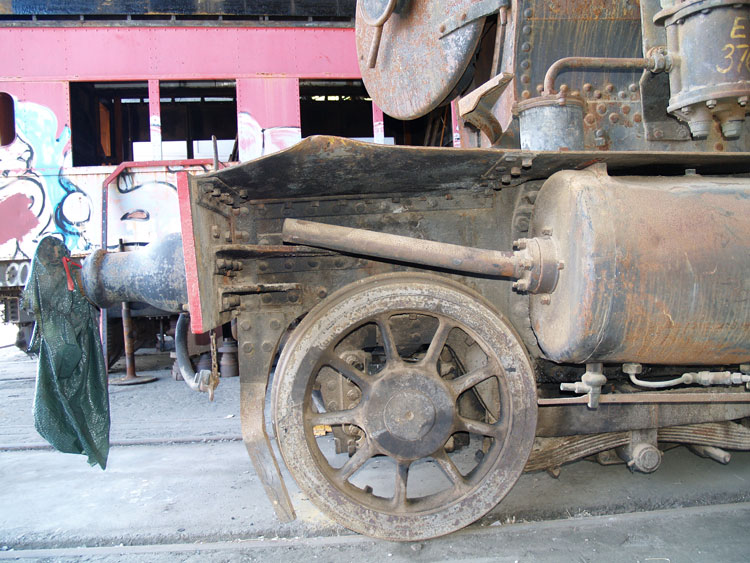 Bent piston tail-rod and platework following a bad lift. 7 January 2012.
The earlier numbering "E 376" can be seen on the air compressor.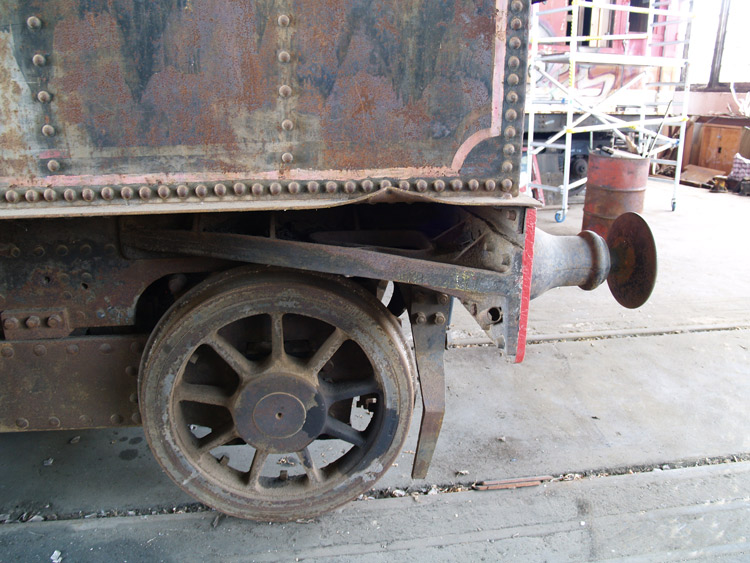 Further platework damage sustained under the bunker. 7 January 2012.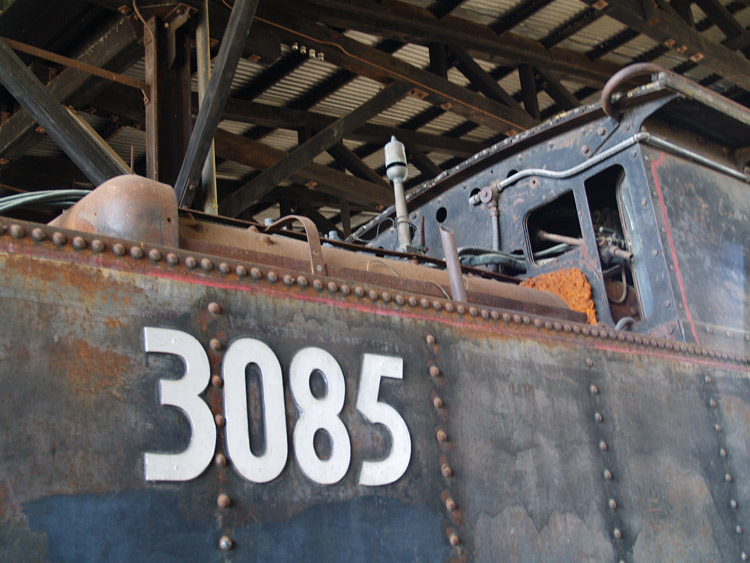 Detail of 3085's Belpaire firebox (sans lagging), cab and whistle. 7 January 2012.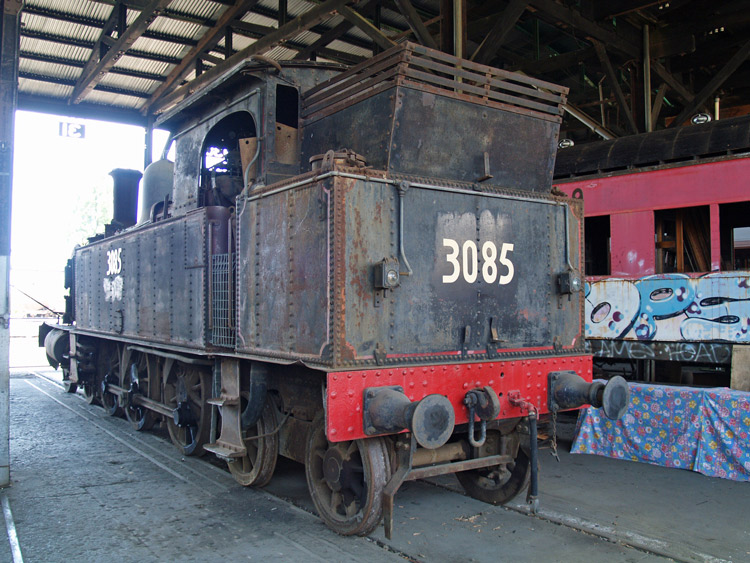 Rear view of 3085 at Goulburn. 7 January 2012.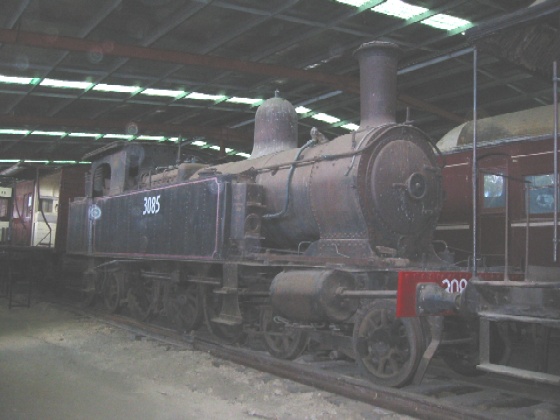 This earlier scanned photo shows 3085 displayed unrestored at the NSWRTM Thirlmere on 17 March 2003.
References
a

"A Compendium of New South Wales Steam Locomotives" compiled by Alex Grunbach, published by the

Australian Railway Historical Society, New South Wales Division, 1989.

b
"Standards In Steam - The 30 Class" by Ron Preston, published by the New South Wales Rail Transport Museum, 1985.
c
Webmaster's observation or comment
Page updated: 1 September 2013