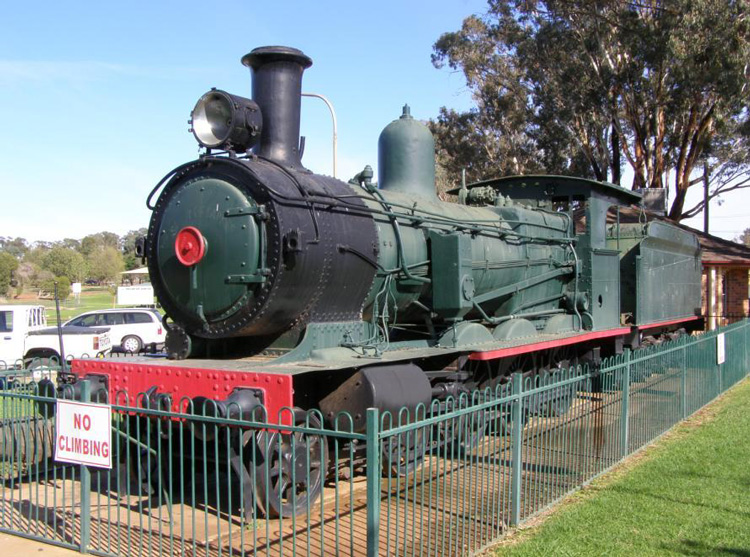 This photo is kindly provided by Brad Coulter and shows 3075T plinthed at Parkes on 11 April 2007.
This locomotive was built by the NSW Government Railways Eveleigh Workshops (builder's no. 42 of 1912) as one of 145 members of the successful (S)636 class 4-6-4T locomotives for Sydney suburban passenger duties. Following the electrification of the Sydney suburban system, 3075 became one of 77 class members converted from 4-6-4T to 4-6-0 tender configuration for use on country branch lines. These converted locomotives were known as the (C)30T class to differentiate them from the remaining 68 (C)30 class tank locomotives, the "T" denoting tender locomotive. The (C)30T class replaced a mixed fleet of older 4-4-0 and 2-6-0 locomotives allocated to country loco depots; indeed many (C)30T's were allocated second-hand bogie Baldwin or 6-wheeled tenders from the obsolete locomotives they were displacing. The first conversion was 3088 was outshopped in July 1928, and the final conversion was completed in 1933.
At a later stage, 29 of the (C)30T class locomotives were further modified with a superheated boiler which significantly improved both power and fuel efficiency. In addition, piston vales replaced the original slide valves, and the wooden front buffer beam was upgraded to steel. Most of the superheated locomotives were paired with higher-capacity 3650-gallon bogie tender of the type originally supplied with the majority of (C)32, (D)50 and (D)53 class locomotives.
3075T features in one of the webmaster's earlier railway memories; together with 1919 it ran a NSWRTM rail tour to Picton and Moorebank on 16 April 1972 as the last steam train on the Moorebank / Holsworthy branch. On a family outing we intercepted this train at Liverpool; a series of family photographs show the arrival of the train and engine repositioning operations as 1919 was readied to take the train solo onto the Holsworthy branch. I clearly recall flustering my father with a series of "why why why" questions as he explained to his 3 year old son that 3075T was too heavy for the branch line's bridge over the Georges River, and thus 1919 would take the train alone. Another family photo shows us talking to the driver & fireman in the cab of 3075T as it waited at Liverpool station.
The memorial plaque attached to 3075T states that it was purchased by the Parkes Apex Club on 5-3-1975, which suggests it was saved from Enfield steam loco depot during the final clear-out of that location in early 1975. 3075T's copper boiler tubes and inner firebox were sold for scrap to finance 3075T's preservation and restoration, and the locomotive was plinthed at Kelly Reserve, Parkes in central western NSW on 10-8-1975.
The dry climate at Parkes appears to have helped 3075T to remain in relatively good condition for a plinthed locomotive.
For further information and historical photographs of the (C)30 class locomotives, readers are directed to Ron Preston's excellent book "Standards In Steam - The 30 Class" published by the New South Wales Rail Transport Museum.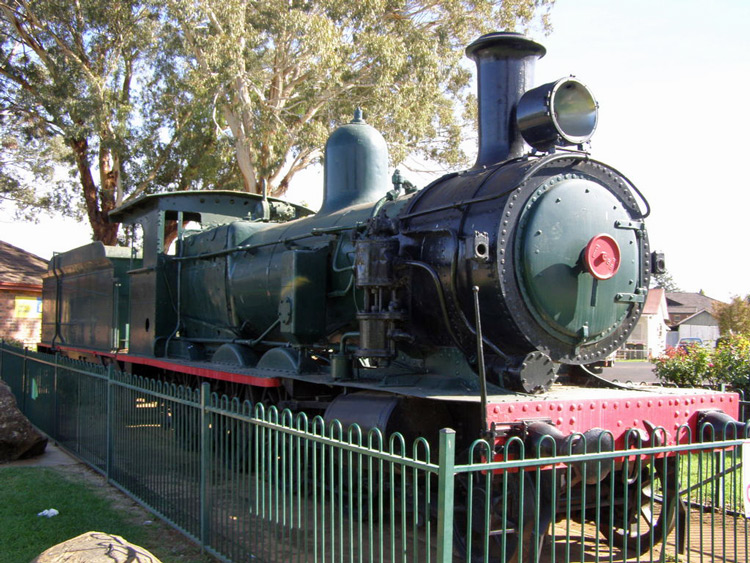 Here is a second photo provided by Brad Coulter, showing another view of 3075T at Parkes (11 April 2007).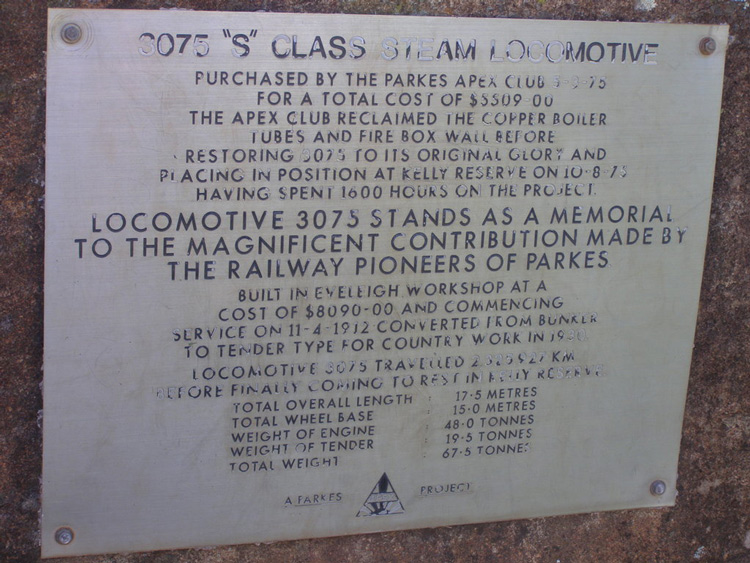 Brad Coulter has also provided this view of the memorial plaque for 3075T. (11 April 2007).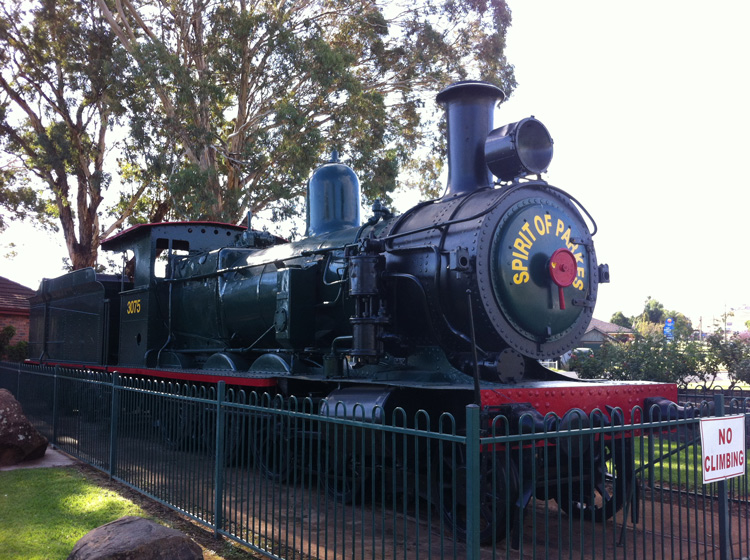 My thanks to Mathew E. for contributing this recent view, taken on 10 April 2013.
3075T had recently received a fresh coat of green paint.
References
a

"A Compendium of New South Wales Steam Locomotives" compiled by Alex Grunbach, published by the

Australian Railway Historical Society, New South Wales Division, 1989.

b

"Standards In Steam - The 30 Class" by Ron Preston,

published by the New South Wales Rail Transport Museum, 1985.

c

Webmaster's observation or comment
Page updated: 18 May 2015