3028T

Stored for the Dorrigo Steam Railway & Museum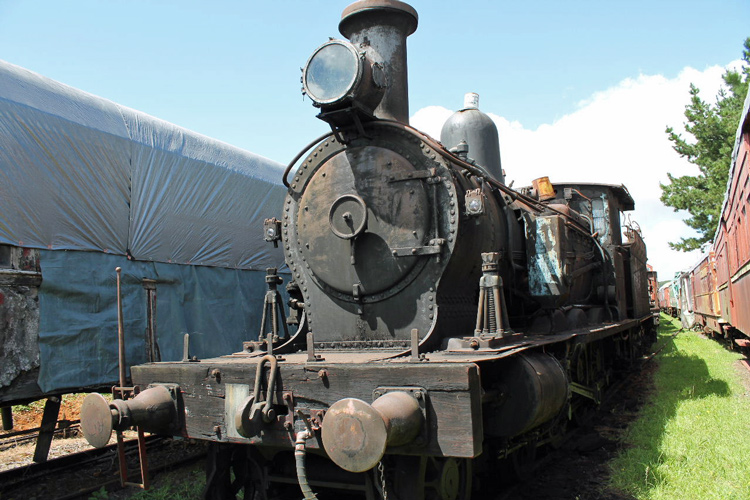 My thanks to Joel Turner for providing this view of

3028T at Dorrigo on 11 February 2013.

This locomotive

was built by Beyer Peacock & Co (builder's no. 4471 of 1904) as one of 145 members of the successful (S)636 class 4-6-4T locomotives for Sydney suburban passenger duties. It was originally numbered S 663 and later became 3028T of the (C)30 class in the NSWGR 1924 renumbering scheme.

Following the electrification of the Sydney suburban system, 3028 became one of 77 class members converted from 4-6-4T to 4-6-0 tender configuration for use on country branch lines. These converted locomotives were known as the (C)30T class to differentiate them from the remaining 68 (C)30 class tank locomotives, the "T" denoting tender locomotive. The (C)30T class replaced a mixed fleet of older 4-4-0 and 2-6-0 locomotives allocated to country loco depots; indeed many (C)30T's were allocated second-hand bogie Baldwin or 6-wheeled tenders from the obsolete locomotives they were displacing. The first conversion was 3088 was outshopped in July 1928 and the final conversion was completed in 1933.

Whilst several members of the S-30T class received later modifications such extended smokeboxes or superheaters, 3028T retains its original short smokebox and "wet funnel" saturated boiler. The preserved 3028T is paired with a Beyer-Peacock designed bogie tender of the type originally supplied with the D-50 class and later orders of C-32 class locomotives. Older photographs of 3028T in NSWGR service show that it was paired with a bogie Baldwin tender in the 1930's.

One notable chapter in the service career of 3028T relates to its final role as the Dubbo shunter, which duty it shared with sister 3144T. These locomotives were repainted in 1967 by Dubbo shed staff, 3028T receiving blue livery and 3144T lined green.

3028T ended its NSWGR days in the early 1970's among the lines of withdrawn steam locomotives at Enfield depot but fortunately was purchased for preservation. After a period in store at Rhondda Colliery it was rail hauled to Glenreagh. 3028T double-headed with 5069 to operate the Dorrigo Steam Railway & Museum's "re-opening train" from Glenreagh to Dorrigo in 1986, and has since been stored in the Dorrigo Station station yard. Like other locomotives in the Dorrigo collection, it regularly receives a spray-on coat of black oil to protect it from the elements.

For further information and historical photographs of the (C)30 class locomotives, readers are directed to Ron Preston's excellent book "Standards In Steam - The 30 Class" published by the New South Wales Rail Transport Museum.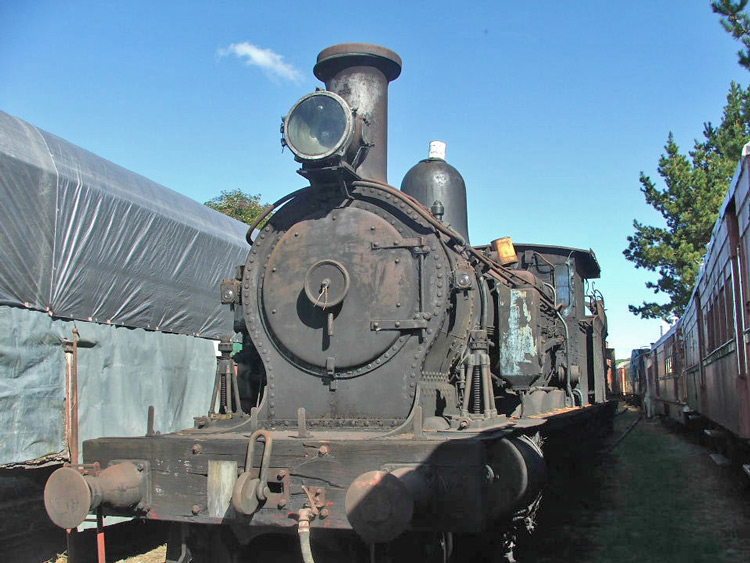 This second view of 3028T at Dorrigo was also contributed by Joel Turner and is dated 18 May 2012.

Remnants of the blue livery worn when 3028T finished its NSWGR career as the Dubbo shunter can

be seen showing through on the sandbox and cab spectacle plate

.

Also notable is the wooden front

buffer beam.

References
a

"A Compendium of New South Wales Steam Locomotives" compiled by Alex Grunbach, published by the

Australian Railway Historical Society, New South Wales Division, 1989.

b
Kramer, J. 'The Dorrigo Steam Railway & Museum - an Illustrated Guide', published by the Dorrigo Steam Railway & Museum, 1987. Printed by North Coast News Pty Ltd, 53 Moonee St, Coffs Harbour 2450 NSW.

c

Webmaster's observation or comment
Page updated: 1 September 2013