3001

NSW Rail Museum, Thirlmere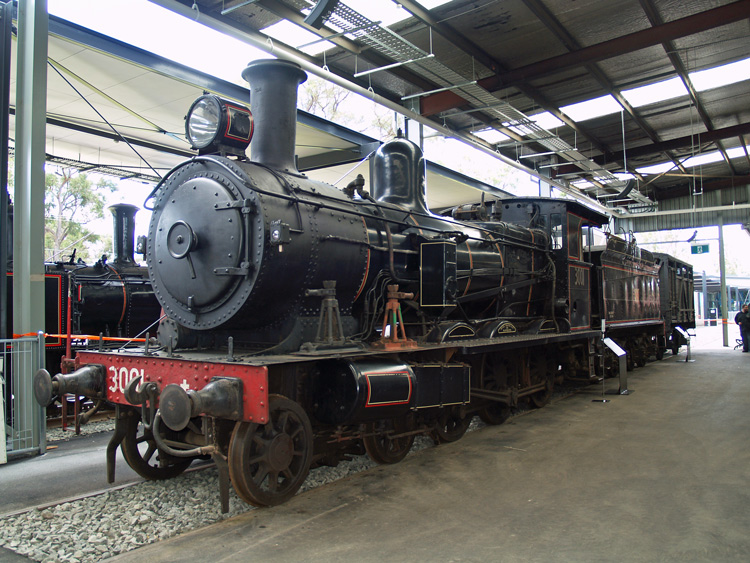 3001 is seen statically displayed at Trainworks, Thirlmere on 22 July 2012.
Of interest is the drumhead extended smokebox, as fitted to most superheated members of the C-30(T) class.
Also visible are the slide bar covers, which provided some protection from abrasive dust when running on country branch lines.
3001 was built by Beyer Peacock & Co, Manchester (builder's no. 4444 of 1903) as the first of an initial order for 35 locomotives of 4-6-4T 'Baltic' configuration for Sydney suburban passenger duties. This very successful design was repeated with further deliveries from Beyer Peacock and the NSWGR Eveleigh Workshops, with the class growing to 145 members. This particular locomotive was originally numbered S 636 and, as the class leader, gave the class its original name as the S(636) class. It became 3001 of the (C)30 class at the NSWGR 1924 renumbering.
Following the electrification of the Sydney suburban system, 3001 became one of 77 class members converted from 4-6-4T to 4-6-0 tender configuration for mixed traffic duties on country branch lines. The converted locomotives were known as the (C)30T class to differentiate them from the remaining 68 (C)30 class tank locomotives, the 'T' denoting tender locomotive. The (C)30T class replaced various older 4-4-0 and 2-6-0 locomotives allocated to country depots; indeed many (C)30T's received second-hand Baldwin bogie tenders or 6-wheeled tenders from the obsolete locomotives they were displacing. The first conversion was 3088, outshopped in July 1928 with the final conversion completed in 1933.
At a later stage, 29 of the (C)30T class locomotives were further modified with a superheated boiler which significantly improved both power and fuel efficiency. In addition, piston vales replaced the original slide valves and the wooden front buffer beam was upgraded to steel. Most of the superheated locomotives were paired with higher-capacity 3650-gallon bogie tenders of the type originally supplied with the majority of (C)32, (D)50 and (D)53 class locomotives. 3001 is one of these superheated locomotives and is paired with Tender Tab 985 which was originally released to traffic with locomotive (TF)985 which later became 5367.
In the early 1970's I recall 3001 as quite rust-streaked and held away from public viewing at the NSWRTM Thirlmere, pending restoration to operation. This came in the early 1980's and 3001 re-entered service circa 1983. It was originally restored in unlined black livery with a polished brass steam dome, however it later wore lined black livery. For many years 3001 was a regular performer on NSWRTM duties; the webmaster has happy memories of this engine in Loop Line service. Alas 3001 was withdrawn from NSWRTM service around 1997 due to deteriorating mechanical condition and it is now displayed as a static exhibit at Trainworks, Thirlmere. (If I remember correctly, the NSWRTM also has a spare superheated (C)30T boiler held in store.)
As an aside, the last C30 class locomotive scrapped was 3144 which was dispatched in February 1975 during the final clear-out of Enfield depot. 3144 had operated a number of tours and was noted for receiving green livery during its last stint of service as the Dubbo shunter. It is a pity that 3144 wasn't retained as spares for 3001 or similar.
For further information and historical photographs of the (C)30 class locomotives, readers are directed to Ron Preston's excellent book 'Standards In Steam - The 30 Class' published by the New South Wales Rail Transport Museum.
Wikipedia provides further details and photographs for the NSWGR C30T class locomotives.
UPDATE: A thorough overhaul of 3001 commenced around 2018 and after 5 years of meticulous work, including extensive renewal of the tender frame, 3001 officially returned to service with a relaunch ceremony at the NSW Rail Museum on Thursday 2 March 2023. The loco is expected to return to its former role as a regular performer on 'Loop Line' tourist train services.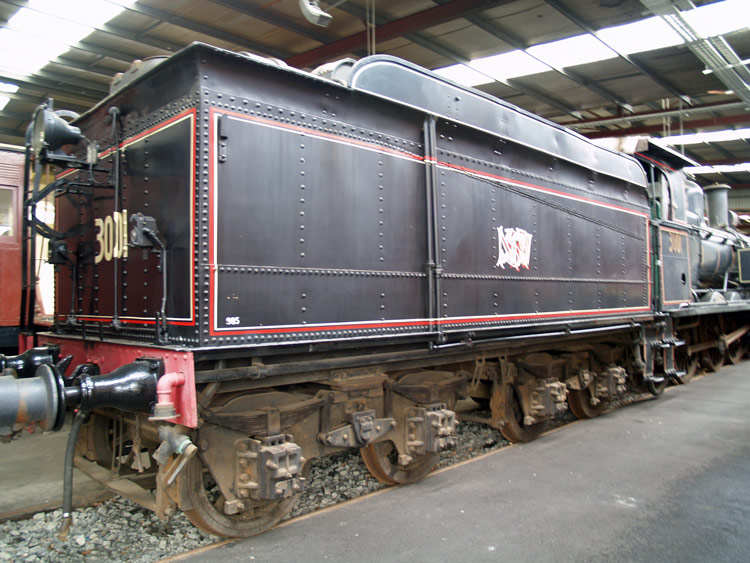 3001 is paired with 3650-gallon bogie tender 'TAB 985' which originally belonged to (TF) 985, later 5367. Photo 22 July 2012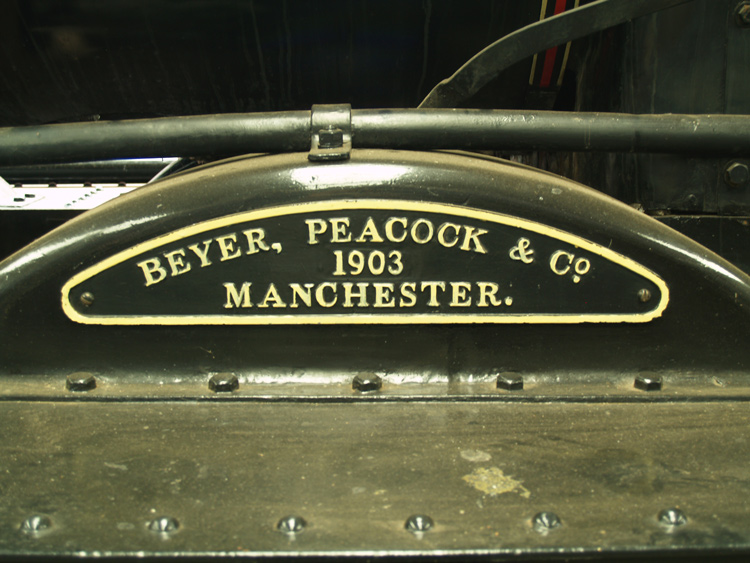 Beyer Peacock & Co. Builders plate over the central wheel splasher. 2 March 2014.
3001 running around its train on the NSWRTM 'Loop Line' at Buxton station during a rainy 1995 day.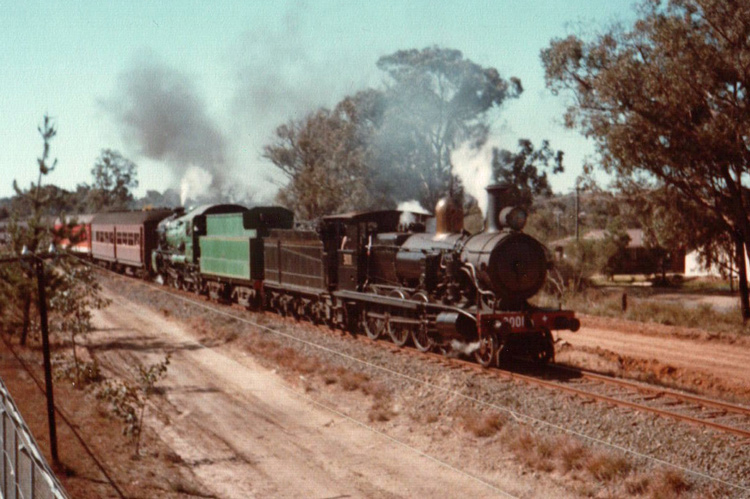 A 1983 view of 3001T in steam at Thirlmere with 3642.
3001T had been recently restored to operation and wore unlined black livery with a polished brass steam dome cover.
The slide-bar covers were not fitted at this stage.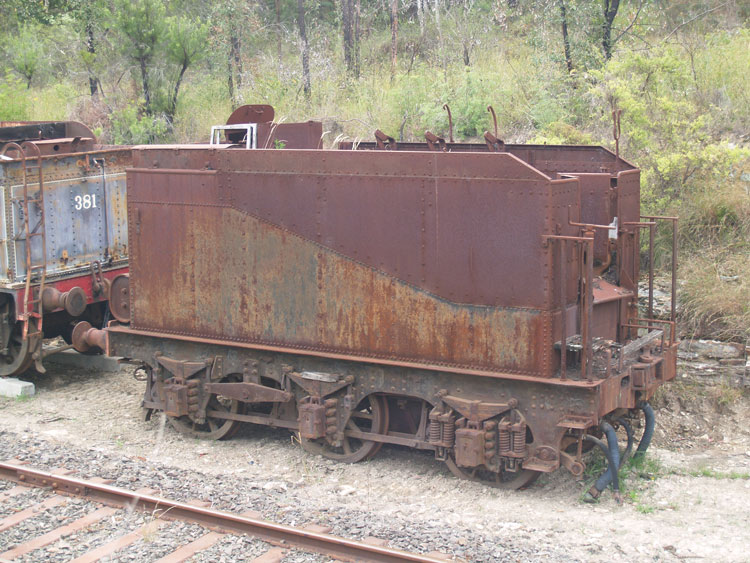 Tender TAB 412 was a rebuilt Z16 tender with 'slab sides' and equalisation springs on the rear axles. The faded road number 3001 could be clearly seen at rear.
Tender TAB 412 was last used in service behind 3102 and was resident on the NSWRTM storage sidings for many years.
It is seen stored alongside the Loop Line on 23 November 2008, having moved there to make way for the 'Trainworks' redevelopment.
3001's number was painted on it circa 1983 when it was being prepared for traffic, as the 3,650 gallon tender required some repairs.
Inexplicably, this historic old tender TAB 412 was sold for scrap by the NSW Office of Rail Heritage in 2011.
References
a

'A Compendium of New South Wales Steam Locomotives'

compiled by Alex Grunbach,

published by the Australian Railway Historical Society,

New South Wales Division, 1989.

b

'Standards In Steam - The 30 Class' by Ron Preston,

published by the New South Wales Rail Transport Museum, 1985.

c

Information from Railpage Forum:

'Preservation & Tourist Railways'

d

Webmaster's observation or comment
Page updated: 4 March 2023
| | | | | | | | | | | |
| --- | --- | --- | --- | --- | --- | --- | --- | --- | --- | --- |
| Government Railways: | | | | | | | | | | |
| Private & Industrial Railways: | | | | | | | | | | |