2606

I(17) Class saddle-tank locomotive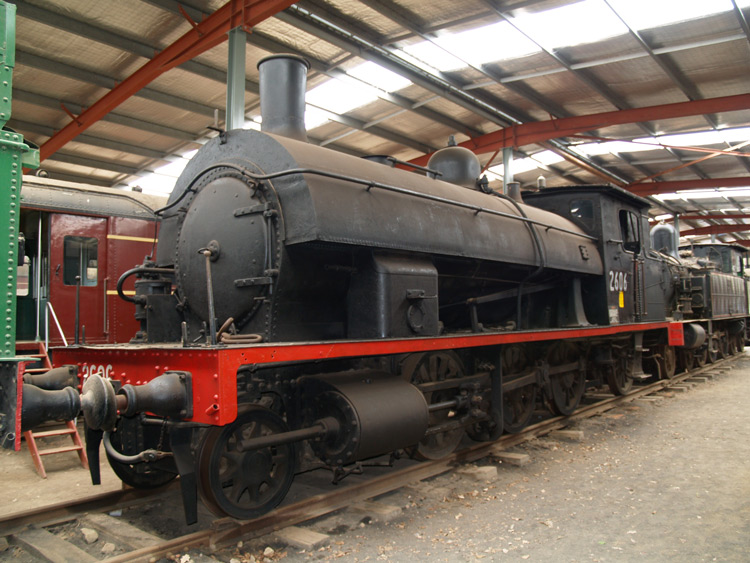 This view shows 2606 displayed at the NSWRTM Thirlmere on 23 November 2008.

2606 had recently

been black-oiled by volunteers of the NSWRTM Exhibit Cleaning Group.

The twenty members of the I(17) class 2-6-2ST locomotive were essentially a saddle-tank version of the B(55) class 2-6-0 tender locomotives and were intended for banking duties to augment the NSWGR's fleet of 2-6-0 freight engines on haulage duties over steep grades such as the Great Western Railway (Blue Mountains line). The I(17) class did find use as bankers through the old Otford tunnel on the South Coast line but were more commonly employed in their early years on short-range coal and mineral trains at Waterfall and Newcastle, together with shunting duties at Darling Harbour. They were reclassified as the Z(26) class in the NSWGR renumbering scheme of 1924. Most of the class was out of service by the depression years, but a change of fortune saw them later overhauled and returned to service as shunters, in which role they saw much service at Port Kembla, Lithgow, Bathurst & Orange. a

Preserved locomotive 2606 was supplied by Dubs & Co. of Glasgow, Scotland to their builder's number 2795 of 1891. After a long working life it became one of the last two in NSWGR service when 2604 and 2606 were withdrawn from shunting duties at Bathurst in 1970, and 2606 was set aside for preservation as the class representative at the NSW Rail Transport Museum, Enfield. (There was also a proposal to preserve 2604 at Lithgow but unfortunately that fell through; while 2604 was scrapped, its boiler was used to restore 2419 to original condition as B(55) class No.390.) a

Together with other NSWRTM exhibits, 2606 was transferred from Enfield to Thirlmere in 1975. Here 2606 was displayed in unrestored condition, with faded black livery and old road grime, until 1988 when it was given a quick clean and repaint to unlined black livery. It subsequently received attention from volunteers of the Exhibit Cleaning Group and made an interesting exhibit for those with an eye for steam locomotive design and evolution. Alas 2606 is no longer on public display as it was moved to Broadmeadow roundhouse for undercover storage as a result of the project to upgrade the NSWRTM Thirlmere to the "Trainworks" museum. b

A significant challenge for the NSWGR during the years of rapid growth in the 1880's was how to handle growing traffic loads over steep grades and difficult operating conditions such as the Great Western Railway (Blue Mountains line) and through the steeply-graded old Otford tunnel. 2606 provides an interesting example of locomotive design in response to those challenges. The design links to the B(55) / Z(24) class are also significant to those interested in steam locomotive design & evolution ("ferroequinologists"). Accordingly a suitable display for 2606 - should it ever return to Thirlmere - might be to present it "banking" a period freight train behind a contemporary 2-6-0 locomotive such as 2419 or 2510. (Ultimately the NSWGR solved the problem of moving increasing tonnages across the Blue Mountains by importing large 2-8-0 Baldwin locomotives based on contemporary US designs for crossing the Rocky Mountains in Colorado.) b

For further information about the I(17) / Z(26) class locomotives, an excellent reference is "A Compendium of New South Wales Steam Locomotives" by Alex Grunbach and published by the Australian Railway Historical Society NSW Division.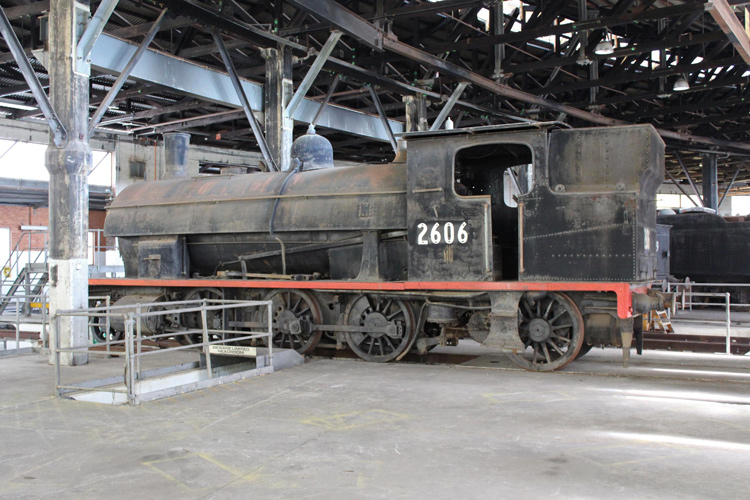 Jeff Mullier has contributed this view of 2606 stored within the Broadmeadow roundhouse on 15 December 2012.
This view shows the raised bunker; preserved sister 2605 has had the bunker restored to the original lower height.
References
a

"A Compendium of New South Wales Steam Locomotives" compiled by Alex Grunbach, published by the

Australian Railway Historical Society, New South Wales Division, 1989, pp.108 - 111.

b

Webmaster's observation or comment
Page updated: 15 October 2013