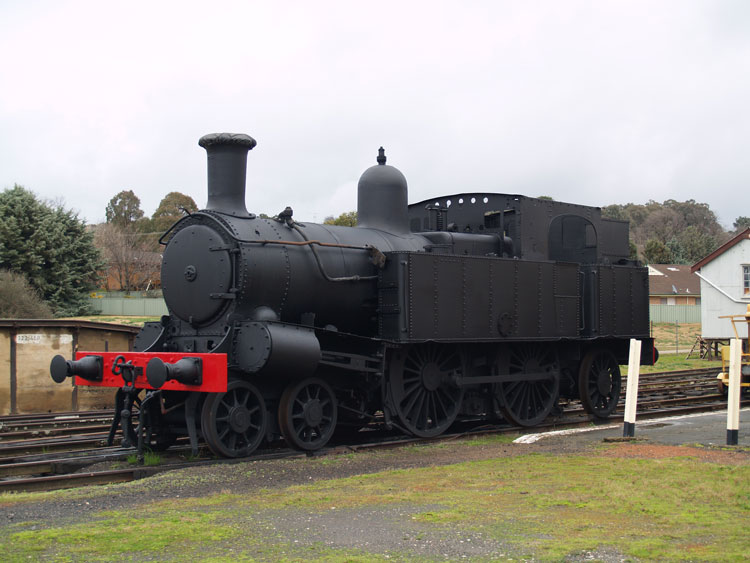 This photo dated 31 July 2010 shows 1307 undergoing cosmetic restoration whilst displayed at Yass station. The wooden cab roof is in process of being renewed and the chimney has been weatherproofed to prevent water entering the smokebox. Red lining and other markings are yet to be reapplied.
1307 was built by Beyer Peacock & Co in 1877 (builder's number 1637) (a) as C 92, a 4-4-0 tender engine of the C(79) class for passenger and mail train duties. (b)
Following the introduction of the P(6) class 4-6-0 locomotives in 1892, some C(79) class locomotives became surplus. Accordingly, between 1896 and 1902 twenty members of the C(79) class were converted to 4-4-2T configuration for Sydney suburban passenger duties. The first locomotive converted was class leader C 79, and hence the 4-4-2T locomotives became known as the CC(79) class (later Z13 class), and the 4-4-0 tender locomotives became the C(80) class (later Z12 class). (c)
The CC(79) class locomotives were again displaced from suburban passenger duties following introduction of the more powerful S(636) class 4-6-4T locomotives from 1903. However members of the CC(79) class found further employment on various branch line duties including the Yass Tramway and the Picton-Mittagong Loop Line, while others were used as shunters. (c)
1307 almost lasted to the very end of NSWGR steam, being withdrawn from shunting service at Clyde in 1972 after a working life of over 94 years. 1307 was stored at Enfield and was added to the collection of the NSWRTM. 1307 was relocated to Thirlmere in 1975 together with other NSWRTM exhibits, and was stored away from public view from 1983. Unfortunately it became increasingly rusted and derelict through these years of open storage, and apparently some parts were removed in the mid-1980's to further the planned restoration of sister 1308. (e)
In 1999, 1307 was removed from the storage sidings at the NSWRTM and transported to Yass Railway Museum, where it was repainted and cosmetically restored for display at the former Yass railway station. By 2010 a further, more comprehensive restoration and repainting effort was in progress. 1307 is a very appropriate exhibit at the Yass Railway Museum because it had worked on the Yass Tramway from time to time between 1910 and the 1950's.(e)
Ron Preston's wonderful book "Tender into Tank" (f) includes many photographs and historical details of the Z13 class locomotives and their operations, including photos of 1307 working on Picton-Mittagong loop line trains in the 1950's.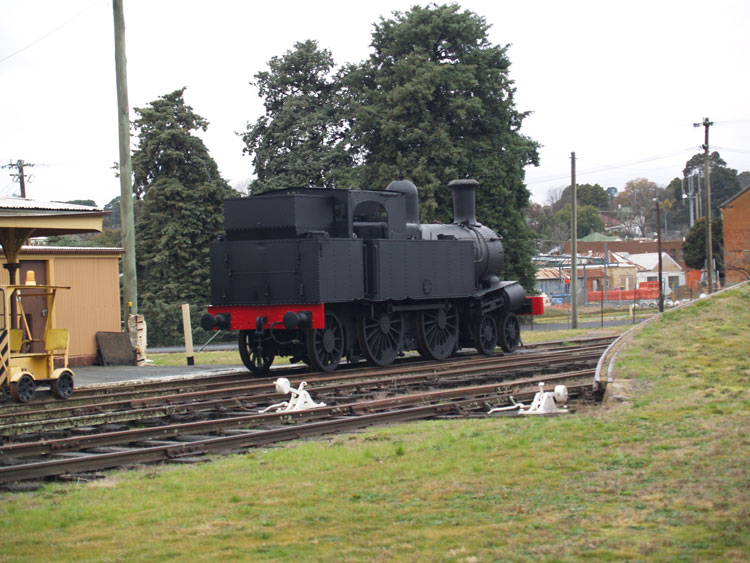 This second photo dated 31 July 2010 shows a rear view of 1307 at Yass station.
Hopefully the missing connecting rods can be located and refitted at some stage.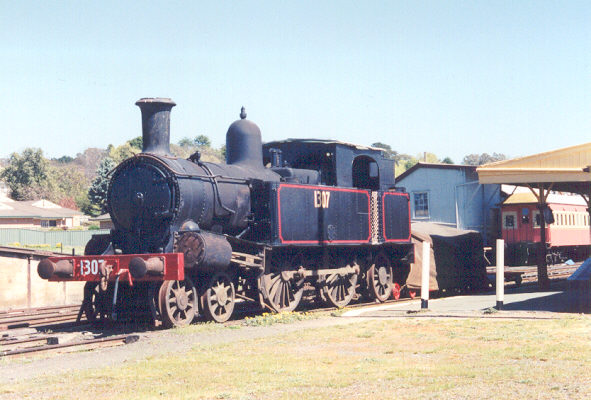 This earlier photo shows 1307 displayed at Yass station in October 2002.
References
| | |
| --- | --- |
| a | "Locomotives of Australia" by Leon Oberg, published by J. W. Books Pty Ltd, 1982 reprint, pp. 256 |
| b | "A Compendium of New South Wales Steam Locomotives" compiled by Alex Grunbach, published by the Australian Railway Historical Society, New South Wales Division, 1989, pp.41. |
| c | "A Compendium of New South Wales Steam Locomotives" compiled by Alex Grunbach, published by the Australian Railway Historical Society, New South Wales Division, 1989, pp.136. |
| d | "Roundhouse" magazine published by the NSWRTM, Volume XIII No.2 of July 1976, article "Museum on the Move" pp.17. |
| e | Personal comment or observation |
| f | "Tender Into Tank" by R. G. Preston, first published in 1970 by the ARHS Newcastle Branch. Revised, enlarged & republished by New South Wales Rail Transport Museum, 1984. (Pages 60-61) |
Page updated: 20 November 2010