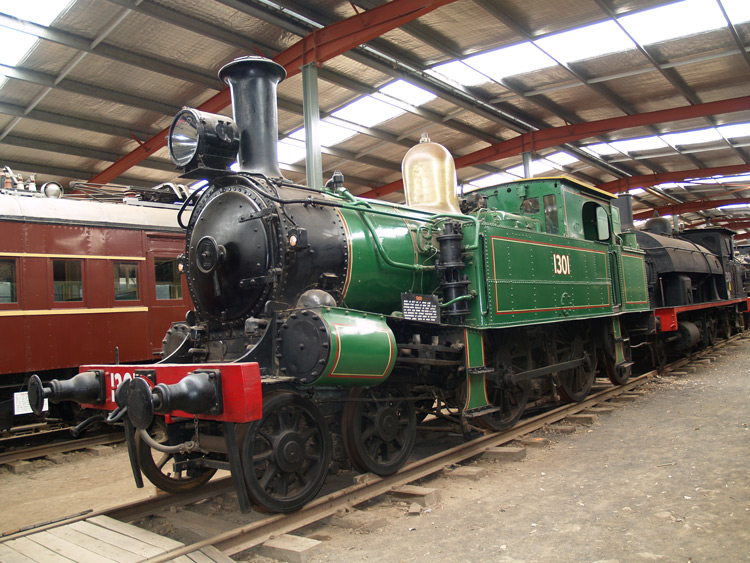 This view shows 1301 displayed at the NSWRTM on 23 November 2008.
1301 was built by Beyer Peacock & Co in 1877 (builder's number 1624) (a) as the class leader of a new series of 4-4-0 tender engine of the C(79) class for passenger and mail train duties. (b)
Following the introduction of the P(6) class 4-6-0 locomotives in 1892, some C(79) class locomotives became surplus. Accordingly, between 1896 and 1902 twenty members of the C(79) class were converted to 4-4-2T configuration for Sydney suburban passenger duties. The first locomotive converted was class leader C 79, and hence the 4-4-2T locomotives became known as the CC(79) class (later Z13 class), and the 4-4-0 tender locomotives became the C(80) class (later Z12 class). (c)
The CC(79) class locomotives were again displaced from suburban passenger duties following the introduction of the more powerful S(636) class 4-6-4T locomotives from 1903. However members of the class found further employment on various branch line duties including the Yass Tramway and the Picton-Mittagong Loop Line, while others were used as shunters. (c)
1301 was used for "Vintage Train" duties and hence survived in traffic longer than most steam locomotives during the diesel changeover years. (e) It ultimately came into the collection of the NSWRTM and was relocated to Thirlmere in 1975. (d)
Today 1301 is fully restored for static display and wears lined green livery, with electricity supply to marker lights and other details. (e)
Ron Preston's wonderful book "Tender into Tank" (f) includes many photographs and historical details of the Z13 class locomotives and their operations, including photos of 1301 working on the Yass Tramway in the 1950's.
References
| | |
| --- | --- |
| a | "Locomotives of Australia" by Leon Oberg, published by J. W. Books Pty Ltd, 1982 reprint, pp. 256 |
| b | "A Compendium of New South Wales Steam Locomotives" compiled by Alex Grunbach, published by the Australian Railway Historical Society, New South Wales Division, 1989, pp.41. |
| c | "A Compendium of New South Wales Steam Locomotives" compiled by Alex Grunbach, published by the Australian Railway Historical Society, New South Wales Division, 1989, pp.136. |
| d | "Roundhouse" magazine published by the NSWRTM, Volume XIII No.2 of July 1976, article "Museum on the Move" pp.17. |
| e | Personal comment or observation. |
| f | "Tender Into Tank" by R. G. Preston, first published in 1970 by the ARHS Newcastle Branch. Revised, enlarged & republished by New South Wales Rail Transport Museum, 1984. (Pages 67-69) |
Page updated: 20 November 2010