1243

Powerhouse Museum exhibit
<![if !vml]>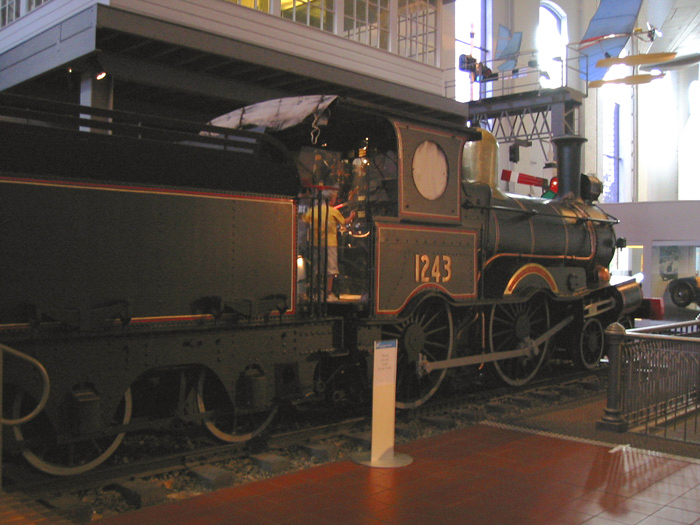 <![endif]>
1243 displayed in the Power House Museum, Sydney on 13 February 2005.
| | |
| --- | --- |
| Builder | Atlas Engineering Co, Pyrmont, Sydney |
| Builder's Number & Year | 2 of 1882 |
| Wheel Arrangement | 4-4-0 |
| No. in class | 68 |
This handsome locomotive entered traffic with the New South Wales Government Railways (NSWGR) in February 1882 as C 176, one of 68 members of the C(79) class deployed on passenger and mail train duties.  Although designed by Beyer Peacock & Co, Manchester, C 176 was one of 8 supplied by Sydney company Atlas Engineering Co, Pyrmont under a government policy to stimulate the local manufacturing industry.  The C(79) class were the mainstay of the NSWGR passenger locomotive fleet for several years, being augmented in the mid-1880's by inside cylinder 4-4-0 types on top expresses until superseded by more powerful 4-6-0 types from the 1890's, following which the class found further use at country depots on rural and secondary services.
As originally built, the C(79) class featured round-top boilers with Salter safety valves, a sloping smokebox front, ornate copper-top chimneys and open cabs.  They were later rebuilt with Belpaire boilers (retaining saturated steam) and Ramsbottom safety valves, cast iron chimneys and enclosed steel cabs of the "Thow" port-hole style.  They were reclassified as (Z)12's in the 1924 renumbering, with C 176 becoming 1243.  (For further general information about the C(79) / (Z)12 class, refer to the page for sister 1210.)
The NSWGR withdrew most of its 4-4-0's in the 1930's following the arrival of the (C)30T class and early petrol railmotors, however a small number of (Z)12 class were retained for niche light line & country duties.  1243 was among this number and in 1955 was repainted to lined green livery for the NSWGR Centenary celebrations at Central Station.  Together with 1210, it hauled the "Last Steam Train to Gosford" tour of 23 January 1960 to mark the completion of electrification to Gosford.  The success of this tour encouraged the NSWGR to establish its "Vintage Train" operation in 1960, retaining 4-4-0's 1243 and 1709 as historic motive power and photos of the period show the two ageing locomotives often double-headed on tour trains around the state in connection with local historical events.
1243 obtained a further degree of stardom when selected for the 1970 film "Ned Kelly" with Mick Jagger in the eponymous lead role, the Ned Kelly story having significant railway link as his outlaw gang infamously set a trap with the aim of derailing a special police train at Glenrowan, Victoria.  (The Ned Kelly plot gives an interesting insight to the 1880's zeitgeist, with railways bringing rapid change as they spread through rural Australia and public awareness of some of the risks of rail travel, particularly horror stories of derailments involving wooden carriages.  The Kelly Gang sought to lure a special police train to the Victorian Town of Glenrowan and then derail the train on an embankment as it sped downhill and around a corner on approach to the town, with the aim of murdering the contingent of police travelling within.  Today this plot would probably be called an act of domestic terrorism!)  1243 was rebuilt in 1969 in preparation for its movie role, receiving an extended smokebox (following experience with 1219), a vintage copper-top chimney, cowcatcher, green livery and its old number 176 restored to give the loco a more antique appearance.  The railway sequences were filmed on the recently closed Captains Flat branch line, near Canberra, with a location prepared to appear as Glenrowan railway station.  1243 received a somewhat larger P(6)-type 6 wheel tender at this stage, in replacement of the original low-sided 6-wheel tender variety.
1243 continued in Vintage Train duties after Ned Kelly filming, retaining the number 176 and green livery.  Alas the Vintage Train program was suspended in March 1974 as one of the rapid changes to railway heritage following the creation of the Public Transport Commission of NSW (PTC) but by this time 1243 was being cared for by the New South Wales Rail Transport Museum (NSWRTM) at Enfield Roundhouse.  Another change following the PTC was the NSWRTM being evicted from Enfield Roundhouse and 1243 was transferred to the new Thirlmere site in 1975, where it regularly featured on Loop Line trains.  A repaint to black livery, cast iron chimney and renumbering to 1243 came in 1978.  1243 was withdrawn from the NSWRTM operational fleet in about 1982, corresponding with the time larger and more utilitarian steam locos 3001T and 3642 had recently been returned to service.
Some early preservation literature lists sister 1219 as being set aside for the Museum of Applied Arts & Sciences (now known as the Powerhouse Museum) but at some stage it was swapped with 1243.  The development of the new Powerhouse Museum was a major NSW state project in the 1980's and 1243 was cosmetically restored to more authentic condition by the NSWRTM (under contract) in preparation for display at the Powerhouse Museum, with lined black livery, an original low-sided 6-wheel tender (Tab 208, originally paired with loco 2504) and the short smokebox reinstated.  This work culminated in 1988 with 1243 placed on permanent display in the transport hall of the Powerhouse Museum at Ultimo, Sydney, not far from the site of the Atlas Engineering works where the loco had been built more than 100 years previously.  It is displayed alongside the Governor's Carriage of 1891 vintage in a recreated station scene, which is rather fitting given that this beautiful carriage was also first saved for preservation via the NSWGR Vintage Train.  Some further information about 1243 can be found on the Powerhouse Museum curatorial notes.
<![if !vml]>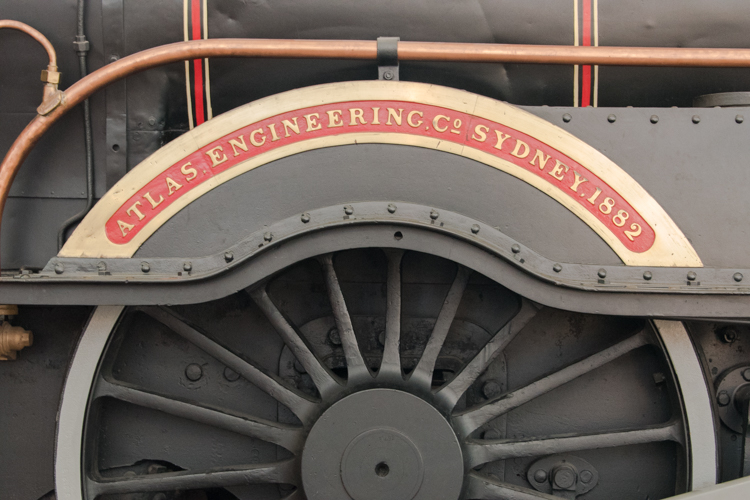 <![endif]>
The ornate Atlas Engineering Co builder's plate above the driving wheel splasher.  8 July 2015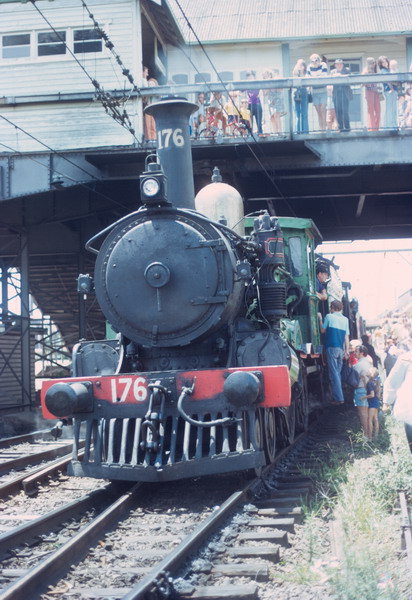 1243 (as 176) in "Ned Kelly" guise with extended smokebox, cowcatcher, copper chimney and green livery.
176 is leading 1709 (as 381) on a typical 1970's excursion working (date & location unknown) and has drawn a crowd.
Both locomotives are fitted with original handsome copper-top chimneys displaying loco number, as was early NSWGR practice.
My thanks to Mike Adcock for contributing this view, from his father's slide collection.
<![if !vml]>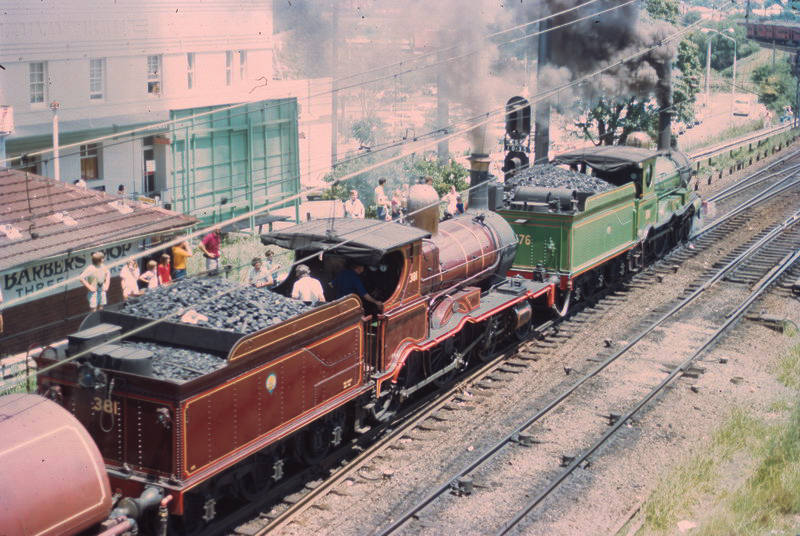 <![endif]>
A second view of 1709 (as H 381) and 1243 (as C 176) on a typical 1970's excursion working.
At this stage, both locomotives were paired with P(6) class tenders rather than their original types.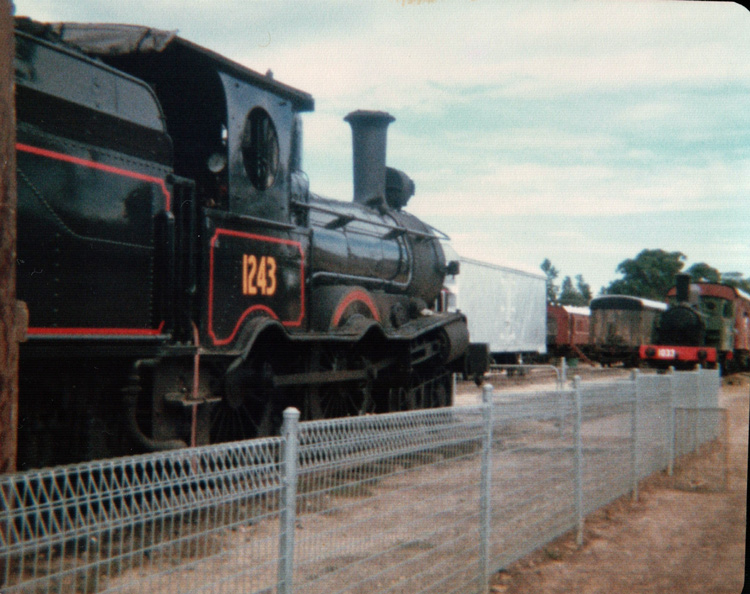 I have included this rather poor scanned photo of 1243 at Thirlmere in 1978 because it is one of the first photos I ever took!
At that stage I was 10 years old and using a 110mm film camera which (was little more than a toy).
1243 had recently been repainted to lined black livery and renumbered 1243.
It is fitted with a cast iron chimney but retains the extended smokebox and P(6) tender, thus visually resembling 1219 in its latter years.
1243 was a regular performer on Loop Line services at Thirlmere at this stage.
<![if !vml]>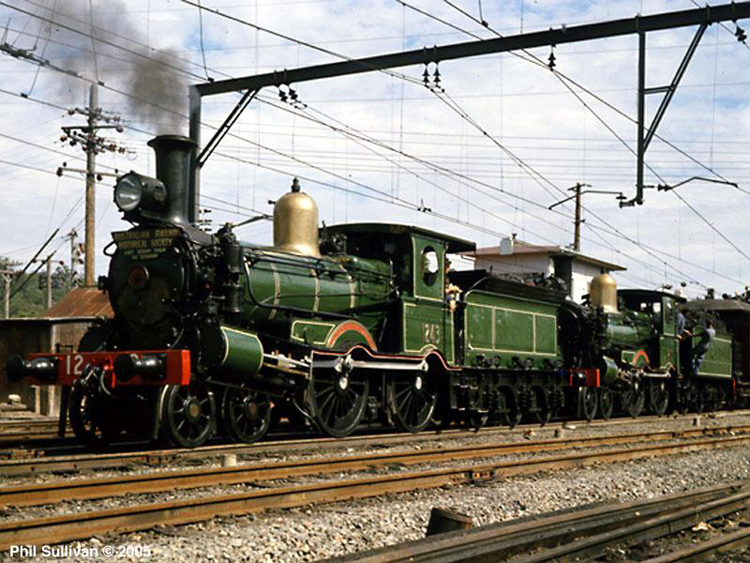 <![endif]>
My thanks to John Hurst (from an original by Phil Sullivan) for this view of 1243 & 1210 on "The Last Steam Train to Gosford" tour of 23 January 1960.
This tour celebrated the opening of electrification to Gosford, replacing steam traction & assistant engines on Cowan Bank.
The success of this tour led to the creation of the NSWGR Vintage Train and the initial retention of 1243 and 1709.
References
a

"Locomotives of Australia" by Leon Oberg, published by J. W. Books Pty Ltd, 1982 reprint.

b

"A Compendium of New South Wales Steam Locomotives" compiled by Alex Grunbach,

published by the Australian Railway Historical Society, New South Wales Division, 1989.

c

'Steam Locomotive Data' July 1974 edition, compiled by J. H. Forsyth for the

Public Transport Commission of NSW.

d

Wikipedia entry for the NSWGR (Z)12 class, retrieved 17 August 2015.

e

Webmaster's observation or comment
Page updated:  31 August 2015
| | | | | | | | | | | |
| --- | --- | --- | --- | --- | --- | --- | --- | --- | --- | --- |
| Government Railways: | | | | | | | | | | |
| Private & Industrial Railways: | | | | | | | | | | |