1082

Crane tank locomotive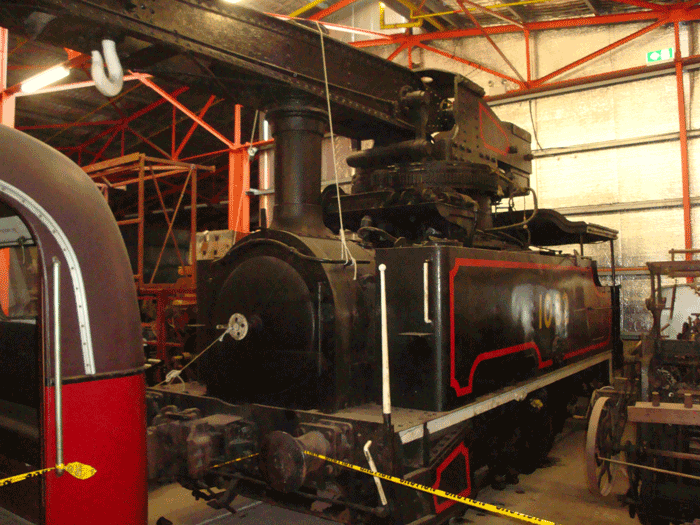 Doug Byron has contributed this view of 1082 in storage at the Powerhouse Museum's Castle Hill Discovery Centre on 12 February 2011.
1082 is a luffing crane tank locomotive of 7 ton crane capacity. It was built by Robert Stephenson & Hawthorns in 1950 (builder's number 7542) together with sister loco 1083 (builder's number 7543). a
1082 and 1083 were the final orders of a series of 0-4-0 crane tank locomotives ordered by the NSWGR following from 1030 back in 1879. These small steam crane locomotives actually outlasted mainline steam by nearly a decade, with 1082 and 1083 pottering around Eveleigh workshops until withdrawn in the early 1980's. d
1082 was on display for a time in the courtyard between New Loco and No.1 bay of the Eveleigh Locomotive Works (now adapted for reuse as the Advanced Technology Park) but was later placed in storage due to deteriorating condition. As replacement, sister locomotive 1083 was transported from the SRA Apprentice College at Chullora to Eveleigh for display instead. c
1082 is now owned by the Powerhouse Museum and by 2003 was to be found in storage in No.1 Road Large Erecting Shop at Eveleigh.
It has since been relocated to storage at the Powerhouse Museum's Castle Hill Discovery Centre.
Stephen Tolhurst provides an history of loco 1082 on his excellent X10 website.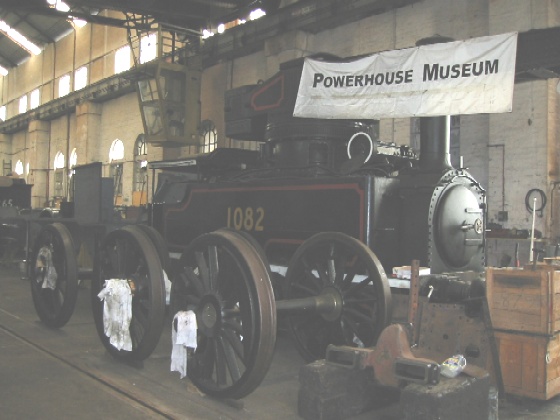 This earlier photo by the webmaster shows 1082 stored at Eveleigh on 11 April 2003.
(The driving wheels of 3265 are sitting in the foreground.)
References
| | |
| --- | --- |
| a | X10 website by Stephen Tolhurst (viewed 12 July 2011). |
| b | Information provided by M. Newton via email, 18/2/02 |
| c | ARHS Bulletin, Volume 36, No. 572 (June 1985) 'Crane Tank Locomotives in Australia' by J. L. Buckland |
| d | Personal observation or comment. |
Page updated: 12 July 2011