1076

An interesting survivor from the X-10 class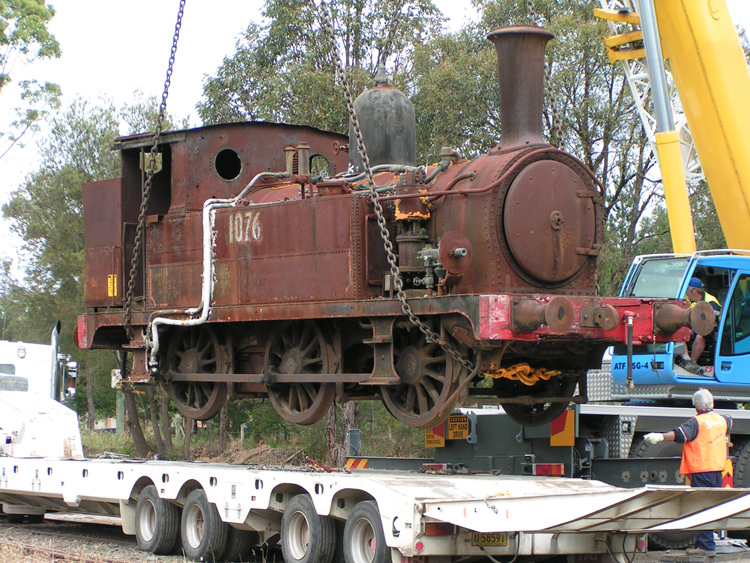 This photo is kindly provided by the RTM Exhibits Cleaning Team and shows 1076 being prepared for road transfer to Goulburn on 4 November 2008.

1076 started life as R288, the 4th of 6 members of the R285 class of tank locomotives built for Sydney suburban work. It became 1804 of the Z-18 class in the 1924 renumbering scheme.

This locomotive was renumbered to 1076 (amongst the X-10 class of miscellaneous obsolete locomotives, workshop shunters and mobile cranes) in 1937 when the coal bunker was removed and a small jib-arm crane fitted. The crane was removed in 1959 and a basic welded bunker provided as a replacement, but the number 1076 remained.

1076 received the boiler of F-351 class loco 1036 during overhaul in 1966. It appears the locomotive's duties included mobile steam generation for workshop use & boiler testing as it is fitted with a live steam valve on the right front running plate, which is supplied directly from the dome.

Stephen Tolhurst provides an excellent history of loco 1076 on his X10 website.

1076 was withdrawn from workshop shunting service in 1971 and later transferred to the NSWRTM. 1076 was shunted onto the long term storage sidings at the NSWRTM Thirlmere in 1983, where it subsequently remained out of public sight for 25 years. Unfortunately no restoration work was ever performed, although it was black-oiled & lubricated in 1989.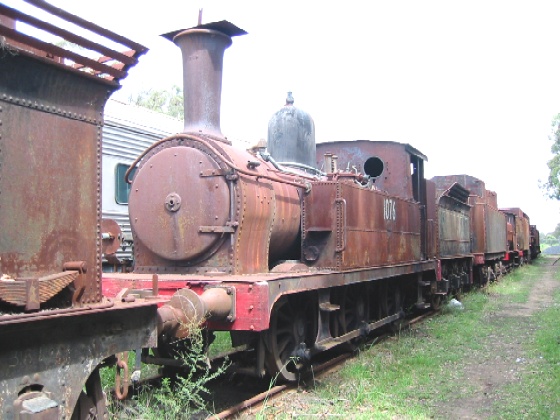 1076 waiting in the long term storage sidings at NSWRTM - 17 March 2003

.

On 4 November 2008, 1076 was transferred by road to Goulburn Roundhouse for cosmetic restoration and display. This is a fitting home for 1076 as it had been based at Goulburn locomotive depot around the 1950's.

My visit to the Goulburn Roundhouse in January 2012 found 1076 dismantled for overhaul and restoration to operating condition.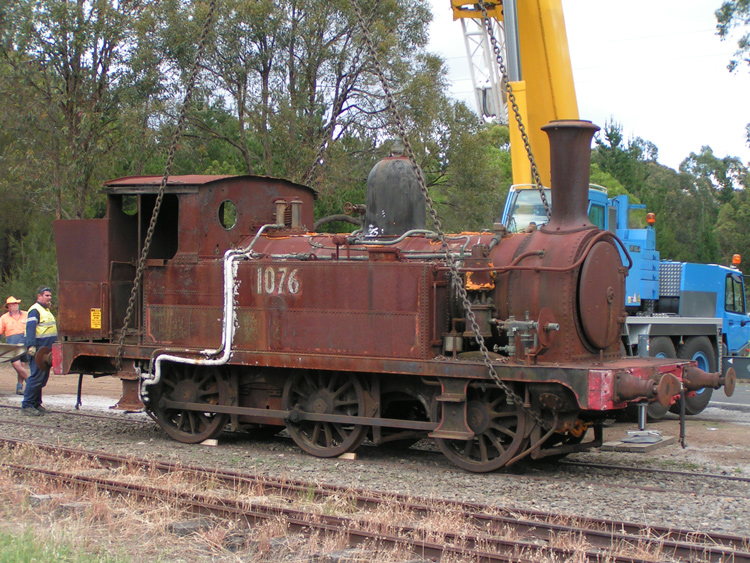 This second view is also kindly provided by the RTM Exhibits Cleaning Team and shows 1076 being lowered onto the road trailer - 4 November 2008.
Clearly visible is the basic welded bunker and live steam valve on the running board. 1076 also retains wooden buffer beams, and the last traces of black livery with red lining can be seen.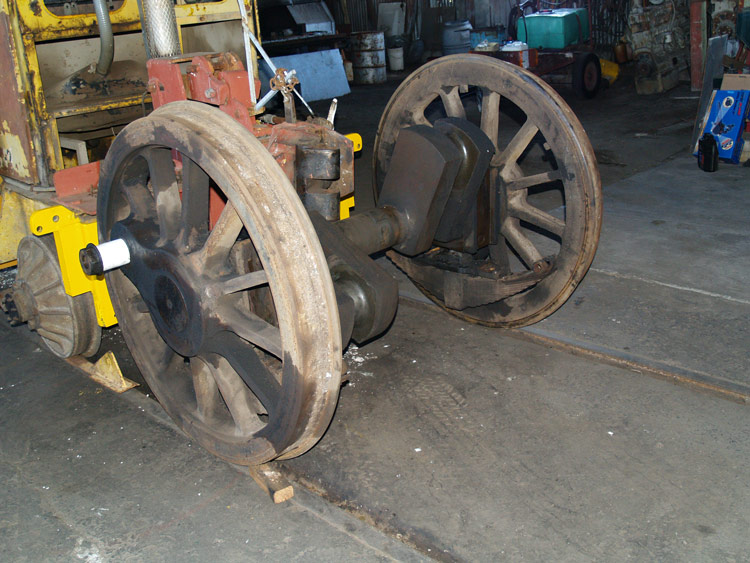 1076's crank driving wheelset at Goulburn on 7 January 2012.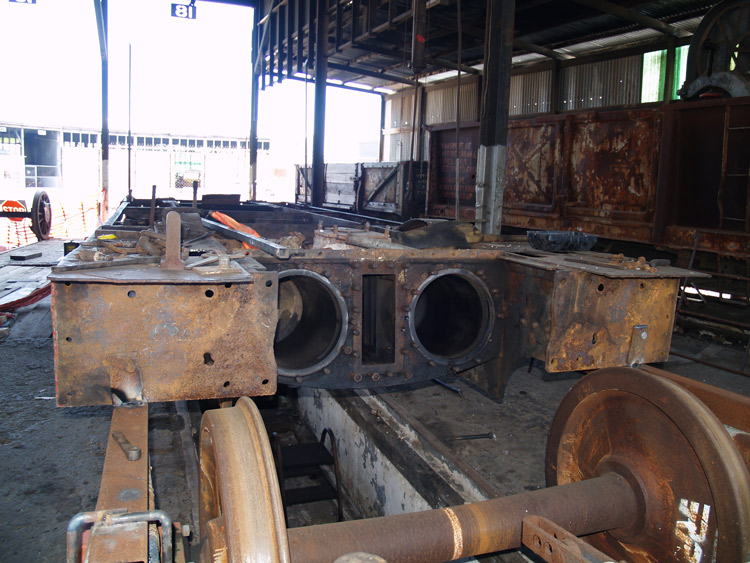 1076's front frames showing the cylinder chests. Goulburn, 7 January 2012.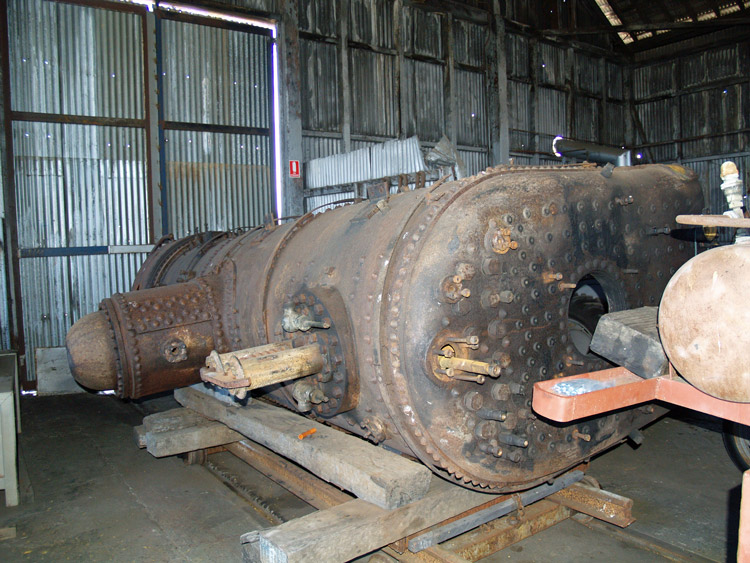 1036's old boiler (as fitted to 1076) under repair. Goulburn, 7 January 2012.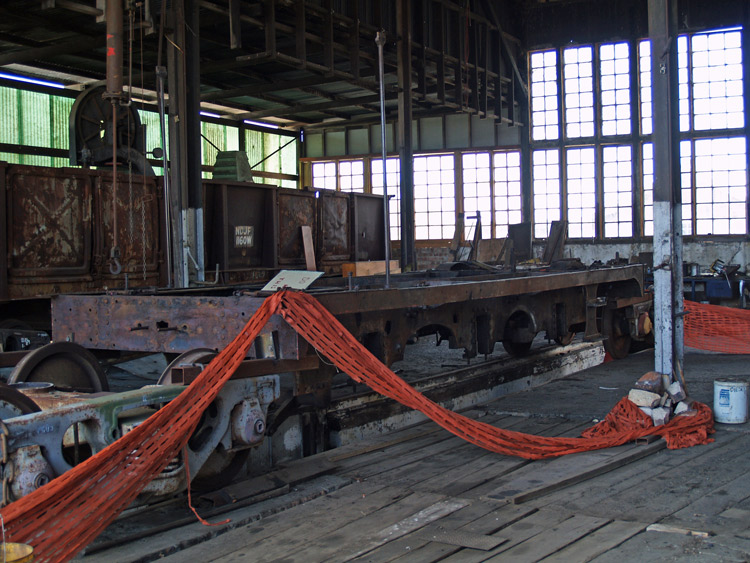 Another view of 1076's frames at Goulburn on 7 January 2012.
References
a
L. Oberg, 'Locomotives of Australia', published by J. W. Books Pty Ltd, Brookvale NSW. 1982 reprint.
b

"A Compendium of New South Wales Steam Locomotives" compiled by Alex Grunbach,

published by the Australian Railway Historical Society, New South Wales Division, 1989.

c
Webmaster's observation or comment.
Page updated: 30 August 2012