1064

Self-propelled coal grab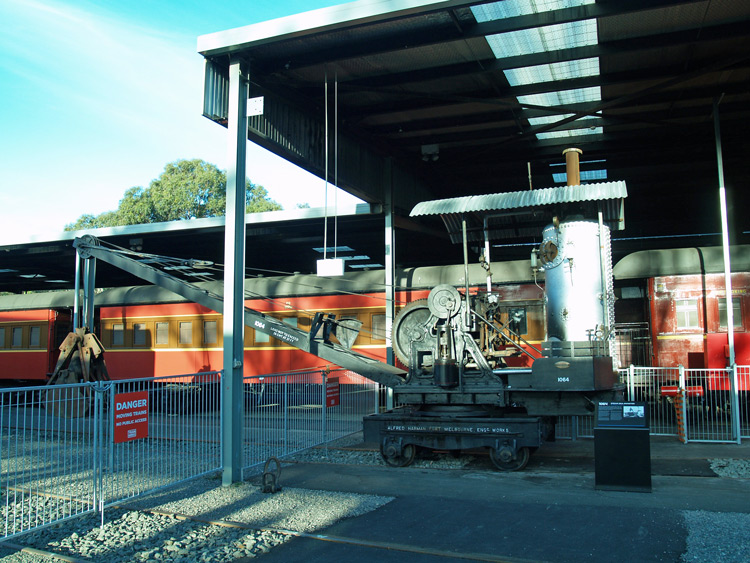 Coal Grab 1064 awaiting its next duties at Thirlmere on 28 May 2011.

1064 is a 4-wheel self-propelled vertical-boiler coal grab and was designed for coaling steam locomotives in smaller country locomotive depots which lacked more formal locomotive servicing facilities. It was constructed by the Austral Otis Engineering Company at their Alfred Harman Works, Port Melbourne in 1918 as one of a batch of four coal grabs, and entered service as LO 39 with the NSWGR in August 1918. It was renumbered 1064 in the X-10 class of miscellaneous and obsolete machines in the NSWGR's August 1924 renumbering scheme.

1064 finished its career with the NSWGR in June 1971 when it was withdrawn from Eveleigh Depot. It was transferred to the NSWRTM Enfield collection in working order, however it was later dismantled for rail transport to the new NSWRTM Thirlmere site in 1975. (c) Here 1064's components were unloaded in the locomotive workshop stores area and kept company with a large collection of locomotive spares including tyres, fire bricks, chimneys and several boilers. (d)

A small group of NSWRTM volunteers decided 1064 would make a good restoration project and began the reassembly of this interesting exhibit in 2008, completing the work in time for 1064ís operational debut at the Thirlmere Steam Spectacular on 6th of March 2010. (c) The reassembly and repair of this machine after 33 years of open storage is a great example of the high-quality restoration work the NSWRTM is capable of. 1064 can now be seen pottering around the new NSWRTM semi-roundhouse, performing coaling and ash removal jobs much as it was originally built for. (d)

1059 is also preserved by LVR Cowra and apparently occasionally used, while 1061 is apparently preserved in the collection of the DSR&M.

Stephen Tolhurst provides an excellent history of loco 1064 and its sisters on his X10 website.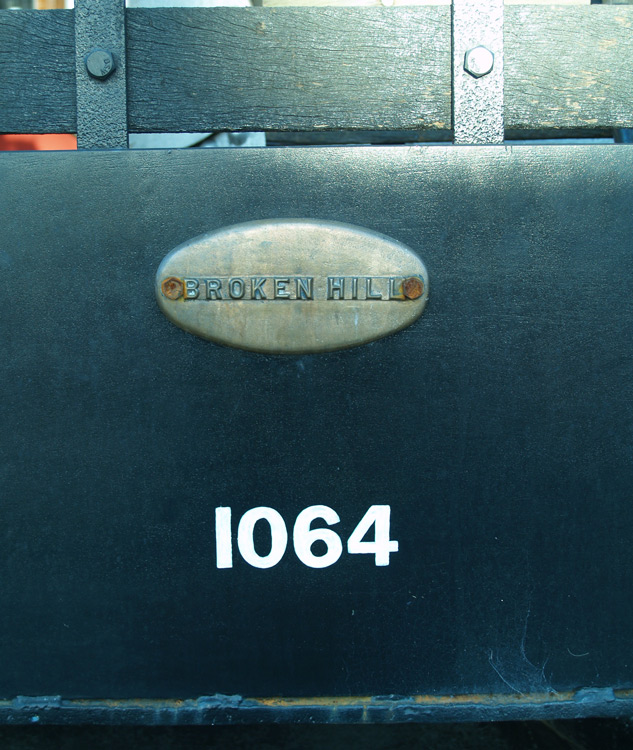 Shed plate detail. 28 May 2011
References
| | |
| --- | --- |
| a | Email from Sam Wyatt dated 26 February 2010 |
| b | L. Oberg, 'Locomotives of Australia', published by J. W. Books Pty Ltd, Brookvale NSW. 1982 reprint. |
| c | NSWRTM website (viewed 6 June 2010) |
| d | Personal comment or observation. |
Page updated: 5 June 2011