1034

Crane Tank locomotive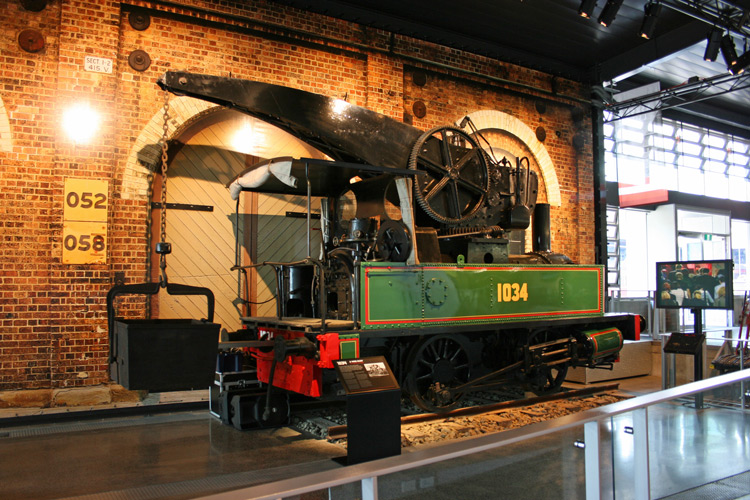 Tommy Nilsson has kindly contributed this view of the fully restored 1034 on display at Trainworks on 29 December 2011.
Nice finishing touches include the cabside canvas blinds and the kibble bucket suspended from the luffing jib.
1034 is a 0-4-0 Crane Tank locomotive, built by Dubs & Co, Scotland as their builder's number 2250 of 1886. After a long life pottering around the Eveleigh locomotive workshops and similar duties, 1034 was finally condemned by the NSWGR in October 1969. Fortunately 1034 was retained for the NSWRTM, although its slightly older sister locomotive 1030 was scrapped as late as 1975. a
Photos from the NSWRTM's early years at Enfield Roundhouse show that 1034 had been under static restoration during the early 1970's, however this project halted when the NSWRTM relocated to Thirlmere in 1975. 1034 was delivered to Thirlmere is a partially dismantled state and remained in that condition for several decades. The two side tanks were stored in a 4-wheel S-truck, where they kept company with various 3813 components, patiently awaiting the day this historic locomotive would be restored. b
The first sign of restoration for 1034 came in 2006 when the two side tanks were removed from the S-truck and placed near 1034. My visit to NSWRTM on 4 March 2007 revealed the side tanks cleaned and primed and a notice declaring that restoration of 1034 by a volunteer team had commenced. Significant progress was visible by by 2 March 2008, at which stage the boiler cladding which was being prepared for refitting. Replacement timber headstocks had been ordered and were in the process of being fitted by early 2010. b
1034's fortunes turned even faster for the positive during 2010 when RailCorp provided funding for restoration to be fast-tracked within the NSWRTM's new workshop. 1034 remaining components have now been restored and refitted, and the locomotive repainted in lined green livery. A replacement spectacle plate was also manufactured, together with various minor fittings. 1034 was subsequently placed on display within the new "Trainworks" exhibition building, complete with a kibble bucket suspended from the crane jib. NSWRTM volunteers, RailCorp & Trainworks are to be congratulated on the high standard of restoration achieved with 1034. b
Stephen Tolhurst provides a full history of loco 1034 on his X10 website. In addition, John Buckland wrote a very authorative article on the various crane tank locomotives of Australia in the ARHS Bulletin of June 1985. a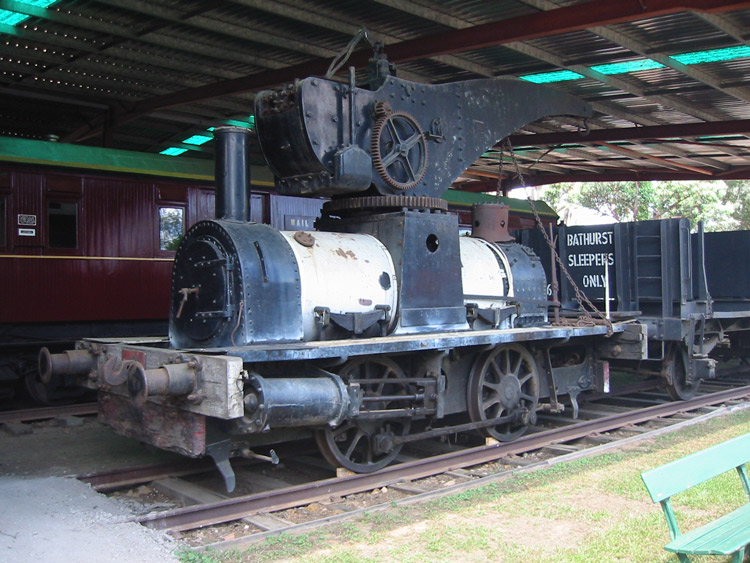 This photo of 5 March 2006 shows 1034 displayed incomplete at the NSWRTM, as restoration recommenced in earnest.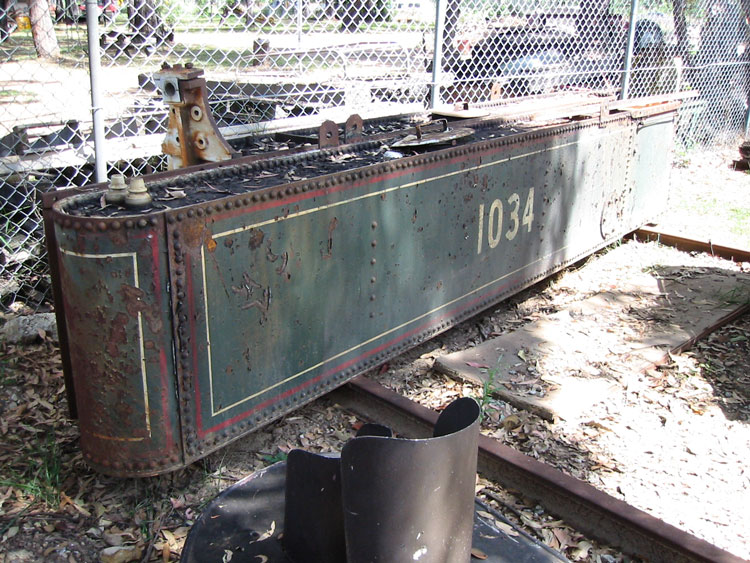 This view shows 1034's side tanks at the NSWRTM in 2006, ready for restoration to recommence.
The original lined green livery is evident.
References
| | |
| --- | --- |
| a | ARHS Bulletin, Volume 36, No. 572 (June 1985) 'Crane Tank Locomotives in Australia' by J. L. Buckland |
| b | Webmaster's observation or comment. |
Page updated: 14 January 2012