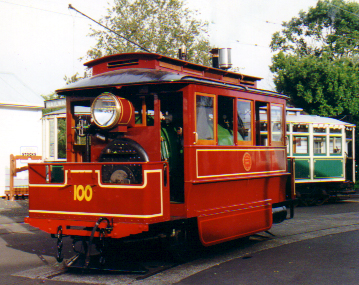 Mark Newton kindly contributed this view of No.100 when newly restored at MOTAT, circa 2000.
This view shows the fireman's end – the headlight position seems odd as it must have been blinding for the fireman as they tended the fire!
One of 122 Baldwin-built steam tram 'motors' that worked on the Sydney tramway system, this example is an interesting survivor as it retains its original configuration for two-person operation and hence original number '100' whereas those converted to single-person operation had 'A' added as a numbering suffix, such as preserved sisters 1A and 103A.
Sydney's steam trams became largely redundant upon electrification of the tramway system, with many subsequently sold to various industrial and construction users. Among these was No.100, sold to the Gonville & Castlecliff Tramway Board (Whanganui) and exported to New Zealand in 1910 for construction work on new electric tramway routes in Whanganui. It seems the little steam tram didn't see much use after construction duties but was retained as a useful standby loco. Failure of the electricity supply in July 1920 earned the little loco a period of local fame – together with the nickname 'Puffing Billy' – as it deputised for its more modern electric sisters until power was restored three months later.
No.100 saw another period of use during 'goodbye' events connected with closure of the Whanganui tram system in 1950, when buses took over public transport duties. Alas its local fame was not enough to save it from being sold for scrap, remaining in a local dealer's yard until 1955 when discovered by members of the Steam Tram and Railway Preservation Society of New South Wales. Alas the cost of transport back to Australia proved prohibitive, but local New Zealand enthusiasts stepped in and purchased the steam tram in 1958. It was donated to the Old Time Transport Preservation League, eventually coming into the MOTAT (Museum of Transport and Technology) collection at Western Springs, Auckland where it was progressively restored over a 25-year period from 1971 to 1996.
The MOTAT collections page contains a thorough history of this steam tram and how it came to be saved for preservation on their website: https://collection.motat.nz/topics/101/the-life-times-of-a-well-travelled-steam-tram-engine-no100-celebrating-130-years-of-age. In addition, a good history is provided in the Sydney Tramway Museum's 'Trolleywire' magazine of July 2012.
MOTAT hosts an extraordinary collection of historic transport equipment such as flying boats and other vintage aircraft, electric trams from several systems, and steam locomotives together with railway and tramway running lines. A dual-gauge tramway links the original museum site at Western Springs to a large transport hall established a kilometre or so away, and I understand No.100 occasionally gets a run on this tramway. As a child visiting MOTAT in 1976 I was awed by their Lancaster bomber, now displayed in the Sir Keith Park aircraft pavilion. I certainly hope to visit MOTAT again in future years and have the chance to photograph the wonderful of steam tram No.100, together with the other exhibits displayed there.
References
Page updated: 11 September 2022